Kate Middleton Continues To Break Royal Protocol When It Comes To Raising Her Kids
Kate Middleton and Prince William follow strict royal protocol in most aspects of their life, but they are making their own rules when it comes to raising their children.
Kate Middleton has always taken her royal duties seriously, but she also is not afraid to break the rules every now and again. The Duchess of Cambridge, who is the proud mother of three children with Prince William, has one soft spot when it comes to breaking royal protocol. With reports of another child on the way, here are all of the ways Middleton continues to break the rules when it comes to raising her kids.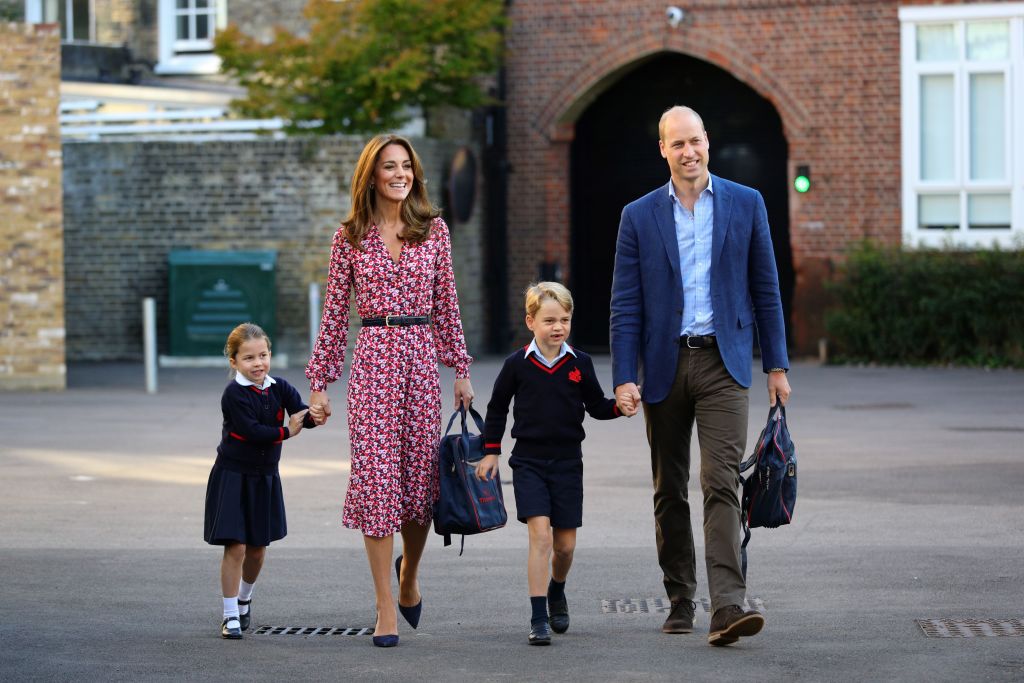 Traveling rules
One of the biggest protocols Kate Middleton breaks is in regards to traveling with her children. Prince George, Princess Charlotte, Prince Louis often fly with their parents whenever they need a break from their royal duties, but this innocent behavior is actually breaking a royal tradition.
According to Express, two heirs of the British thrones are not supposed to fly on the same plane. The rule has been in place for several decades to prevent losing two heirs in the event of a horrible accident.
Middleton has ignored this protocol entirely. But when George reaches the age of 12, he is fully expected to fly separately from his father – though the royal family has yet to confirm.
Until then, Middleton and William have to ask for permission whenever they fly with George. So far, Queen Elizabeth has granted her blessing on all of their family trips. This includes their vacations to Canada, Germany, Poland, and New Zealand.
Kate Middleton's garden project
Earlier this year, Middleton showed off her garden design during the Chelsea Flower Show. The Duchess of Cambridge shared photos of the event on Instagram, including a few shots of her children exploring her project.
The only problem is that the Chelsea Flower Show does not allow children under the age of five. But because Middleton is a member of the royal family, the organizers made a special exception and allowed her three children to attend the event.
"We regret that we cannot allow under 5s, prams, pushchairs, or babes in arms at Chelsea," the organization's website stated.
Kate Middleton's photos featured George, Charlotte, and Louis looking through her garden display and walking alongside their father. The adorable pics were snapped a day before the event opened to the public.
First day of school
Last year, Middleton missed George's first day of school because she was suffering from a bout of morning sickness. So when Middleton failed to drop George off, the head of the school came out to greet him and welcome him to class.
Princes Charlotte received similar treatment during her first day of school. The only difference is that Middleton was on hand to drop her off as she was not pregnant at the time.
Speaking of school, Kate Middleton has excused her children on occasion to attend royal events. This includes Princess Eugenie's wedding, in which George and Charlotte acted as page boy and girl.
The two were taken out of school for the event, though the move was totally understandable given their role in the bridal party.
Why does Kate Middleton break the rules for her children?
Although Middleton has been in the media spotlight for decades, she was not born into the royal family. Before dating William in college, Middleton enjoyed a normal life away from prying eyes.
That all changed, of course, when she started dating William, and Middleton gave up any hopes of privacy the moment she exchanged vows with the future King of England.
While the Cambridges are forever doomed to public life, Middleton reportedly wants her children to be raised in as normal an environment as possible – and who could blame her?
Inside sources claim that Middleton would love to raise her children in the countryside and give them an upbringing that closely mirrors her own.
"She wants to emulate her upbringing, living in the countryside with a close-knit family," a friend of the royal told People. "She desperately wants that normality for her own kids."
The source noted that William feels the same. Despite their wishes, the couple realizes that it will be difficult bringing a sense of normalcy to their children's lives – though that is not stopping them from trying.
Kate Middleton has not commented on the reports surrounding her children. The Duchess gave birth to her third child last year and is reportedly looking to have another in the near future.