Will Kate Middleton Curtsy to Princess Eugenie After She's Married?
In two weeks, Princess Eugenie will say "I do" in St. George's Chapel at Windsor Castle. And, with the royal wedding quickly approaching, royal family fans are beginning to wonder how her marriage to Jack Brooksbank will change the family dynamic.
When it comes to royal family protocol, the Mountbatten-Windsors are rich with traditions. Many of which involve what events they attend, what order they walk in, and how they greet each other. And, all of the above are extremely important, especially when representing the family on official business. Case in point: All members of the family must curtsy or bow to the queen upon first greeting. From there, curtsies and bows are offered in order of rank. So, Prince William and Prince Harry bow to Prince Charles, Prince Harry bows to Prince William, and so on and so forth.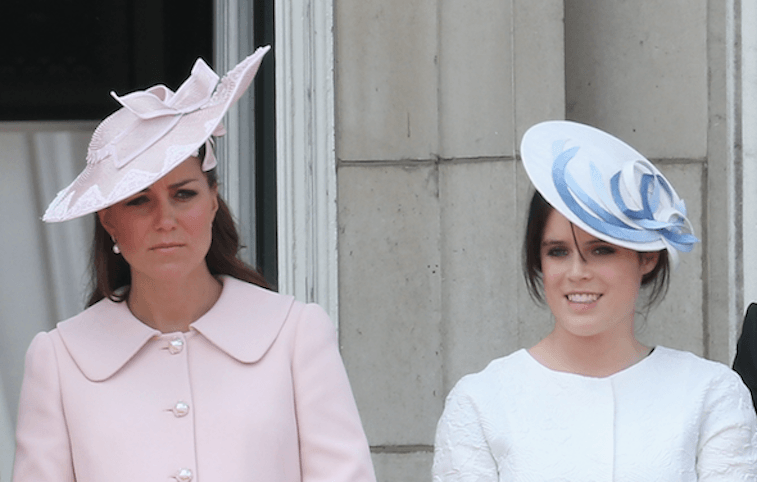 That said, there can be some confusion regarding curtsies — especially when Kate Middleton, Meghan Markle, and Princess Eugenie and Princess Beatrice (aka, the "blood princesses") are concerned. And, once Princess Beatrice is married, the rules regarding who curtsies to who might change. Will Kate Middleton curtsy to Princess Eugenie after she's married? Keep reading to find out.
Does Kate Middleton curtsy to Princess Eugenie?
Right now, Princess Eugenie and Princess Beatrice are both required to curtsy to Kate Middleton when Prince William is present. Because Prince William is of a higher ranking than his cousins, they must show their respect to both him and his wife. And, the same goes for Prince Harry and Meghan Markle.
However, when the duchesses are flying solo, it is expected that they show their respect to their cousins-in-law. Since Princess Eugenie and Princess Beatrice are blood princesses — aka, Queen Elizabeth II's granddaughters — and the duchesses are only royal by marriage, they curtsy to Princess Eugenie and Princess Beatrice.
To complicate it even more, things could change when Princess Eugenie marries Jack Brooksbank in October. According to reports, there is a chance the Princess of York could renounce her HRH (her royal highness) title and go by Lady Eugenie, instead. If she does so, she might not receive the same respect from Kate Middleton and Meghan Markle that she does today.
That said, she could also keep her HRH status and change her name from HRH Princess Eugenie of York to HRH Princess Eugenie, Mrs. Brooksbank or just HRH Princess Eugenie. If she does so, Kate Middleton and Meghan Markle will most likely have to curtsy to their cousin-in-law when their husbands aren't present.
Will Princess Eugenie become a duchess?
There's a good chance that Princess Eugenie won't receive duchess status upon marriage. A duchess is the wife of the monarch's son or grandson. Since Princess Eugenie is a princess and marrying a commoner, the queen probably won't grant her granddaughter a duchess title.
However, as the royal family becomes more gender equal, anything is possible. The family recently changed the rules of succession to ensure it is no longer subject to gender. That means, any royal princess born after October 28, 2011, keeps their spot in line to the throne — even if they have a younger brother. With changes like that, the queen could surprise us and grant Princess Eugenie duchess status.
Check out The Cheat Sheet on Facebook!