Kate Middleton Had a Major Advantage Over Meghan Markle Before Joining the Royal Family
Kate Middleton and Meghan Markle are both great at their role as a duchess. But Duchess Kate has had a major advantage over Duchess Meghan.
The royal life may look glamorous on the outside, but it is actually a lot more difficult than it seems. If you are a member of the royal family, there are certain expectations that you are required to meet. For the ones who are born into the family, it is not that hard. However, if you marry into the family, you not only have your in-laws judging your every move, but the entire world is also watching you: The pressure of being a royal can be very overwhelming at times.
Kate Middleton, the Duchess of Cambridge, has become a pro at navigating royal life. More so than Meghan Markle, the Duchess of Sussex. But many people believe that when it comes to joining the royal family, Middleton had a pretty big advantage over Markle.
Kate Middleton makes royal life look effortless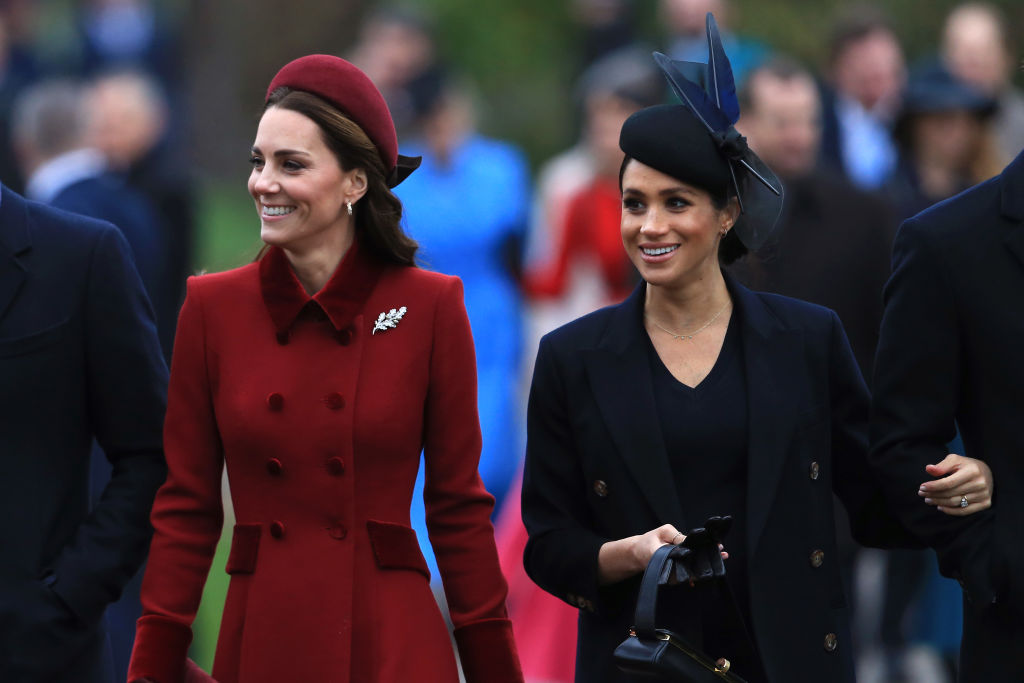 Duchess Kate seemed to be a natural when it came to royal outings. She always seems confident and in control.
All of the royals are also expected to support a few different charities. This is where Middleton really seemed to shine. The Duchess of Cambridge always looks as if she genuinely cares about the work that she is doing. So, how was she able to fit into her new role so naturally?
Middleton grew up in near Berkshire, England. Her parents both worked at an airline before becoming self-made millionaires by selling party supplies. Even though the duchess grew up in the upper-class, she was still considered a "just a commoner." However, it was her commoner life that may have helped her to be able to better connect with her fans and other people that she works with within her charities.
Was Kate Middleton better prepared for her new life?
Middleton and Prince William started dating in 2003. They first met while they were both attending the University of St. Andrews in Scotland. They were just friends for the first couple of years, but soon, things took a romantic turn between the two, and soon, the two were vacationing together at a lavish ski resort. The couple married in 2011, which was about 10 years after they had first met each other.
According to Royal biographer Sally Bedell Smith, because Middleton had already spent so much time with the royal family before marrying Prince William, she was had a better understanding of what was expected of her after becoming an official member of the family.
"She knew enough, She'd seen enough and she'd experienced enough, so she was very well aware of what the responsibilities and demands were going to be," said Smith.
Did Kate Middleton have an advantage over Meghan Markle?
Middleton and Prince William had taken their time to get married. Because they were both still young when they met, their relationship had moved a much slower pace than Prince Harry and Duchess Meghan's relationship. 
Prince Harry and Markle had been dating for about two years when they had announced that they were engaged. They got married a year after that and welcomed their son, Archie, the next year. 
Although Markle and Prince Harry had dated for two years, she didn't spend that much time with Prince Harry's family. At the time that Markle and Prince Harry had met, she was at the height of her career. She had spent most of the time on the other side of the pond, filming the popular TV show Suits. 
Because she is from America, she also didn't have the same basic knowledge of the royal family that most people from the U.K. do. We are sure that she knew some stuff about them, but we are guessing it was still a bit of a culture shock to become a member of a family where you are expected to sit a certain way, talk a certain way, act poised and proper every minute of the day.
When it comes to being prepared for the royal family, Middleton may have had a slight advantage over Markle. However, because Duchess Meghan had been an actress for several years, she was no stranger to the spotlight and dealing with the public. And now that she has had some time to get accustomed to the royal life, she seems to fit right in with the rest of the family.