Kate Middleton Has a Favorite Pair of Sneakers and You Won't Believe How Cheap They Are!
The Duchess of Cambridge spends a lot of time in heels and dresses, but when she's going for a more casual look, the 37-year-old mother of three doesn't mind throwing on a pair of trainers. In fact, Middleton has been photographed in plenty of sneakers over the years, but there is one specific style and brand that appears in photographs over and over again.
Kate Middleton loves the Superga Cotu Classic sneaker
So what's Kate's preferred sneaker? The Superga Cotu Classic, of course. The sneaker has been spotted on Kate's feet when she's feeling more casual. Most recently, the Duchess was spotted keeping it comfy at the Chelsea Flower Show.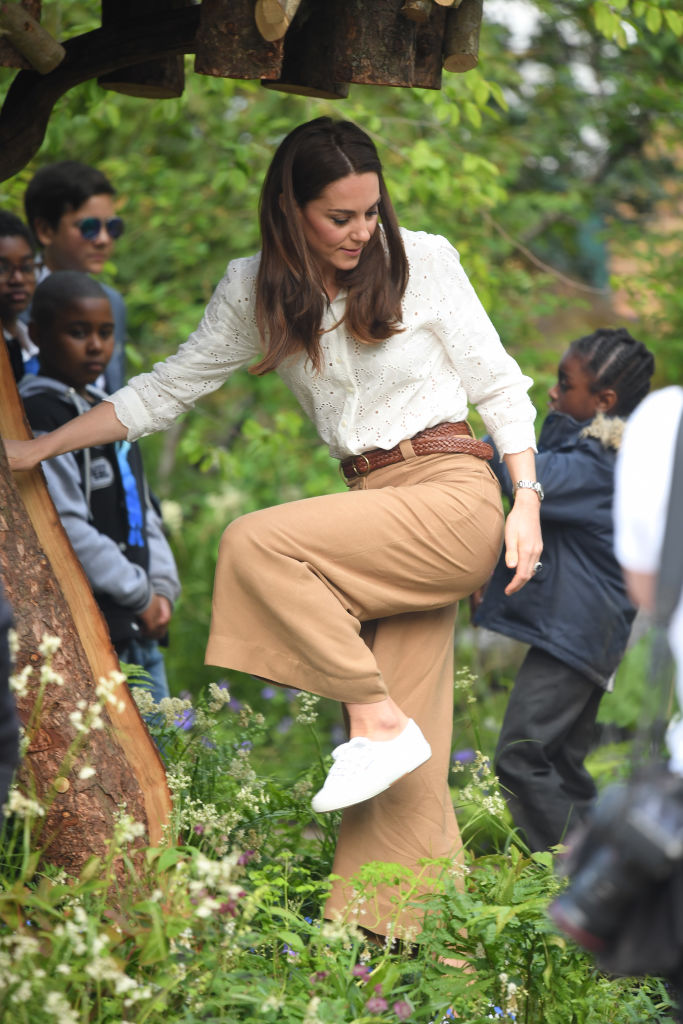 She was on hand to take a sneak peek at an upcoming show, and she made sure she was comfortable while doing it. The well-dressed royal wore a pair of culottes, a crisp white button-down shirt, and the signature white sneakers, according to Vogue. 
What is the Superga Cotu Classic all about?
Stateside sneaker fans might not recognize the brand, but the footwear company has a long history. Founded in 1911 in Turino, Italy, Walter Martiny set out to craft classic sneakers that would work in casual settings. The Cotu Classic was designed in 1925 and hasn't changed much since.
Funnily enough, the Cotu Classic was released just three years after the Converse Chuck Taylor, one of the world's most beloved pair of sneakers. The Cotu, however, utilized a much more understated design and was marketed towards the casual wearer instead of basketball stars.
Superga went through several mergers before Steve Madden bought the rights to distribute and sell the shoes in the United States in 2011. In 2012, Mary-Kate and Ashley Olsen were brought on as creative directors to design a line for the company. The line coincided with the opening of the first Superga store in the United States.
Emma Watson rocks the Superga Cotu Classics, too
While Middleton is turning heads in her favorite pair of kicks, she isn't the only British celebrity who likes the casual shoe. Emma Watson has been spotted tooling around New York and in airports sporting the sneakers.
Princess Diana is also said to have worn them when the occasion called for it. Not only are the shoes approved by A-list celebrities and royal family members, but they are relatively cheap, too. The kicks can be had for just $65 and come in a variety of colors. The Duchess and Watson both seem to prefer the classic white colorway, though.