Kate Middleton Is Not The Most Popular Mom At Prince George And Princess Charlotte's School
Royal fans know that Kate Middleton and Prince William try and take their children to school themselves, and one parent just revealed Middleton is not the most popular mom at school.
Kate Middleton normally gets all the attention whenever she ventures out into public, but that apparently is not the case when it comes to Prince George and Princess Charlotte's school. Middleton and Prince William's middle child recently experienced her first day at school at Thomas's Battersea. But instead of being the prime focus, there was another mom who stole the spotlight from the Duchess of Cambridge.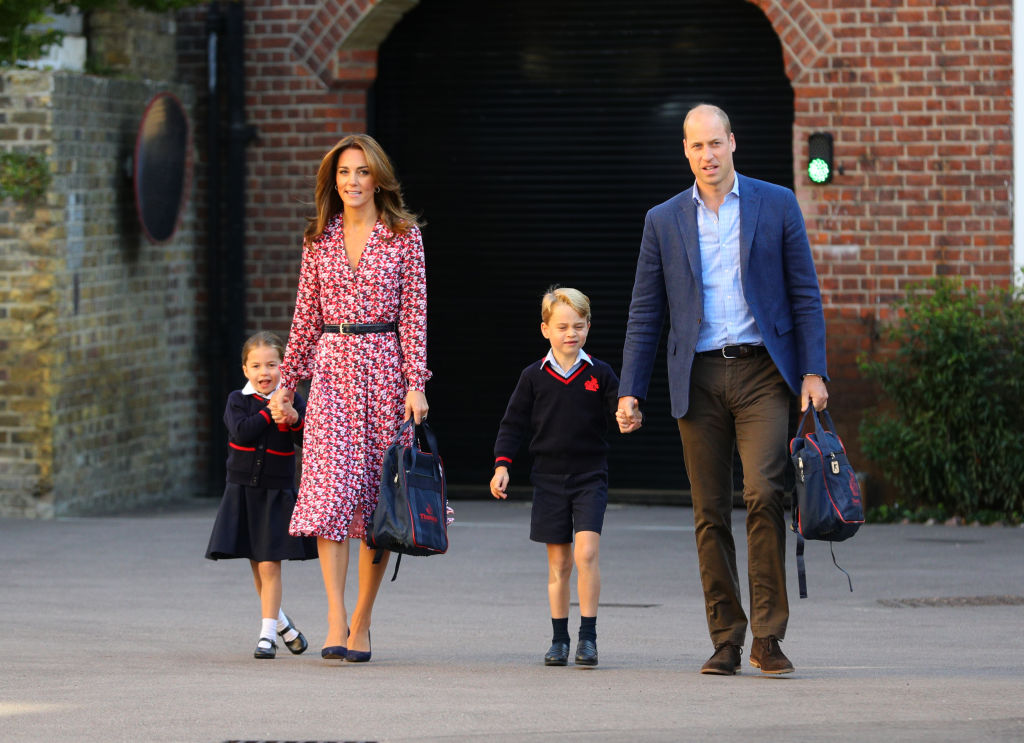 Middleton gets outshined by another mom
Middleton has been in the spotlight ever since she started dating William in college. With over a decade of experience dealing with the media, Kate Middleton has become adept at living in the public eye.
With Middleton and Prince William being a part of the royal family — and the future head of the monarchy — most royal watchers would expect them to be the center of attention at school. But that was not the case during Charlotte's first week at school.
Middleton and William are very hands-on parents and frequently take their children to school. This was the case for Charlotte's first day at Thomas's Battersea, though other parents at the school have grown accustomed to seeing the Duke and Duchess of Cambridge.
According to Express, parents at the school no longer see Kate Middleton and Prince William as anything special, which is why another mom stole the show. In fact, the mom in question had a lot of heads turning, especially when it comes to the fathers.
"No one really gives Kate a second glance when she does the school drop-off," one parent explained. "We have a Victoria's Secret model doing the school run, too, and the dads are far more interested in her!"
The parent, unfortunately, did not reveal the identity of the model at school. While this may come as a surprise to most royal fans, we are pretty sure Middleton doesn't mind another person getting the attention.
Inside George and Charlotte's schooling
Kate Middleton and her husband are trying to raise their children in as normal an environment as possible. This is one reason why the two often take their kids to school unless they are too busy with their royal duties.
The Cambridges are spending over $6,000 a semester for George's schooling. The couple gets a small discount for every child they enroll, so Charlotte and Prince Louis's school bill will be slightly less.
Prince Louis, of course, is still a few years away from his first day at school. Kate Middleton gave birth to Louis in the spring of last year. He is currently the fifth in line to the throne, following his two older siblings.
While the first day of school can be hit and miss for children, Charlotte and George are close enough in age that they can spend time together. Sources claim that the pair are very close and often find themselves playing with each other.
What will Charlotte and George be called in school?
Like George, Charlotte was enrolled under the last name, Cambridge, as is tradition in the royal family. Prince Charles's children, for example, took on the name, Wales, after their father's title.
That said, the family's last name is really Mountbatten-Windsor. This is why Prince Harry and Meghan Markle named their first son, Archie Harrison Mountbatten-Windsor. The royal family comes from the House of Windsor, while Mountbatten is Prince Philip's last name.
While Mountbatten-Windsor is technically their surname, it is rare that a member of the royal family uses it. Instead, they normally go by their titles, which for George and Charlotte is Cambridge.
Kate Middleton reveals Charlotte's favorite thing
In a recent interview, Middleton opened up about her two oldest children and what things they are currently into. For Charlotte, her favorite thing at the moment is unicorns, something most children of her age can relate to. It also explains why Charlotte was rocking a unicorn keychain on her backpack.
Middleton did not reveal what George currently likes, but it is probably safe to say that it is not unicorns.
Kate Middleton was photographed walking with Charlotte to school on her first day. Kensington Palace later shared a photo of Charlotte and George posing together on the steps of their school — and the two looked absolutely adorable.
The Duke and Duchess of Cambridge have not commented on the reports surrounding Charlotte's adorable first day at school.