Kate Middleton Is Reportedly Jealous Of Meghan Markle's Ability To Do This
Rumors of a feud between Prince William, Kate Middleton, Meghan Markle, and Prince Harry have swirled for months, and the media scrutinizes every move they make to prove that point. Of course, neither William, Kate, Harry, nor Meghan will ever admit there is an issue between them. But, there is one skill that Markle has that Middleton doesn't, and the Duchess of Cambridge has revealed that she is making sure her children will develop this talent.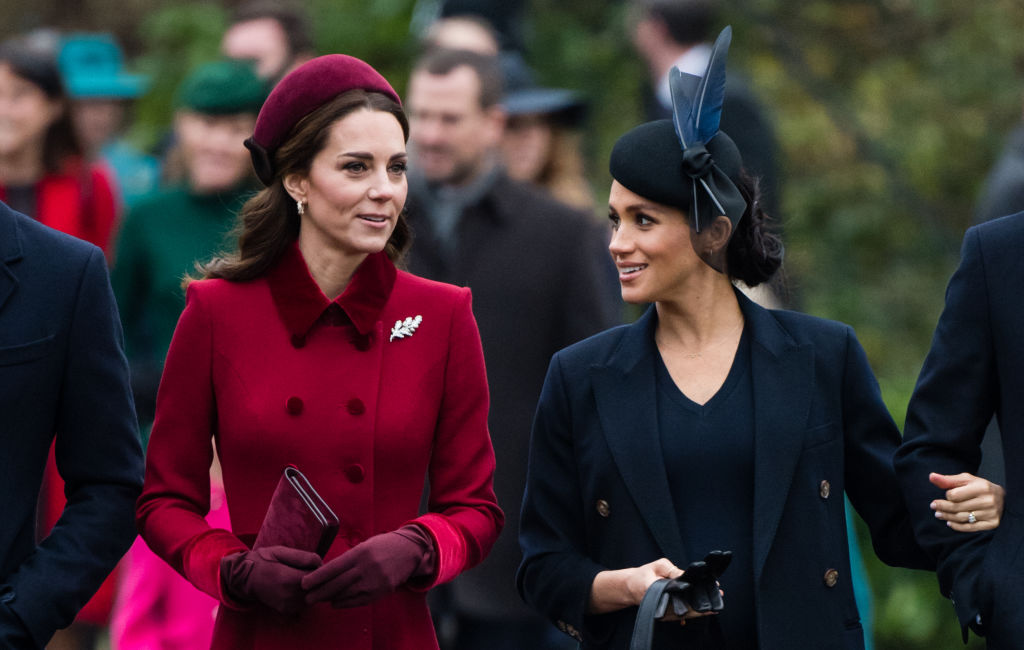 Meghan Markle is fluent in Spanish
As a student in Argentina back in 2002, Markle started learning Spanish. And, according to Andrew Morton – author of the book Meghan: A Hollywood Princess – she landed a six-week internship at the American embassy in Buenos Aires as a junior press officer. She also took a six-week course in Madrid at the International Education for Students program to become more fluent in her second language.
"Her superior, Mark Krischik, now retired, recalled her as a young woman who was good to work with and who carried out her assignments with 'efficiency and ingenuity,'" says Morton.
Krischik told Morton that the Duchess of Sussex had "all that it takes to be a successful diplomat," and the program in Spain "was an added string to her bow just in case she wanted to give the world of diplomacy another try."
Middleton shares Markle's love of languages – she learned some Arabic when living in Jordan as a child – and she also studied abroad when she was a college student. The Duchess of Cambridge studied art and Italian at the British Institute in Florence during her gap year before pursuing her Art History degree at the University of St. Andrews.
However, Kate Middleton's Italian and Arabic didn't stick, and over the years she became less-proficient.
"My languages are so bad, I have to make sure my children are better than me, that's my aim," said Middleton during a visit to Leicester in 2018.
Prince George and Princess Charlotte have reportedly started to learn Spanish from their nanny Maria Borrallo, who is from Palencia in northern Spain.
Did Prince Harry insult Prince William and Kate Middleton?
Prince Harry recently sat down with primatologist Dr. Jane Goodall for a feature in the September issue of British Vogue – which Markle guest-edited – and he made a comment that The Times called "tactless." The father of Archie Harrison said that his feelings about the environment have changed since he welcomed his son.
"I think, weirdly, because of the people that I've met and the places that I've been fortunate enough to go to, I've always had a connection and love for nature. I view it differently now, without question," said Harry.
The Duke of Sussex went on to explain that he and Markle want a maximum of two children because of their concerns about the environment.
Some believed this was Harry taking a stab at Prince William and Kate Middleton – since they are the parents of three kids – and others took issue with Harry's environmental concerns because he and Markle have a large carbon footprint.
Many have pointed out that the Duke and Duchess of Sussex use private jets to fly all over the world, and sometimes they even fly between cities in the UK.
"Is this the same Harry who uses helicopters to go from London to Birmingham and whose wife uses celebrity mates' private jets to fly to cross the Atlantic?" tweeted Good Morning Britain's Piers Morgan.
The Cambridges face backlash over birthday post
Some believe that another example of the alleged rift between the royal foursome was William and Kate's Instagram post celebrating Meghan Markle's birthday. Kate Middleton posted a group photo that featured Markle with Harry, William, Kate, and Prince Charles, and added the caption "Wishing a very happy birthday to the Duchess of Sussex today!"
The fact that William and Kate didn't post a solo pic of Markle for the birthday message upset many fans, and others accused Kate of making herself the center of attention since she was literally in the middle of the pic.
"Wait…and why doesn't she have a picture of her alone? It's 'HER' birthday, right?" wrote one fan, while another added, "All these royal photographers couldn't find a pic of Meghan in the center?!?! In a brighter color???????????"
The negative comments continued, with one follower writing, "Why a picture of the whole royal family?! It's not about Kate or William or Charles! It's about Meghan! Ridiculous!" And, another commented, "That they chose an image where Duchess Meghan isn't centered though the post is dedicated to her birthday speaks volumes as to the Cambridges' lack of class."
Kate Middleton has not commented on the rumors of feuding within the royal family.