Kate Middleton is 'Trying Her Best' to Reach Out to Meghan Markle after Prince Harry Confirmed Their Feud
Kate Middleton is reportedly trying her best to smooth things over with Prince Harry and Meghan Markle. After the Duke and Duchess of Sussex's shocking documentary, Middleton has reached out to the couple in a bid to bring them back into the fold. Not willing to let Queen Elizabeth down, the Duchess of Cambridge has allegedly talked to Markle on the phone. But will her efforts pay off in the long run?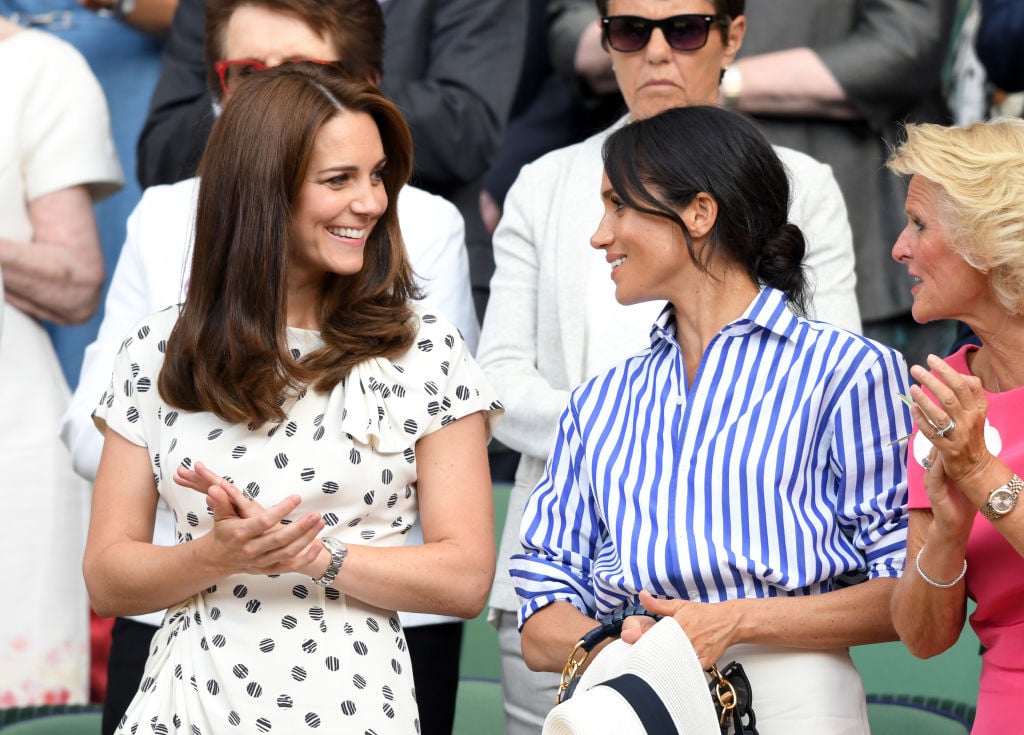 Prince Harry and Markle open up in a new documentary
Prince Harry and Markle opened up about their struggles in a new documentary titled Harry and Meghan: An African Journey.
In the video, Markle admitted that she knew adjusting to life as a royal would be difficult, but she still expected to be treated with fairness. When that didn't happen — especially in the British tabloids — Markle began to suffer behind the scenes.
"I've said for a long time to H – that's what I call him – it is not enough to just survive something. That's not the point of life. You've got to thrive and feel happy," Markle shared.
The former Suits star added that she tried to keep things bottled up and develop a stiff upper lip, but that approach only made things worse in the end. The situation did not get any better once Markle had her first child, Archie Harrison. If anything, things got even worse for the Duchess of Sussex.
Prince Harry, meanwhile, confirmed that things have been up and down with his older brother, Prince William. The admission came after months of rumors that the brothers are feuding. In light of the revelations, inside sources say that Middleton reached out to Markle and Prince Harry, who are still dealing with the fallout of the documentary.
Kate Middleton attempts to patch things up with Markle and Prince Harry
According to Daily Mail, Middleton called Markle following the documentary and tried to make things right. A source says that Middleton felt very bad for the couple and wanted them to know that they have support within the ranks of the royal family.
"Behind the scenes, I'm told Kate is doing her best to bring everyone together and help Meghan," royal expert Phil Dampier shared. "None of them want to let the Queen down, so Kate is trying to patch things up in private."
Dampier added that Kate Middleton has talked with Markle over the phone — details of which have not been revealed. But she understands what Markle is going through and can relate to her struggles.
No word yet on if Prince William has reached out to Prince Harry. In the documentary, the Duke of Sussex revealed that he and Prince William are on different paths and that they do not see each other regularly.
As royal watchers will recall, Prince Harry and Markle moved out of Kensington Palace a while back and are now living in Frogmore Cottage.  While we wait to learn more about the situation, Harry and Markle are getting ready to take a break from their royal duties.
The pair is expected to travel to the United States for a six-week vacation in Los Angeles, where they will visit Markle's mother, Doria Ragland.
Meghan Markle is close with this member of the royal family
Although Markle has had a difficult time with the British press, there is one member of the royal family who completely adores her. Over the past two years, the Duchess of Sussex has developed a close bond with Prince Harry's father, Prince Charles.
The two almost immediately hit it off after Prince Harry introduced Markle to the family, and their friendship was strengthened when the couple tied the knot in 2018. As royal watchers might recall, Prince Charles walked Markle down the aisle after her dad, Thomas Markle, failed to show up for the ceremony.
The move touched Markle and Prince Harry, who was reportedly eternally thankful for his dad stepping up to the plate. As far as the Prince of Wales is concerned, inside sources say that he has always been very supportive of Markle behind the scenes — especially when it comes to her family drama.
Prince Charles also has a soft spot for the former actress and allegedly believes she is exactly what his son needed.
Prince Harry and Markle may be going through a difficult time, but it is clear that they love each other very much. It is also good to hear that Markle has someone in the royal family she can trust, and hopefully, she can lean on Middleton as well.
Meghan Markle has not commented on the latest rumors surrounding her relationship with Kate Middleton.