Is Kate Middleton Jealous of Meghan Markle's Close Relationship With Prince Charles?
Prince Charles and Meghan Markle have an undeniably close relationship. And, the Prince of Wales even considers the Duchess of Sussex the "daughter he never had." But, what about Kate Middleton? Prince Charles and Kate Middleton don't appear to have the same close-knit relationship.

Is Kate Middleton jealous of her father-in-law's friendship with Meghan Markle? Find out, ahead.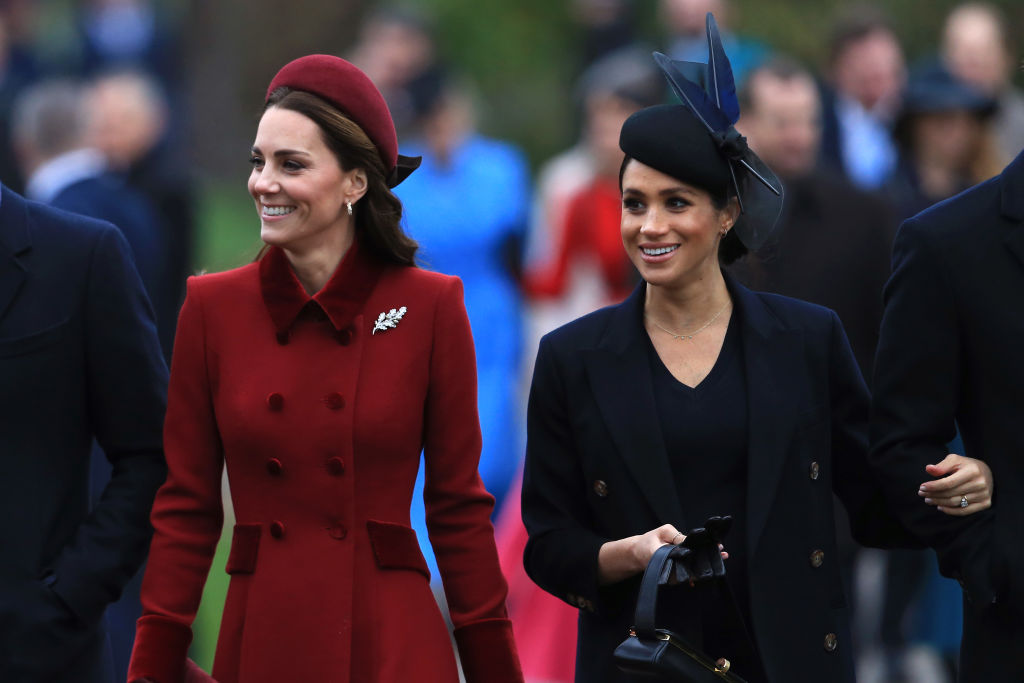 Prince Charles and Meghan Markle's relationship

The Prince of Wales and Duchess of Sussex have reportedly hit it off since they first met. And, in many ways, Prince Charles has become Meghan Markle's rock in her new royal life (especially since her own father has not been helpful in this transition).

Prince Charles is proud of Meghan Markle

It appears that the Prince of Wales has offered his new daughter-in-law lots of support in her early months as a royal. He and the Duchess of Sussex share a true father-daughter bond and Prince Charles is reportedly very proud of her efforts and "impressed by her commitment to charitable causes."

He walked her down the aisle

After her father backed out at last minute, Prince Charles stepped up to the plate and agreed to walk his new daughter-in-law down the aisle. In the wake of the royal wedding let down, he showed the new duchess that she is like a daughter to him and helped usher her into royal life in a very sweet way.

He cut ties with friends over the duchess

Like most fathers, Prince Charles feels very protective over Meghan Markle. So much so that he has cut ties with certain friends who talked poorly about the duchess. Case in point: Prince Charles's old friend, Nicky Haslam called Meghan "frightfully common" and then criticized her family, calling her father a "big lump," and even said her wedding dress seemed to "be made of concrete." Apparently, Prince Charles defended Meghan Markle and has not associated with him since.

Prince Charles and Kate Middleton's relationship

While Prince Charles has been more outspoken about his relationship with Meghan Markle, that doesn't mean he and Kate Middleton aren't just as close. In the past, the two had their differences, but they appear to enjoy each other's company and are very warm towards each other at royal engagements.

Here's a closer look at Prince Charles and Kate Middleton's relationship, including whether or not Kate Middleton is jealous of her father-in-law's closeness with Meghan Markle

Prince Charles was once jealous of Prince William and Kate Middleton

When it comes to Prince Charles's relationship with Kate Middleton, it appears the Prince of Wales is the root cause of some of their issues. For one, he has expressed feelings of jealousy in the past over the media attention and public love Prince William and Kate Middleton received early on in their marriage. The prince allegedly feared he would become overlooked and secondary to his son.

On top of that, he has caused some upset for Kate Middleton's parents, Michael and Carole Middleton, as he felt they were the more favored grandparents.

Her first overseas trip disappointed him

Prince Harry and Meghan Markle had a wildly successful first overseas trip together. However, that wasn't the case for Prince William and Kate Middleton. At the time, Prince Charles was apparently upset with the newlyweds as he felt they treated the diplomatic trip as a personal holiday and partook in far too many photo opportunities.

They get along in the public eye

Some believe that the quarrels between Prince Charles and Kate Middleton are simply rumors. Especially since the two appear to get along just fine at royal engagements and family affairs. They are often pictures hugging, kissing on the cheek, smiling, laughing, and even partaking in activities — such as arts and crafts — together.

Is Kate Middleton jealous of Meghan Markle?

While jealousy runs deep in the royal family, Kate Middleton likely has no envious feelings towards Meghan Markle — especially when it comes to her relationship with their father-in-law. The Duchess of Cambridge and Prince of Wales might have had their differences over the years, but that's family. In the end, he supports both of his daughters-in-law and wants nothing but the best for his family.

Check out The Cheat Sheet on Facebook!