Revealed: Meghan Markle's Maternity Wardrobe Is Worth 7 Times More Than Kate Middleton's
Meghan Markle has had quite an expensive pregnancy — especially in comparison to Kate Middleton. So far, the Duchess of Sussex has broken royal protocol with an extravagant $200,000 baby shower in New York City and reportedly has a maternity wardrobe worth a whopping seven times more than the Duchess of Cambridge's.

Up ahead, we take a closer look at Meghan Markle's maternity wardrobe — including how much it's worth and what her most expensive ensemble is so far — and how it compares to Kate Middleton's.

Meghan Markle's maternity wardrobe

For the last eight months, the Duchess of Sussex has made public appearances, gone on royal tours, and met with some important world leaders all while dressed to the nines in a maternity wardrobe fit for a royal. According to a recent report by Love the Sales, Meghan Markle has given us 75 stunning maternity looks worth over half a million dollars total.

Like her sister-in-law, Meghan Markle has sported a few affordable ensembles, including dresses from H&M and Aritzia. However, her total maternity wardrobe is worth over $600,000 and averages around $8,485 per outfit.

As with everything Meghan Markle (and Kate Middleton for that matter) wears, her maternity wardrobe has caused an uptick in search volume and sales for various designers, including Karen Gee, who designed a white shift dress the duchess wore while on her Australian tour. The designer's dress saw a 5,800% increase in search volume, which ultimately crashed the website.

Veja, the sneaker company behind Meghan Markle's sustainable V-10 kicks that she wore to a sailing competition at the Invictus Games also benefited from the mother-to-be's outfit choices. The company saw an overnight increase of 300% search traffic.

Does Meghan Markle pay for her clothes?

It's unclear which clothes the Duchess of Sussex pays for and which ones are borrowed from designers. However, some of her most pricey maternity looks (like the $13,000 Oscar de la Renta dress she wore to the Geographic Society Awards in October 2018) were most likely loaned to the duchess.

How Meghan Markle's maternity wardrobe compares to Kate Middleton's

Like Meghan Markle, Kate Middleton also wore her fair share of high-end designers throughout her three pregnancies. Most notably, the Duchess of Sussex wore Jenny Packham, Dolce & Gabbana, Alexander McQueen, and Erdem. However, she also donned a lot more affordable pieces, too.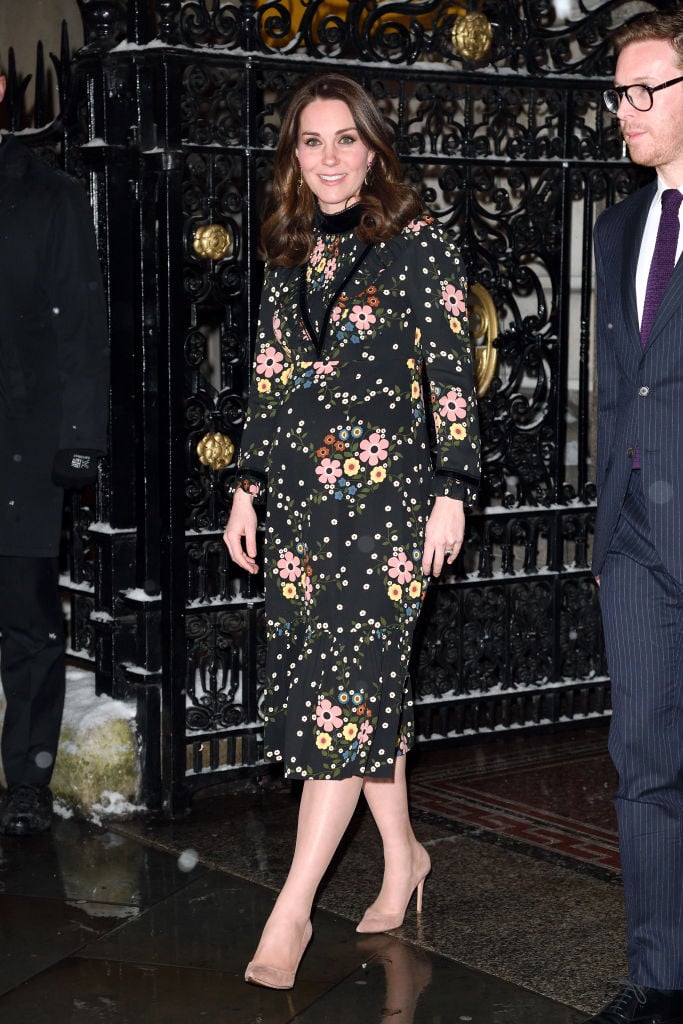 According to Love the Sales, Meghan Markle's maternity wardrobe is the most expensive out of any royal woman. In fact, the Duchess of Sussex's ensembles racked up a bill totally seven times more than what Kate Middleton's maternity wardrobes were worth. But, that's not to say either duchess actually paid for most of their ensembles.

As we mentioned previously, some of Meghan Markle's pricier maternity looks were likely loaned to the duchess by the designer. And, the same goes for Kate Middleton. Additionally, Kate Middleton was able to recycle some of her garments from her first pregnancy — which she did a handful of times — which saved the Duchess of Cambridge some money.

Will Meghan Markle save some of her favorite maternity staples for baby number two? Only time will tell.

Check out The Cheat Sheet on Facebook!