Kate Middleton Offered This 1 Piece of Crucial Advice to Meghan Markle About Royal Life
Kate Middleton has a wealth of advice to offer Meghan Markle, but will she follow it?
Could Meghan Markle learn something from Kate Middleton in the way she's dealt with life in the royal spotlight? Markle recently shared the devastating impact of the public and media scrutiny since joining the royal family and Middleton has reportedly reached out to her with some solid advice.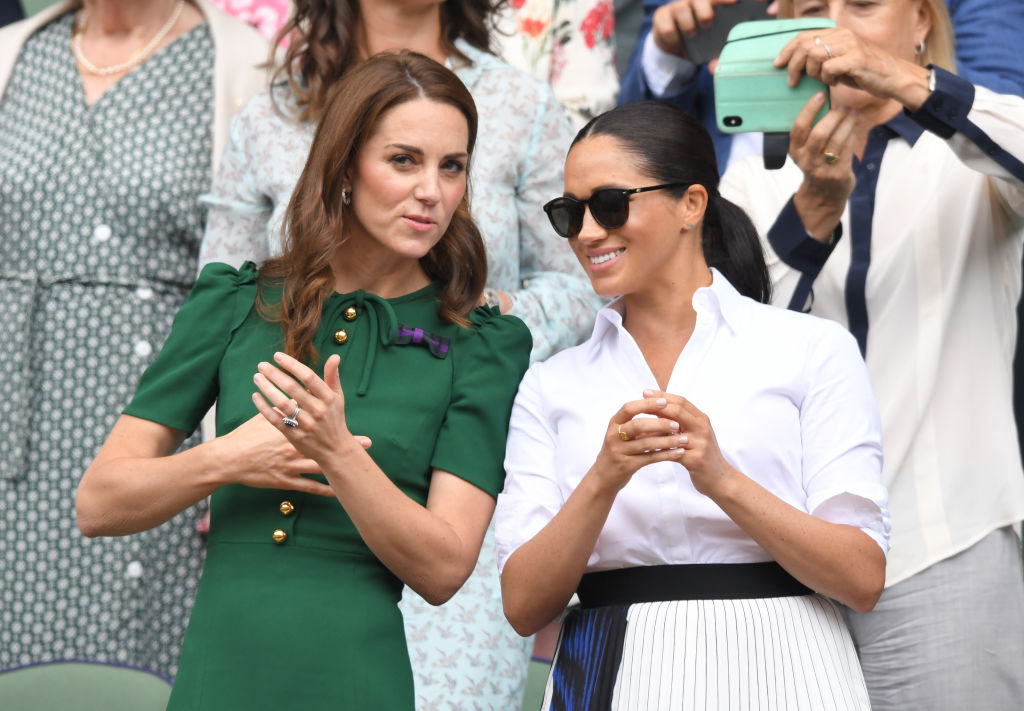 Markle shared some of what she's going through
Prince Harry and Meghan Markle's recent documentary about their royal tour of Africa included interviews from the couple that shed light on how they have been struggling with the spotlight.
Markle noted during the interview: "I never thought that this would be easy, but I thought it would be fair and that's the part that's really hard to reconcile."
Markle shared that she's "really tried to adopt this British sensibility of a stiff upper lip," but it's challenging. She explained, "I tried, I really tried. But I think what that does internally is probably really damaging."
Middleton reportedly offered Markle advice
In the wake of Markle's emotional interview, Middleton is believed to have made an effort to provide "comfort and advice" to the Duchess of Sussex. With some first-hand perspective of living this royal life, certainly Middleton can provide a guide to how she's managed the ups and downs.
Royal expert Dickie Arbiter shared with Express that there is "an element of truth" to the idea that Middleton is trying to "patch things up" with Markle. He explained: "There's no bad blood between Kate and Meghan — if you remember, way back in July, they were in the Royal Box at Wimbledon watching the lady's finals. A few weeks later, they were at polo watching their respective husbands play."
Arbiter continued: "There's a bit of friction between William and Harry, as Harry intimated in that ITV documentary just over a week ago. It's really for the two young men to sort themselves out. Meanwhile, Kate is giving Meghan perhaps a little bit of advice, a little bit of comfort."
Middleton does have some experience, after all, as Arbiter pointed out: "She's been a mum three times while Meghan is a first-time mum. It's always nice to have a little bit of help and a bit of comfort."
Middleton's advice is to "learn by mistakes, move on"
Royal author Phil Dampier also weighed in on the possible support that Middleton is providing, noting: "Behind the scenes, I'm told Kate is doing her best to bring everyone together and help Meghan. None of them want to let the Queen down so Kate is trying to patch things up in private. I'm told she has reached out to Meghan and spoken to her on the phone. Kate feels sorry for her and knows that Meghan is struggling."
Dampier added: "Catherine has told Meghan that every royal — including herself — goes through a bad patch with the press but the important thing is to learn by mistakes, move on and get through it."
Amid the Sussexes sharing their personal struggles about the massive scrutiny they have dealt with, the couple are planning a six-week break from their royal duties. According to some reports, Prince Harry and Marke might make a more permanent move to the United States, something that Dampier calls "a disaster."
He explained: "It would be a disaster if Harry and Meghan quit and lived abroad — William and Kate would be devastated."