Is Kate Middleton the Reason Prince Harry and Meghan Markle Are Moving?
Prince Harry and Meghan Markle recently announced they'd be moving away from Kensington Palace. But since the announcement, rumors have flown that a certain royal may have something to do with it. Is Kate Middleton the reason Harry and Meghan have decided to move away?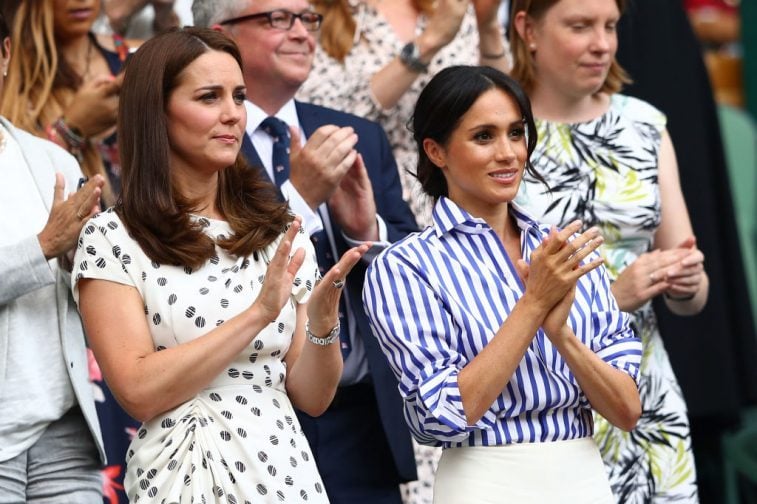 When Meghan was first introduced to the family, friends close to Kate weren't sure how the two would get along
When Harry and Meghan first began dating, those close to the family weren't sure how she and Kate would get along. It wasn't in the sense that Kate wouldn't accept her into the family but rather that Meghan and Kate were very different people who might not become as close as the public would hope. Meghan wanted to find friends of her own in the United Kingdom instead of sticking by Kate's side, but it wasn't necessarily in a bad way; Meghan simply wanted to find her own way with her new husband.
But Kate and Meghan appeared to strike up a friendship
Despite reports that the two might not get along, they appeared to always be in good spirits around each other. And Kate helped show Meghan the ropes when she first started making royal appearances. On their first royal outing together, they were all smiles, and it seemed to be the beginning of a lifelong friendship. In fact, those close to the family said Kate was a bit relieved that there was a new royal in the spotlight. After all, she was pregnant with her third child at the time and wanted to take a step back and spend more time with her family. And once the Palace announced Meghan's pregnancy, it seemed Kate got what she wanted.
Now, reports suggest the two may be at odds — and it has caused Harry and Meghan to move away
When any drama happens in the royal family, it is usually divulged via sources close to one of the couples. And when The Daily Mail caught wind of a feud between Meghan and Kate, the press went wild. According to the source, Kate and Meghan don't get along very well, which has caused Meghan and Harry to want to find their own way in the royal family. The two currently live on the grounds of Kensington Palace, but they announced they'll be making a move to the grounds of Windsor Castle, about 20 miles away, at the beginning of the year (before the baby arrives). And it's been suggested that Kate and Meghan's relationship could be why.
Elle Magazine recently uncovered some royal wedding drama between Meghan and Kate; Kate was supposedly left in tears after a bridesmaid fitting. Recent reports have said the two are not best friends, and despite not being worst enemies, their differences as people have made it hard for them to get along.
But Harry's dislike for royal life may play a role, too
Despite Meghan and Kate not being best friends, they might not be the reason the couple is moving. After all, plenty of in-laws aren't best friends but still make do each day. However, EI News reports that Harry doesn't love constantly being in the royal limelight, and moving to Windsor will give the couple a chance to raise their child with a little less pomp and circumstance surrounding them. Rumors have also flown that Harry and Will are in a tiff since they decided to divide up their two courts, but Harry's want for privacy might be the biggest factor in the move. Regardless, it appears this week has brought some drama to the royal family in the wake of the pending arrival of Meghan and Harry's first child.
Check out The Cheat Sheet on Facebook!