Kate Middleton Reveals the Adorable Thing Prince George and Princess Charlotte Love to Do at Home All the Time
Prince William and Kate Middleton are parents to three adorable children and fans love getting updates about different things the royal children are into. Recently, the Duchess of Cambridge revealed a new activity Prince George and Princess Charlotte are doing all the time now.
Here's what the little ones enjoy doing in front of their parents at home.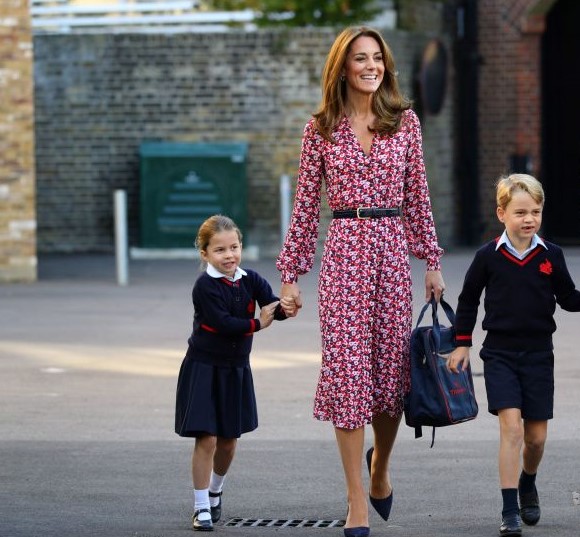 What Prince George and Princess Charlotte do all the time now
In November, the duke and duchess attended the annual Royal Variety Performance at the Palladium Theatre in London and met with several of the young performers.
The pair stepped out for a date night without their kids but they weren't far from anyone's mind.
People noted that Petula Clark, who was part of the Mary Poppins cast, asked about the couple's three children and Middleton said they weren't at the event because it was a school night.
Another performer, Nuala Peberby, chatted with the duchess about her little ones as well and Middleton told her George and Charlotte enjoy putting on little shows for her at home.
"She said that her children love performing at home, particularly Charlotte," Peberby recalled.
The mother of three also revealed to a 6-year-old girl named Aurelia from the acrobatic group Zurcaroh that both George and Charlotte really like acrobats too and do cartwheels and handstands all the time.
Prince William revealed another activity his children are good at
A few days after Middleton talked about the prince and princess' love for performing and acrobatic talents, Prince William dished on some more details about his royal kiddos. The Duke of Cambridge said that another activity they are very good at is swimming.
William shared the information with Eileen Fenton when he presented her with an award for her voluntary services over the years. Fenton was the first woman to finish the English Channel race in 1950 and she was delighted to hear that the prince's children know how to swim.
"He said that he and his wife make sure the children can swim and they all go and they swim quite well," Fenton told the Press Association, adding, "I can remember seeing when the queen was young and her sister Princess Margaret — we used to see them swimming in pictures. He said the whole family have done it."
George and Charlotte learned to swim at an early age in the pool at Buckingham Palace, which is where their father and several other members of the royal family took swimming lessons as well.
Middleton is also an avid swimmer and earlier this year she took her two eldest children to a hotel complex in Norfolk where the siblings were spotted playing in the water and racing each other across the pool.
"Both the children swam unaided and were super confident," a source told Hello! "They went under the quite forceful jets in the water… They were doing little jumps off the side into [Middleton's] arms."
Read more: Do Prince George and Princess Charlotte Have Any Pets?