How Many Times Has Kate Middleton Worn a Tiara?
For a royal woman, Kate Middleton doesn't flaunt crown jewels that often — at least not on her head. Which makes fans question: How many times has Kate Middleton worn a tiara? As the duchess gets more and more involved in the royal family business, she reaches for the royal accessory much more than she did back in her early days of royalty. However, it's still not as often as you'd think.
Find out how many times Kate Middleton has worn a tiara, plus the tiaras she always has on rotation, ahead.
How many times has Kate Middleton worn a tiara?
While Kate Middleton's upped her tiara game recently, she's only worn a tiara seven times (that's one for each year she's been in the royal family) and typically has three tiaras on rotation. The first time we saw the duchess in a tiara was in 2011 on her royal wedding day. And, she sported her most recent head dazzler in October 2018 at a state banquet at Buckingham Palace.
Curious to know more? Find out which tiaras Kate Middleton has worn, plus the two she keeps on rotation, below.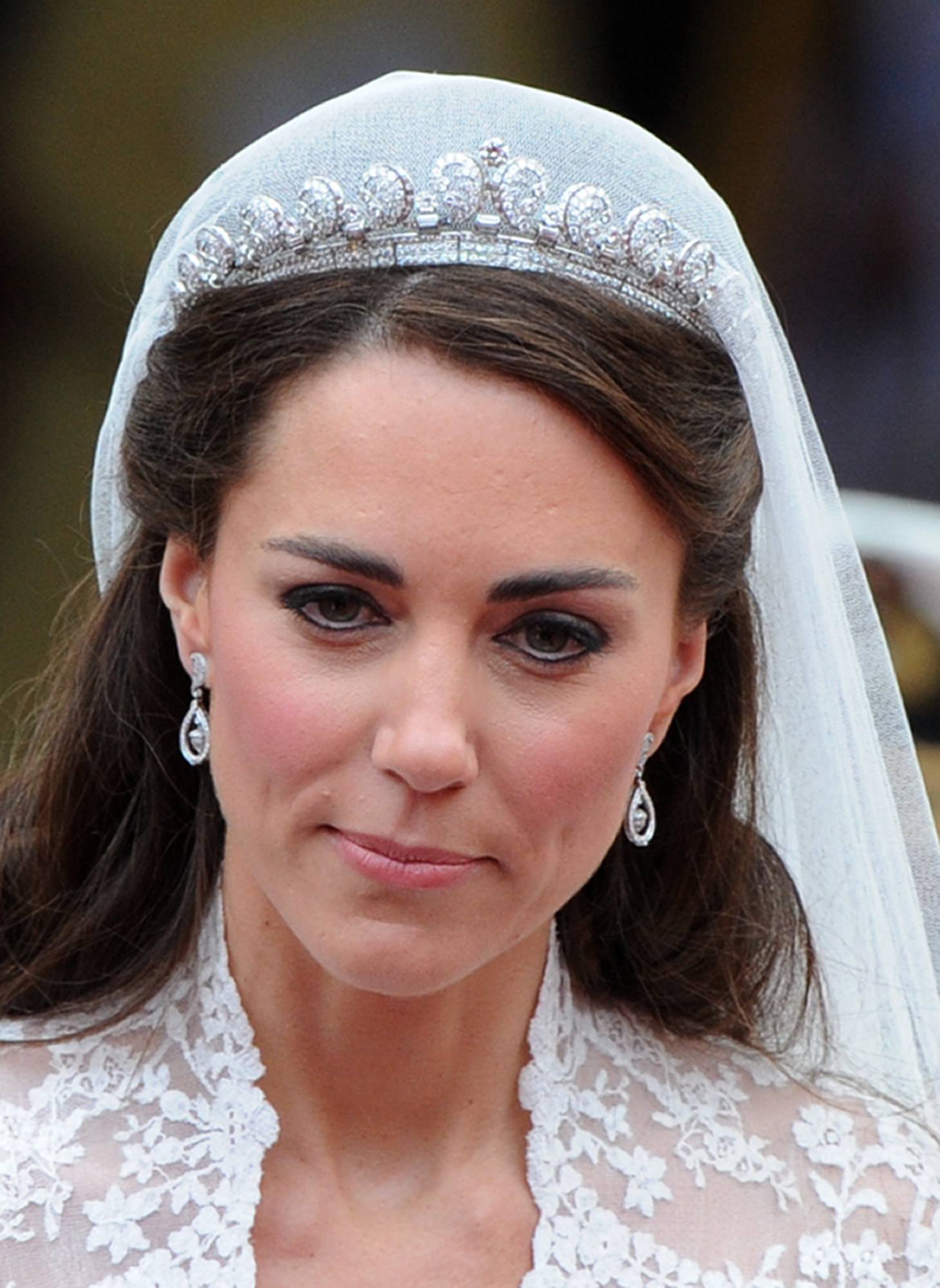 Cartier Halo Scroll Tiara
Number of times worn: one
On her wedding day in 2011, Kate Middleton wore the Cartier Halo Scroll Tiara. It features 149 baguette-cut diamonds with a base of 739 brilliant-cut diamonds. King George VI commissioned Cartier London to create the piece for his wife, Elizabeth Bowes Lyon (the Queen Mother).
The Queen Mother gave to Queen Elizabeth II on her 18th birthday and she loaned it to Kate Middleton on her big day.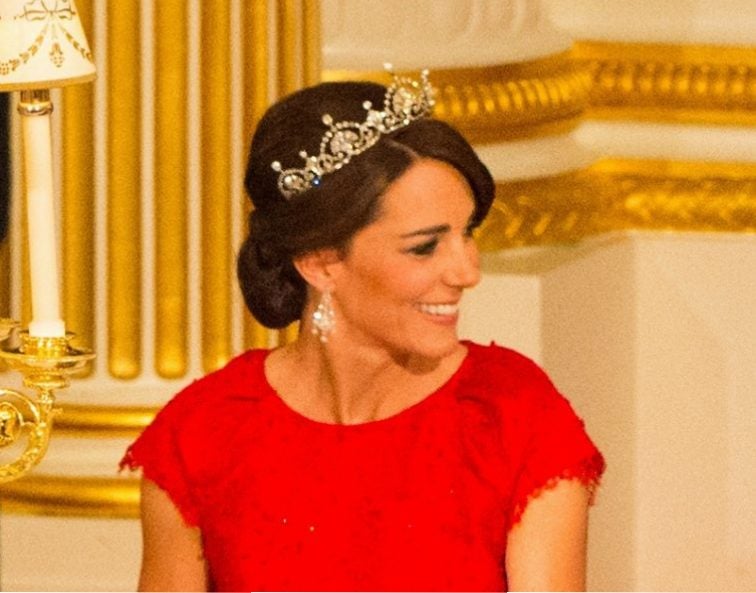 Lotus Flower Tiara
Number of times worn: two
Kate also wears Princess Margaret's favorite tiara, the Lotus Flower Tiara (also referred to as the Papyrus Tiara) a lot. The tiara originally belonged to the Queen Mother and was once a necklace before it was converted into a tiara. She gifted it to her daughter, Princess Margaret in 1959 (just before her royal wedding day) and it became a staple in her royal wardrobe. The Egyptian-style tiara features a band of diamond lotus flowers with overreaching arches and a single pearl in the top center.
Kate first wore the tiara to an event in 2013, then again for a state banquet honoring China's president Xi Jinping at Buckingham Palace in 2015.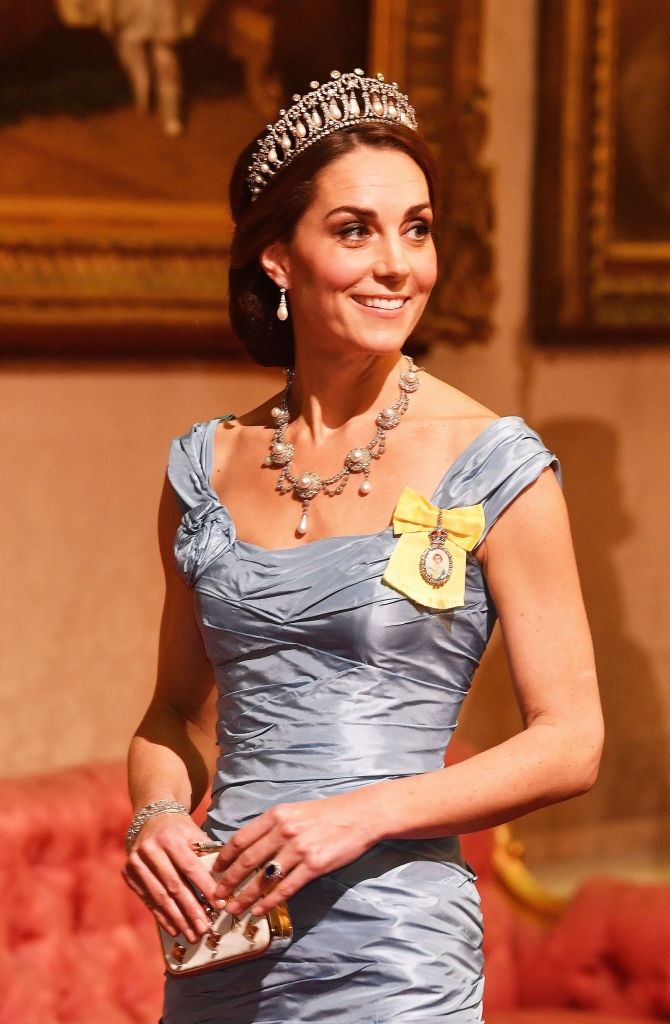 Cambridge Lover's Knot Tiara
Number of times worn: four
Kate Middleton also wears Princess Diana's favorite tiara a lot. The Cambridge Lover's Knot Tiara is a go-to for the duchess and she has worn it more than any other tiara. Originally made for Queen Mary in 1914, the infamous tiara features 38 teardrop pearls with diamonds from the royal collection.
Queen Elizabeth II loaned the pearl and diamond tiara as a wedding gift to Diana and she wore it to several royal events. Following her divorce from Prince Charles, Diana was forced to return the crown jewel to the queen. After that, the tiara was not seen until Kate Middleton wore it to a formal reception at Buckingham Palace in 2015.
In July 2017, she wore the tiara again to a state banquet at Buckingham Palace during the Spanish state visit. Months later, in December 2017, she wore her mother-in-law's favorite dazzlers to the winter party at Buckingham Palace. Most recently, in October 2018, she wore the pearl and diamond headpiece again to a state banquet during King Willem-Alexander and Queen Maxima of the Netherlands' visit to the United Kingdom.
Check out The Cheat Sheet on Facebook!