Kate Middleton Wants Her Children to Participate in This Childhood Tradition
Prince George and Princess Charlotte may not have the most typical of childhoods, but Kate Middleton and Prince William sure do strive to give their children a "normal" experience.
Kate Middleton's history with the Scouts
Middleton recently visited Scouts headquarters to see the youth movement's latest program for four, five, and six-year-olds. Kate and her sister Pippa were both Brownies as young girls, so she fit right in during her visit. Additionally, Kate was a Scouts volunteer when she and William lived on the island of Anglesey in north Wales when they were first married.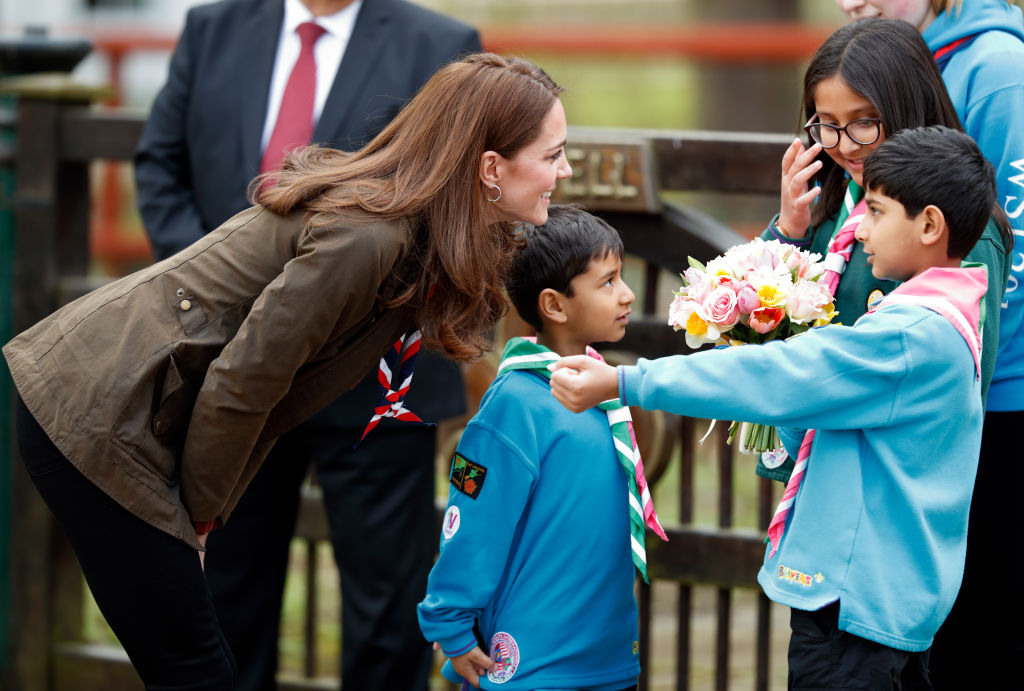 "She's used her experience as a sailor to help them with knotting," a local Scouts source told People when Middleton was a volunteer. "She's been involved in managing games and joining in art and crafts activities. … We also pitched tents indoors in one of the sessions, and she remembered pitching tents."
She then became a patron of the Scouts organization in 2012. As a patron, she aided in recruiting more volunteers.
Upon arrival to Scouts headquarters this past week, Middleton was greeted with a bouquet of flowers and a couple children who were excited to show off their badges.
Kate Middleton said she wants George and Charlotte to be Scouts
While at headquarters, Middleton said she'd like to sign up Prince George and Princess Charlotte for the young Beaver Scouts. She told the young leaders that she'd love for her five-year-old and three-year-old to follow in her footsteps.
"She said she would like them to go into the scouting community because she loves what it stands for — that it's a very open and inclusive way into life," said 14-year-old Lauren Noble, who gave Kate a tour, reported People. "She said it would be a great thing for them to get involved in."
Kate's Scout activities
In addition to talking to the young leaders about her hopes of getting Prince George and Princess Charlotte in their new program for youngsters, Middleton also explored a shelter made of sticks, collected leaves and branches, and helped to hand-paint a tree in order to mark the centenary of Scout headquarters.
"She got fully involved with the hand painting, and ended up with a green hand," 16-year-old Kameron Liddar, who helps at a scout group in Wallingford, Oxfordshire, told People. "As a mum you can see she has the talents. She was very friendly with them and knew what to do with them. She wasn't afraid to get a little bit grubby."
Middleton also spoke to 17-year-old Tahseen Patel about how Scouts provides children the opportunity to introduce them to new people and cultures.
"She said she'd like to get her children involved and how you learn so many skills for life in the scouts," said Patel. "I talked to her about the mosque and how important it is for religion and scouting to blend together and how we have to learn about each other's religions and be united with each other."
Read more: Prince Harry and Meghan Markle Encourage Young People to Make Steps Towards Social Change
Check out The Cheat Sheet on Facebook!