Kate Middleton Will Never Stop Wearing This 1 Pair of Shoes
Kate Middleton has been a style icon ever since she married into the royal family. The Duchess of Cambridge has definitely worn her share of expensive clothes, but she's been known to repeat outfits frequently as well. And it turns out there is one pair of shoes she's owned for more than 14 years that she continues to wear and re-wear.
Millions of people around the world have emulated the duchess' style
When Kate and William got married, her style instantly became a major focus. Her wedding gown reportedly cost $400,000, and from there, it was clear that she was going to leave a mark on the fashion world. Since entering the royal family, fashion enthusiasts have documented every one of Kate's important outfits. She even caused something known as the "Kate effect," where styles that matched her look flew off the racks as soon as she was spotted in them. Still today, she has a major hold on the fashion industry. 
Kate has been known to repeat outfits
Though she's a duchess who is worth millions, Kate loves a good staple piece. She's been known to repeat outfits — even several years after she has worn something — which shows two things: She's not above saving money now and then, and she definitely has a massive closet. Plus, Kate always appreciates a good sale. Her mother, Carole Middleton, was one to jump at a great price too, so clearly the two women are cut from the same cloth. But not only does Kate repeat dresses and tops– she also repeats shoes.
She refuses to stop wearing her Penelope Chilvers boots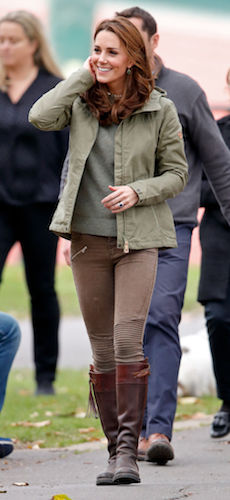 The duchess has been spotted in a few affordable pairs of shoes now and then. Though she doesn't wear boots all that often, whenever she has to chance to break them out, she seems to gravitate toward one pair. They're called long tassel boots, and they're by Penelope Chilvers. According to Town & Country, the boots are handmade of vegetable leather and have a rubber sole. They retail for $642, so while they definitely aren't cheap, they are versatile and just might be worth the expense. Kate has worn them to various royal engagements through the years. She was spotted with the boots in 2018 while visiting a school just after her maternity leave ended. And she wore the boots back in 2017 to visit a farm. In 2016, Kate wore them alongside William on their tour of India. Those boots have seen more countries than most of us have.
Kate's style has been compared with Meghan Markle's, too
Though Kate is a fashion icon in her own right, now, the royal family has two of them. Meghan Markle and Prince Harry married back in 2018, and since then, Meghan has also become somewhat of a style icon. Though the women do dress differently, they both dress very eloquently and turn a lot of heads with their outfits. And Meghan has her own reliable pair of shoes she's been spotted with many times as well. Both royal women constantly make the news for what they choose to wear during royal engagements, and rumor has it, they have even shared fashion tips with one another.