Kate Middleton's Style in Pakistan Is Especially Good —Here's Why
There's no denying Kate Middleton's got style. So, why are the Duchess of Cambridge's outfits on her and Prince William's royal tour of Pakistan, especially good? Find out ahead.
Middleton is a style icon. The 37-year-old is credited for bringing fast fashion brands to the royal family. Before her, it was practically unheard of for high-ranking members within the famous family's ranks to wear items from brands such as Topshop, Zara, or Jigsaw.
The Duchess of Cambridge changed all that by mixing high (designer) and low (fast fashion) pieces and over the years it's become her signature. And she's always got shiny, perfectly coiffed hair to go with her latest ensemble.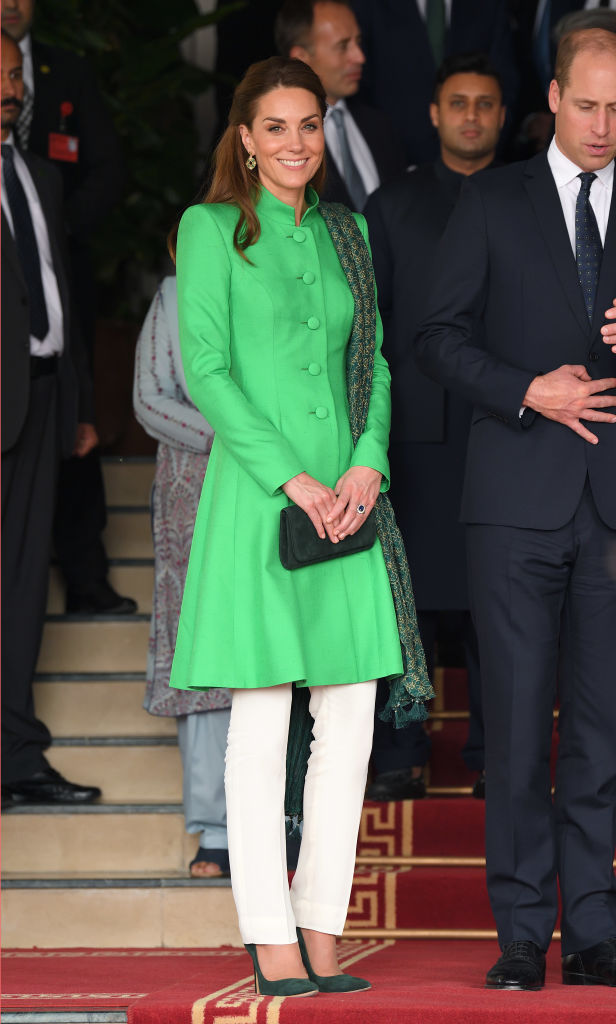 Why Kate Middleton's outfits in Pakistan are especially good
Since she and Prince William have embarked on their five-day tour of Pakistan, the Duchess of Cambridge's looks have been especially good because she's back to working with her personal assistant and stylist, Natasha "Tash" Archer, who recently returned from maternity leave, according to Vanity Fair.
Prince William and Middleton's official trip to Pakistan, their most complex tour to date, is Archer's first foreign tour since giving birth to her son, Theo, in late 2018. It's her job to be in charge of Middleton's wardrobe and ensure that she looks the part for every event on what's sure to be a jam-packed itinerary for the Duke and Duchess of Cambridge.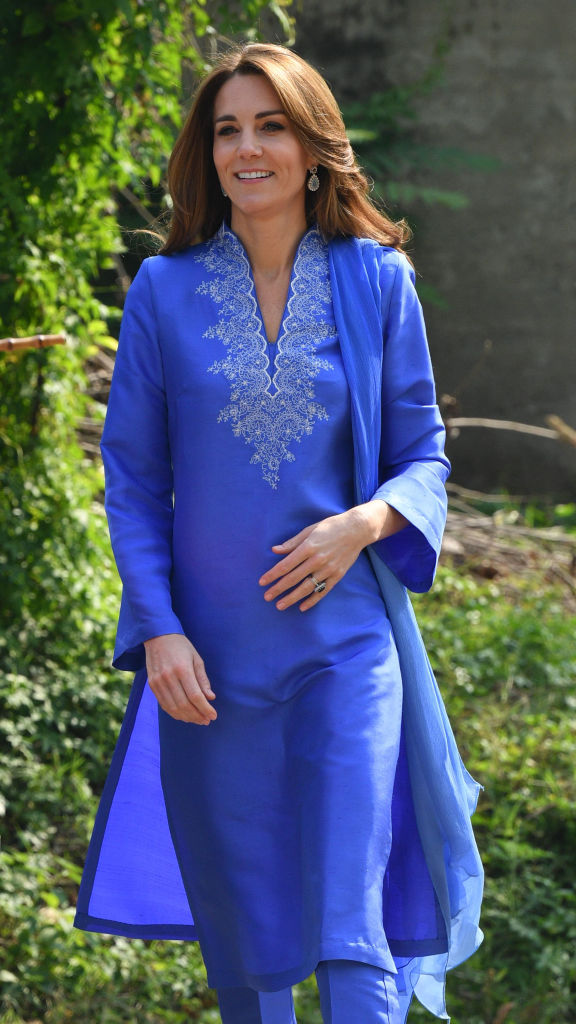 While royal watchers worried about the issue of safety after Kensington Palace announced the tour earlier this year, Archer concerned herself with preparing everything from casual outfits to those fit for black-tie receptions. A source told Vanity Fair, she spent hours going through look books with the Duchess of Cambridge and put outfits in color-coded tissue paper after photographing each one.

Expect Middleton to wear 'an extravaganza of color'
Like other royals, Middleton's known to don colors and designs of the country she's visiting. In the past, she's worn red in Canada along with a maple leaf pin. Pakistan, so far, has been no different. Upon arrival, the Duchess of Cambridge wore a blue ensemble channeling her late mother-in-law, Princess Diana.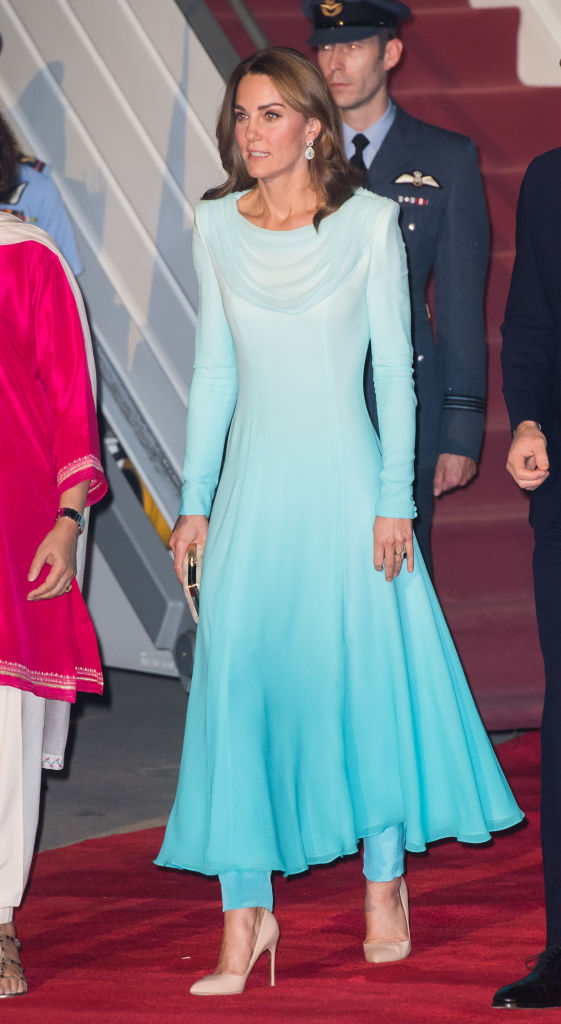 Claudia Joseph, a royal style observer and author, told the publication what she expects to see from Middleton during the tour.
"I'm sure we will see an extravaganza of [sic] color and frothy fabric, and I expect Kate will pay homage to local designers as well as flying the flag for British talent," Joseph said before adding, "She wore a dark green dress and earrings by the Pakistani designer Zeen when she met the Aga Khan, earlier this month and will be bound to showcase other Pakistani designers on tour."
Joseph continued, saying that she'd expect to see the Duchess of Cambridge give nods to Pakistan through her wardrobe. "I imagine we will also see her in traditional dress, in bottle green, which is the national [sic] color, and a dress embroidered with Jasmine, the national flower," she said.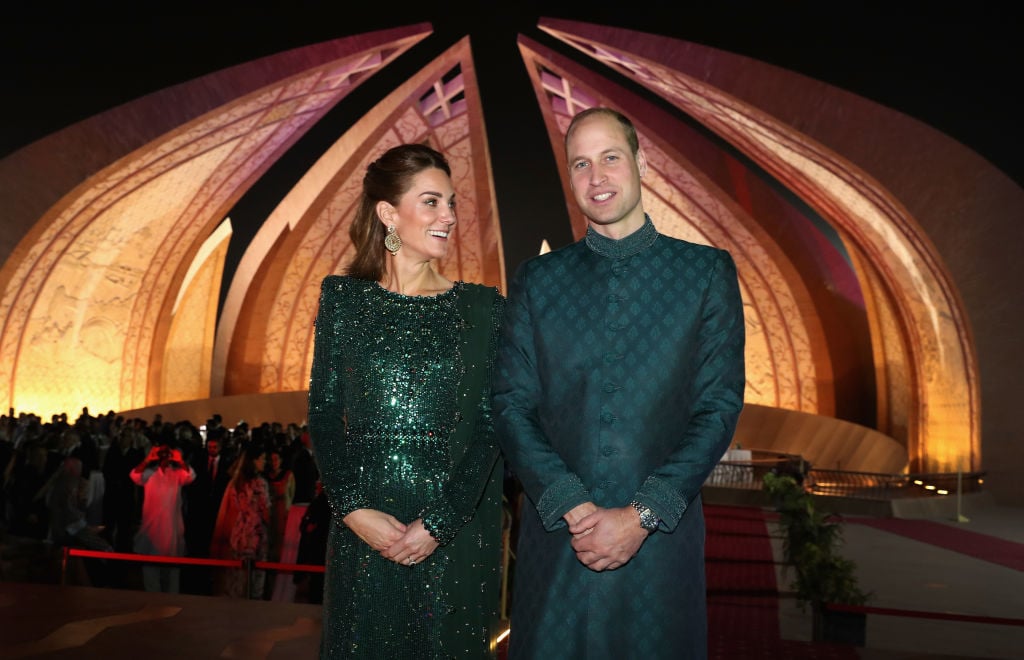 The author also said Middleton's ensembles will be different from Meghan Markle, Duchess of Sussex, wore on her recent tour of Africa with Prince Harry, Duke of Sussex, and their son, Archie Harrison Mountbatten-Windsor. "Her wardrobe will be in marked contrast to Meghan's tour wardrobe for Africa which was much more casual and less fashion-forward," she said.
What the mother of three wears — everything from shoes and clothing to jewelry and handbags — sells out within hours, or sometimes minutes, of her wearing a specific item. It's been that way since she and the Duke of Cambridge announced their engagement ahead of their 2011 royal wedding.
Even though brands sometimes hate it when high-profile royals wear their products, there's no denying it's a big deal. Surely, Middleton's Pakistan tour outfits will be no different.