Katharine McPhee and David Foster are Married: Here's Their Combined Net Worth
Musical couple Katharine McPhee and David Foster married each other on Friday, June 28, 2019, in London, almost a year after their engagement. Around 150 friends and family attended the wedding, including all of Foster's children. Keep reading for a look back at the couple's romance and Katharine McPhee and David Foster's combined net worth.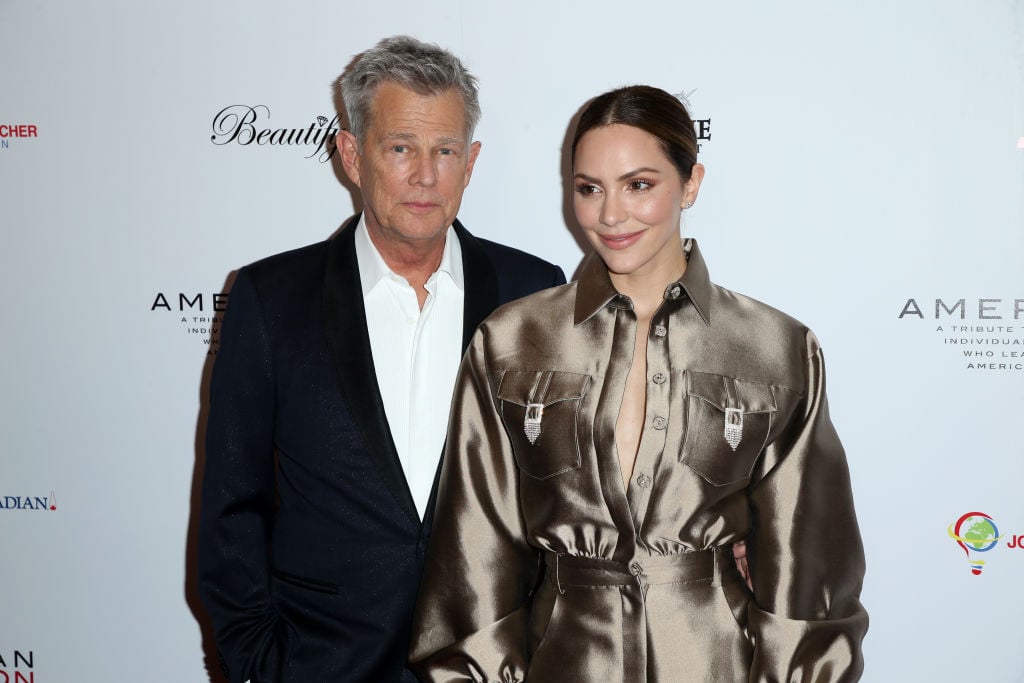 When Katharine McPhee and David Foster first sparked romance rumors
McPhee and Foster initially met on reality competition show American Idol Season 5 in 2006. However, no one knew the two were anything more friends until May 2017 when a source claimed they saw McPhee and Foster kissing several times over an intimate dinner in Malibu.
Then, in September, Foster's daughter, Erin, posted a picture of Foster with McPhee at an event and referred to McPhee as her stepmother in the caption. However, McPhee claimed they were joking and she and Foster were not in a relationship.
In October 2017, UsWeekly received information from an insider that McPhee and Foster are in a relationship, and had been for six or seven months. The source claimed they broke up for a while, but are together again. Additionally, the insider said McPhee met Foster's daughters, Erin and Sara Foster, and they approved of her.
Then, for several weeks afterward, sources said they were not dating, despite circulating photos of the two walking together, arm-in-arm. The insiders maintained they were good friends and enjoyed messing with the paparazzi.
Finally, in November 2017, McPhee addressed the relationship rumors and claimed they were close friends. She went on to say that she would no longer address the rumors and doesn't care what people think. The next month, the two were photographed kissing on the lips, and they finally admitted they were dating.
Katherine McPhee and David Foster make things official
In January 2018, Foster called McPhee his "girl" at a Grammy Awards party. When specifically asked if McPhee was indeed his girlfriend, Foster said he didn't want to talk about it. They attended an Oscars party together in March, however still refused to comment on their relationship.
In May, they finally confirmed their romance by debuting as a couple at the Met Gala and subsequently made their relationship Instagram official.
Even though outlets reported that Foster had no plans to marry McPhee, he proposed during a European vacation in July 2018. On June 28, 2019, sources told E! News that they married at a private ceremony in London. Close family and friends attended, including Erin and Sara, for Foster's fifth wedding and McPhee's second. They celebrated with their guests before the wedding, renting out a tour bus and sightseeing in London.
Afterward, they brought the celebration to The Punchbowl Pub instead of a traditional rehearsal dinner. An insider said everyone danced and had a great time, and toasted to the couple. 
What is Katharine McPhee's net worth?
Singer/songwriter McPhee became famous after appearing on American Idol in 2006, where she met Foster, and subsequently released two albums. She also acts and made her debut in the 2008 comedy, The House Bunny. Her net worth is $8 million.
What is David Foster's net worth?
Foster is a musician, producer, singer, songwriter, arranger, and composer. He produced McPhee's first single, "Somewhere Over The Rainbow" in 2006, and also produced for known singers including Mariah Carey, Whitey Houston, and Celine Dion. Foster has 47 Grammy Award nominations, and he won 16 of them. His net worth is $80 million.
Therefore, Katharine McPhee and David Foster have a combined net worth of $88 million.