Kathie Lee Gifford Reveals She Loaned Kris Jenner Money When She Was Financially Struggling
It's probably hard to picture Kris Jenner financially struggling now. She is a big part of her family's success since she manages them and therefore gets a cut of their money. The mom also has no problem flaunting her wealth, but one of her friends revealed a time when she financially struggled. Find out how Kathie Lee Gifford helped Jenner back in the day and more.
Kris Jenner currently makes money from the family's show and making their business deals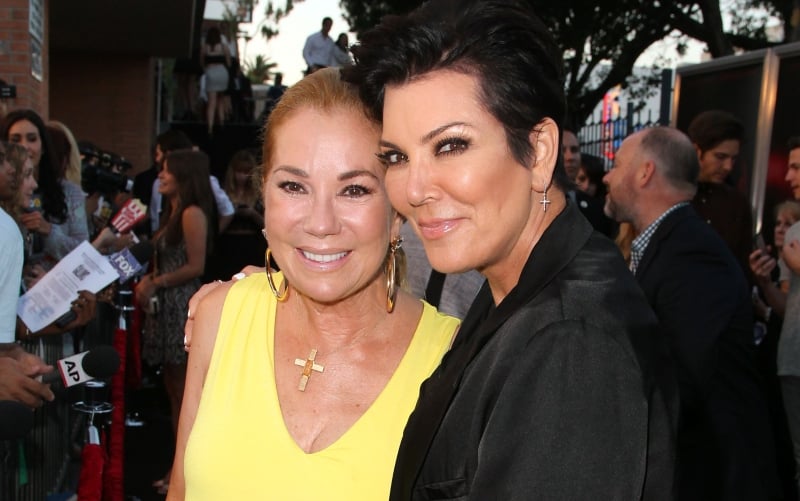 Most people know that Kris Jenner isn't hurting for money these days. She reportedly made over $10 million through her manager fee when the family renewed their contract with E! to continue Keeping Up With the Kardashians, according to TMZ.
She then reportedly makes 15% off of her children's business deals while being their manager. The manager has had other clients outside of her family like Mandy Jiroux, who was in the girl group, BG5.
Before she became a household name, she was married to Robert Kardashian, who was an attorney. Jenner said she fell on hard times after they divorced.
"I didn't have anything," she told TMZ. "I went to the market one day and my credit card didn't work. I had a market credit card and I'm like, 'I can't even buy a tomato.'"
Now one of her friends from back in the day revealed she was a helping hand when Jenner was struggling.
Kathie Lee Gifford said she loaned Jenner money when she had financial problems
Jenner has made many famous friends over the years. Gifford is one of them and they became friends in the '70s. She revealed that there was a time the manager was struggling.
"Kris was having financial problems," she told People "I loaned Kris money years ago because they needed it. They were really struggling."
Of course, that's far from the case all the years later with her family's TV shows, endorsement deals, and brands. "I want that money back!" Gifford joked.
How did the two meet? "We used to go to Bible study together," revealed Gifford. "We became very, very close friends. She was still married to Robert [Kardashian] and the children were very little."
Gifford said she encouraged Jenner to do a reality show with her family

After Kim Kardashian became famous from the release of her sex tape, her family got Keeping Up With the Kardashians. Gifford said she encouraged Jenner to do the show for a reason.
"This is when reality television was just getting a hold, I told Kris, 'You guys of all people in the world should have a reality series. You should, it's made for your beautiful children. You and [then-husband Caitlyn Jenner] at this point now are so interesting.' Their dynamic was so interesting," explained Gifford.
It seems like the Today show host was right because it has made it to 16 seasons and isn't showing signs of stopping any time soon.
Read more: How Much Money Does Kris Jenner Make from 'Keeping Up With the Kardashians'?
Check out The Cheat Sheet on Facebook!