Kathy Griffin to Help Give 'Fashion Police' a New Look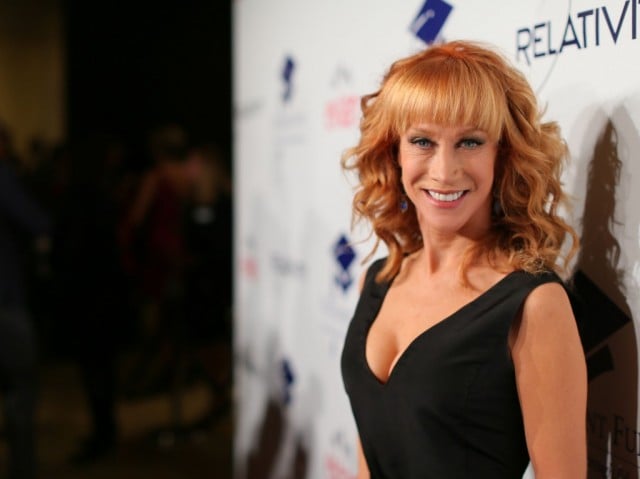 Kathy Griffin is now the new host of E!'s Fashion Police, following the tragic death of Joan Rivers in September. The comedian has just confirmed that she's finalized a deal with the network to join the style panel starting next year.
E! first confirmed that Fashion Police would continue with approval from Rivers' daughter and the show's executive producer, Melissa Rivers, in September. With new episodes set to air in January, rumors that Griffin was the leading candidate to succeed the late star began to fly. The comedian initially responded to the speculation by saying, "I don't know if the situation is correct at this time for me or right for me at this time." Though she's now accepted the position, it's clear fans should expect more than just a host change in the forthcoming season of the series.
For starters, Griffin is only one of two new faces coming aboard the show next month. Celebrity stylist and TV personality Brad Goreski is also joining the series as a replacement for original cast member George Kotsiopoulos. Both of the new additions will sit alongside returning panelists Kelly Osbourne and Giuliana Rancic.
The panel isn't the only part of the series to undergo a major makeover. Perhaps in acknowledgement that Fashion Police may not draw the same interest without Rivers, the show's format is also getting revamped. Instead of the series returning to its previous weekly installments, the upcoming season will be comprised of a total of 17 new episodes that will cover only the biggest award shows and fashion events throughout the year.
While some fans may be put off by the significant changes and the new choice of host, placing distance between Rivers' Fashion Police and the forthcoming version only makes sense, especially since both Griffin and the network seem eager to make it clear that they want to continue Rivers' legacy, not attempt to recreate the show as it was.
In terms of that effort, it's easy to see why E! would choose Griffin as a successor. She was a longtime friend and admirer of Rivers and has a brash, no-holds-barred brand of comedy that was clearly influenced by the legendary comedian. And though some viewers may not be happy with the choice, Griffin has already found support in one significant voice: Melissa Rivers.
The daughter of the late fashion maven has already expressed her support for Griffin and the newly revised series as a whole. "Kathy just feels right, and Brad brings a fun, new voice to join Giuliana and Kelly in this ensemble," Melissa Rivers, who will remain an executive producer on the show, said in a statement. "I'm excited to see where this panel takes this series my mother so adored in this next incarnation."
Meanwhile, Griffin herself acknowledged her new gig in exactly the way you'd expect. "I get it! These are some big shoes I'm going to fill. Joan was truly one of a kind. Now I hope you will accept me for me," Griffin said in a statement. "I'm just Kathy. Did I say I'm just Kathy? I meant I'm Kathy F***ing Griffin and you celebrities better strap yourself in, as I am taking no prisoners. I am not holding back so DAMMIT let's have some fun!"
Fashion Police will introduce its newly formed panel on January 12.
More from Entertainment Cheat Sheet:
Want more great content like this? Sign up here to receive the best of Cheat Sheet delivered daily. No spam; just tailored content straight to your inbox.