Katie Couric Comments on Her Time at the 'Today Show' and Her Next Project
Journalist and news anchor Katie Couric is considered the gold standard in her field. Hosting the Today Show from 1991 to 2006, then taking over the evening news desk at CBS, eventually moving on to host her own talk show in 2012, Couric is a seasoned newswoman who has proven she can tackle anything in today's media space.
Now Couric is heading up a new show, this time trying to gain listeners rather than viewers.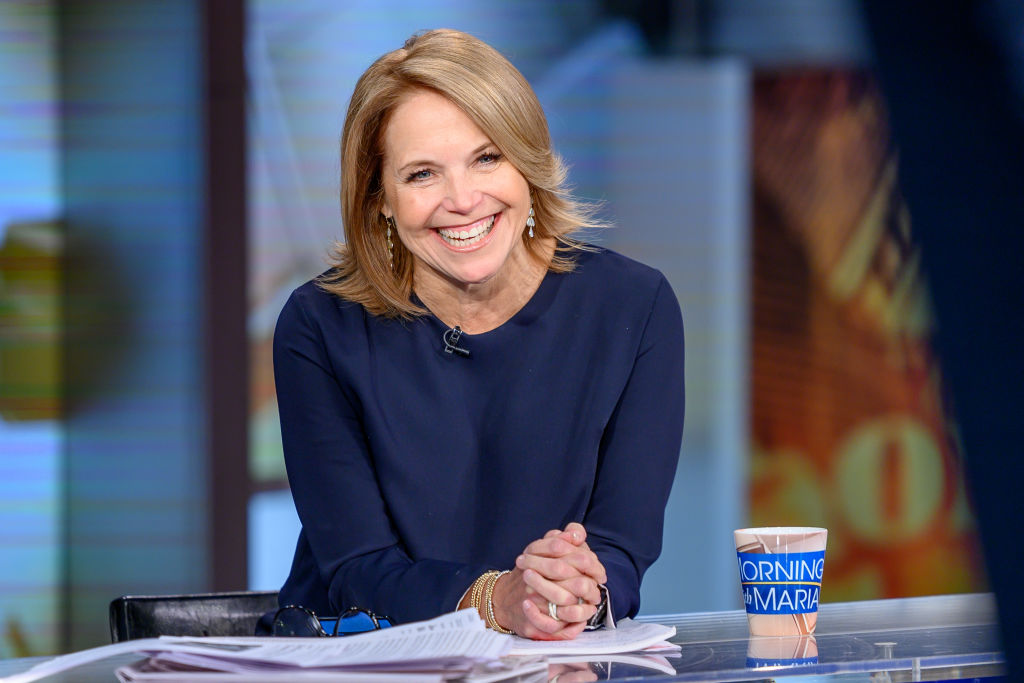 Some thoughts on 'Today'
Couric was a favorite on NBC's Today Show, making her exit a tough blow for the morning news program. Often described as 'perky,' Couric spoke to The New York Times on having to battle gender bias. "When I got to the Today Show, I had to fight initially to be treated equally, but then when the audience responded to me in a positive way, they didn't really have a choice," Couric said.
The journalist revealed that suggestions for her clothing were way off base, where she asserted her right to make her own choices. "When I first started, Dick Ebersol, who I really, really like and I consider him a friend, but, I got word that they wanted me to wear fox-fluffy sweaters and small earrings, and I said, 'absolutely not, I'm going to wear what I want to wear' and I'm not there to adhere to someone's view of what a woman on television is supposed to look like. I'm there to be myself, and if viewers respond to me, great," Couric shared.
The former Today Show anchor also briefly commented on her previous co-host Matt Lauer, who was fired for allegations of sexual misconduct. "It definitely wasn't one of those things that was an open secret," Couric said. "I never had any instances where someone came to me upset about his behavior, and so the only thing that was understood was that he was in an unhappy marriage and that he wasn't necessarily faithful, you know? That was it."
Casting a wide net
According to The New York Times, Couric has had her hand in a plethora of new projects. Seeing how the internet and social media have become vital in today's news cycle, she signed on with Yahoo in 2014 as a global anchor. She also created Katie Couric Media (KCM) with husband John Molner in 2015. "My catchphrase these days is, 'mass media has become an oxymoron,'" she told The New York Times. "It's niche, and how do you, in aggregate, reach an audience?"
Couric left Yahoo in 2017 and has continued her upward trajectory, producing scripted series, investing in female-led companies, working with National Geographic on documentary series, and even launching a daily email newsletter.
She commented on how social media has enabled journalists to hear from viewers first-hand. "I remember when I was at CBS, during the Gulf oil spill, I wanted to take questions from Twitter on the evening newscast because sometimes, when you cover these stories every day, you lose sight of some very simple questions," she said. "And I suggested it, and I remember the vice president of the news division said it was 'beneath the anchor of the CBS News to take questions from the Twitter,' and I remember thinking, 'If you have an ability to interact with real people — the viewers who you're trying to serve — why wouldn't you do that?'"
'Next Question'
In 2016, Couric tried her hand at podcasting with a show highlighting interviews, ending in 2018. Now, she's taking on the medium again with her upcoming iHeartRadio podcast entitled "Next Question." Offering 12 episodes running 40 minutes each, the show is centered around one main question, such as 'Does eating red meat really destroy the environment?' or 'Does CBD really work?' Other topics will include polyamory, vaping, and poverty in rural areas. Couric recently released a preview episode, with the official premiere of the series scheduled for October 10. Her show will be available on Spotify and Apple Podcasts.
"I'm taking on these topics that have exploded onto the national stage but are confusing to people," Couric said of her podcast. "I find you get so much information in bits and pieces on your iPhone, just a little story here and there. I've always liked to connect the dots."
The journalist also remarked on the benefits of reporting via podcast rather than television. "You don't have to wear makeup, you don't have to get dressed up, it's just a very different vibe," Couric said. "I also think people are more relaxed when they're not being videotaped, or they don't have to be so mindful of their facial expressions or how they look or how they're coming across."
Download "Next Question" on October 10!