Katy Perry Finally Apologized to Taylor Swift But Taylor's Reaction Ruined Everything
Just when it looked like the on-going feud between Taylor Swift and Katy Perry was finally going to fade out, Swift ruined it. The pop-divas have been feuding for years over an incident involving some backup dancer. As a result, nasty words have been thrown around. However, years later and after Swift's hiatus from the media, Perry was ready to put the past behind her, so she reached out to the Red singer.
Unfortunately, because Swift loves to make everything about herself, she ruined the entire thing, and it looks like the two stars are back to square one.
Trouble in paradise?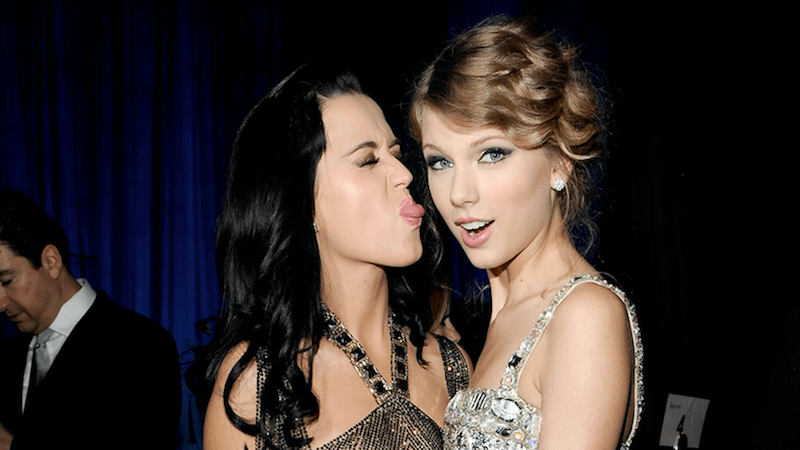 Since they were first introduced way back in 2008, Swift and Perry were super friendly with one another. The women often chatted and hugged events, and they even tweeted nice things about one another. At one point, Perry even came out on stage at a TSwift concert. All of that came to a screeching halt in 2012, when Perry began her on-again-off-again relationship with Swift's ex, John Mayer.
Things began to spiral from there. In 2013, three of the dancers on Swift's Red tour quit to work with Perry. Though this seems inconvenient for the 1989 songstress, it hardly should have begun a Bette Davis and Joan Crawford-like feud.
Next: The backup dancer debacle 
The big blow up
Things really got dramatic in 2014, after an interview Swift did with Rolling Stone. The journalist asked the songstress who inspired "Bad Blood" on her 1984 album and without naming names, Swift showed all of her cards. She revealed,
For years, I was never sure if we were friends or not. She would come up to me at awards shows and say something and walk away, and I would think, "Are we friends, or did she just give me the harshest insult of my life?" She did something so horrible. I was like, "Oh, we're just straight-up enemies." And it wasn't even about a guy! It had to do with business. She basically tried to sabotage an entire arena tour. She tried to hire a bunch of people out from under me. And I'm surprisingly non-confrontational – you would not believe how much I hate conflict. So now I have to avoid her. It's awkward, and I don't like it.
Girl, we're sure there are more than three backup dancers on earth.
Next: Another absurd feud
The Nicki Minaj drama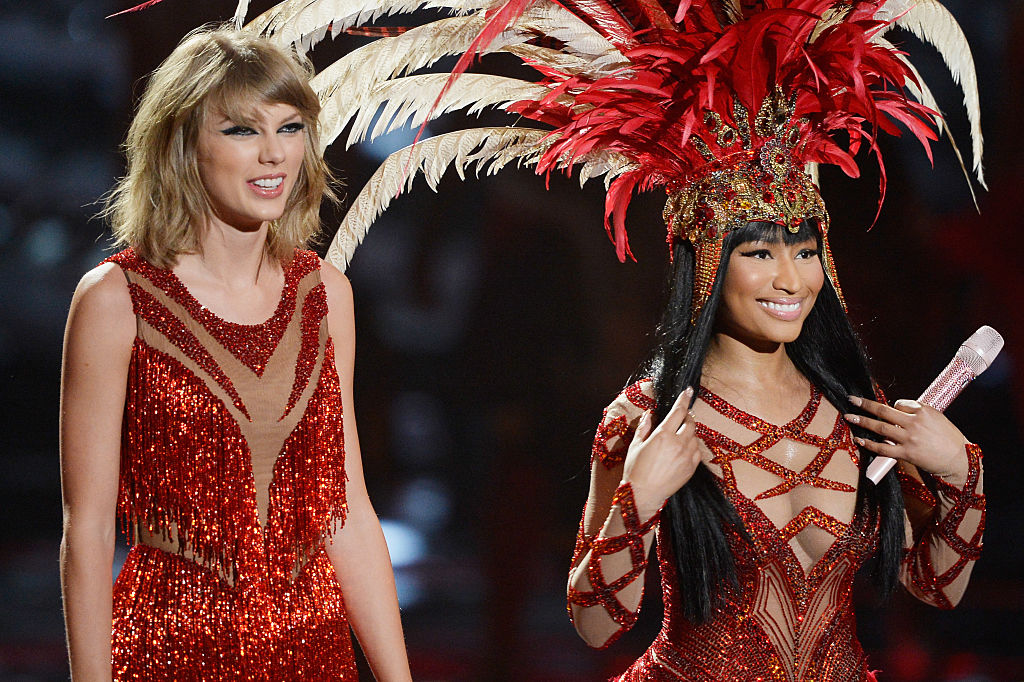 If the feud with Perry wasn't bad enough, the next year Swift found herself in rapper Nicki Minaj's crosshairs. Dismayed about black women in music not receiving the accolades they deserve, especially when it comes to award shows, Minaj tweeted about her feelings before the 2015 MTV Video Music Awards.
Swift took it as a personal attack and tweeted, "@NICKIMINAJ I've done nothing but love & support you. It's unlike you to pit women against each other. Maybe one of the men took your slot"
Minaj wasn't having it. She retorted, "Nothing I said had to do with Taylor. So what jabs? White media and their tactics. So sad. That's what they want."
Swift was obviously chastised and tried to walk back her original tweet. She said, "@NICKIMINAJ If I win, please come up with me!! You're invited to any stage I'm ever on."
Notice how she said, "If I win."
Next: Every woman for herself 
Pitting women against one another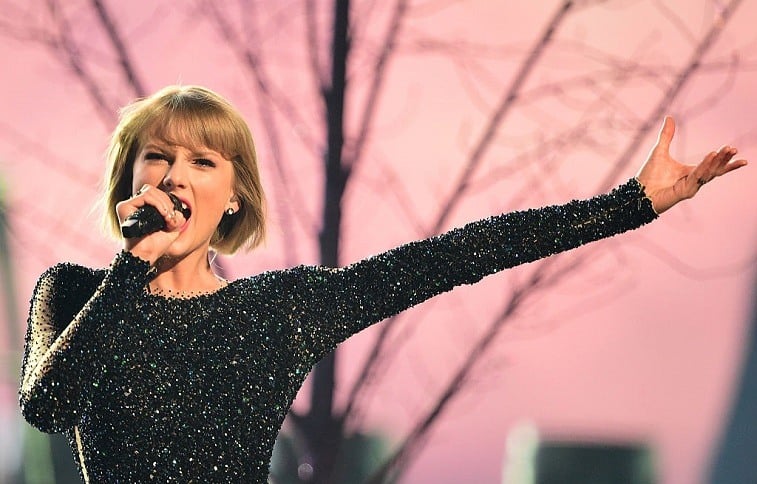 Though the Reputation singer tried to accuse Minaj of pitting women against each other, she was actually doing the very same thing. One Twitter user was quick to point out that Swift was nominated for Video of the Year for "Bad Blood" which was an attack on Perry.
They said, "Aren't you nominated for a video where you're pitting yourself against Katy Perry?" Perry herself retorted, "Finding it ironic to parade the pit women against other women argument about as one unmeasurably capitalizes on the take down of a woman…"
Next: Reaching out 
An olive branch
Still, all of this drama was quite a few years ago, and both Perry and Swift seemed to be focused on other things. As a result, the "Roar" singer decided it was time to make amends.  She sent an actual olive branch to Swift along with a note that partially read, "Dear Old Friend — I've been doing some reflecting on past miscommunications and the feelings between us I really want to clear the air, I am deeply sorry for…"
Swift decided to share it on her Instastory with the caption, "Thank You, Katy."
Next: Just for likes 
The wrong thing to do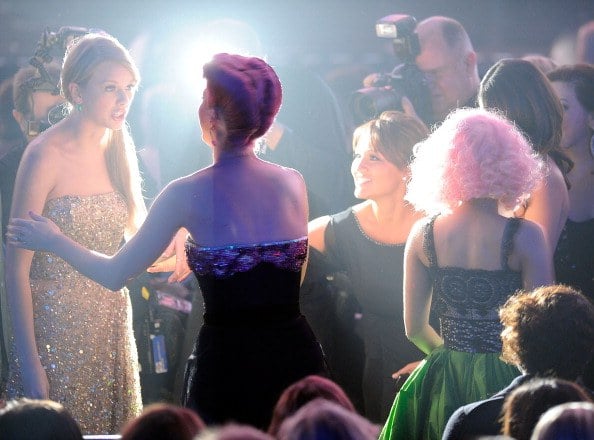 Perry is reportedly not pleased about Swift sharing her personal apology with the world.
Insiders told The Sun, "Katy had expected Taylor to respond to the letter publicly, but she didn't anticipate that the country music star would share the actual letter. The thing is, you can only see part of what Katy wrote, and it looks like she's taking sole responsibility for the entire feud. Without context, it looks like she's taking the blame for everything and obviously there's a lot more to it than that."
Next: All about Taylor 
Making it about her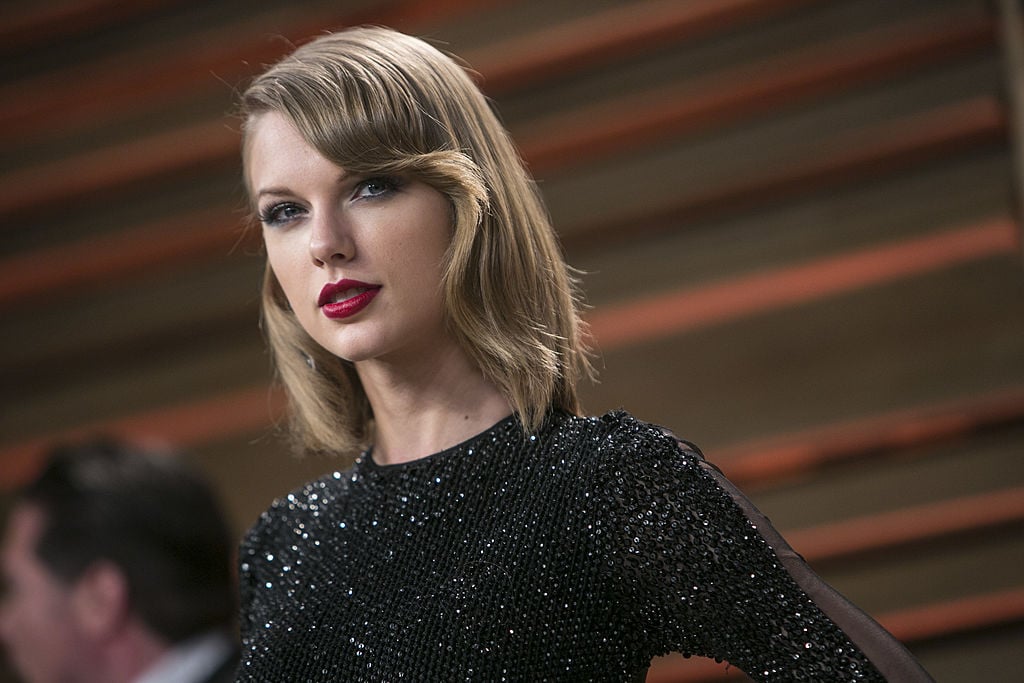 By only sharing a section of the letter, Swift once again played the victim, something Kim Kardashian has accused her of in the past when she lied about Kardashian's rapper husband, Kanye West.
Insiders believe "Taylor deliberately showed only the part of the letter where Katy admitted she was 'deeply sorry.'"
After all, Swift entire Reputation tour is influenced by her public spats with West and Perry. It looks like the Red songstress is the common denominator here. So much for the Swift/Perry feud being over.
Kim K. tried to warn us.
Check out The Cheat Sheet on Facebook!