Keanu Reeves Is Back in the Spotlight but Don't Call It a Comeback
Sure, Keanu Reeves conjures up all kinds of cool now. For awhile, though, it was practically impossible to think of him and not say the word "dude." And that wasn't necessarily a good thing. "Dude" is fine, required even  – when it's Bill and Ted. It's another when dude is mentioned in the same breath as Shakespeare.
However, Reeves is nothing if not tenacious. Every time his career has hit a lull, he has always recovered well. Here's how Keanu got his mojo back again, as he prepares to spend this summer not only reprising John Wick but working alongside Woody and Buzz.
From 'River's Edge' to an 'Excellent Adventure'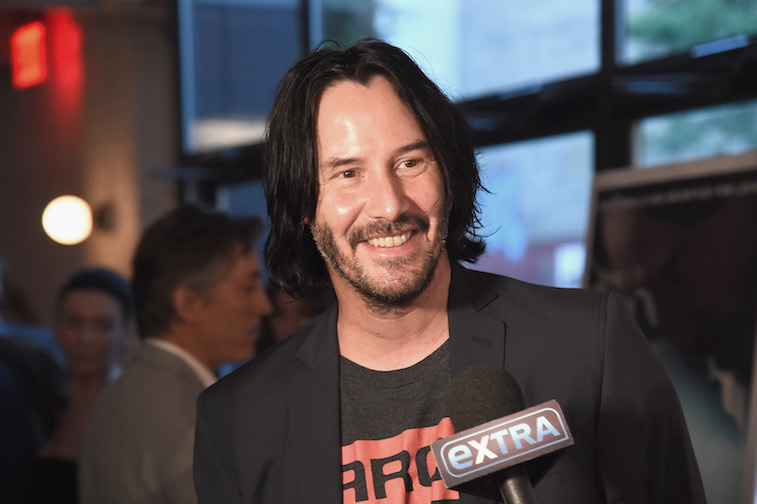 Reeves' career began in the early 1980s with minor parts like "thug number one" and "stereo teen number one." The movie that kicked his career into gear was 1986's The River's Edge, where a teen commits a crime – and his friends' reactions range from nonchalant to sociopathic. He soon after appeared in the acclaimed period piece Dangerous Liaisons alongside Glenn Close, Michelle Pfeiffer and John Malkovich.
He immediately followed up Liaisons with a movie that could not be more different: Bill and Ted's Excellent Adventure, which got the "dude" train rolling. And very soon after that was a role in Ron Howard's Parenthood. It may seem like a strange thing to say now, but that was showing some range.
From Dracula to Neo
It wasn't long before Reeves hit a wall. In 1991, He starred in Bram Stoker's Dracula, directed by Francis Ford Coppola, but many criticized his performance as Ted in a corset. Soon after was the Shakespeare adaptation by Kenneth Branagh, Much Ado About Nothing, where his performance seemed to consist mostly of glowering sternly at the camera. Maybe there wasn't much more to him than Ted after all.
Then the wall Reeves hit came tumbling down when a bus going not less than 50 miles an hour crashed through it. Speed, with Reeves as a cop on a bus rigged to explode if it slows below 50 miles per hour, was a sensation. The actor's supposed one-dimensionality worked to his advantage in the movie. Who better than Reeves to have Dennis Hopper to snarl at, telling him, "Do not attempt to grow a brain."
In a recent interview with GQ, Reeves' intelligence was a point of discussion:
Was it strange to see that Ted persona come back at you in the mirror of the press?

"No. I think they still use, like, 'Keanu's Excellent Adventure.' Or 'dude.' That's still around."

Are you kind of at peace with that now? Is that okay?

"Yeah. I mean—for me, it's like—that's easy. But, um, yeah."

Was there ever any comfort in having your intelligence underestimated in that way? Did it feel like you could then surprise people?

Reeves smiles, coy as the Mona Lisa. "I don't know how much intelligence I have."
Still, Reeves refused to be sold short. Even in this "difficult" period, he was still working with name directors like Bernardo Bertolucci (Little Buddha) and The Devil's Advocate (Taylor Hackford). And he turned out to be smart to turn down a role in Speed 2, which bombed. Then The Matrix came along in 1999, and Reeves exploded. "Dude" was still there, but it was cool again. That people made a ton of people say "whoa" unironically.
The back-to-back Matrix sequels were less well regarded, but they were still hugely popular. Like every other actor, Reeves had his ups and downs. The downs came back with a misbegotten remake of The Day the Earth Stood Still and the expensive flop 47 Ronin.
Enter John Wick
After the Matrix movies, it seemed unlikely that Reeves would anchor another franchise. At first glance, John Wick seemed like it might be just another revenge thriller, but it became a hit, praised for action that relied more on good old-fashioned stunt work than new-fashioned CGI. Now, the third film in the series is due out May 16. Reeves said John Wick will keep going "as far as my legs can take me (and) as far as the audience wants to go."
And that's not all Reeves is doing. He'll also appear in Toy Story 4 in June, spoofing his image as an action hero playing the action figure Duke Caboom.
Reeves has sometimes been down, but he's never truly been out. Among other things, he's known as one of the nicest guys in Hollywood. And this nice guy definitely isn't finishing last.