Singer Kehlani Shouted Out Her Favorite 'Are You the One?' Season 8 Cast Members
Several celebrities are known to be super fans of shows, and singer Kehlani shared with her million followers that she stans MTV's Ex on the Beach and Are You the One? Tweeting live to AYTO? Season 8 Episode 9, she reacted to the show and replied to her followers, answering questions about her favorite singles in the house.
Kehlani, who identifies as bisexual, also tweeted MTV asking them for tickets to the reunion. What did the singer have to say about the Are You the One? Season 8 contestants? Keep reading to find out.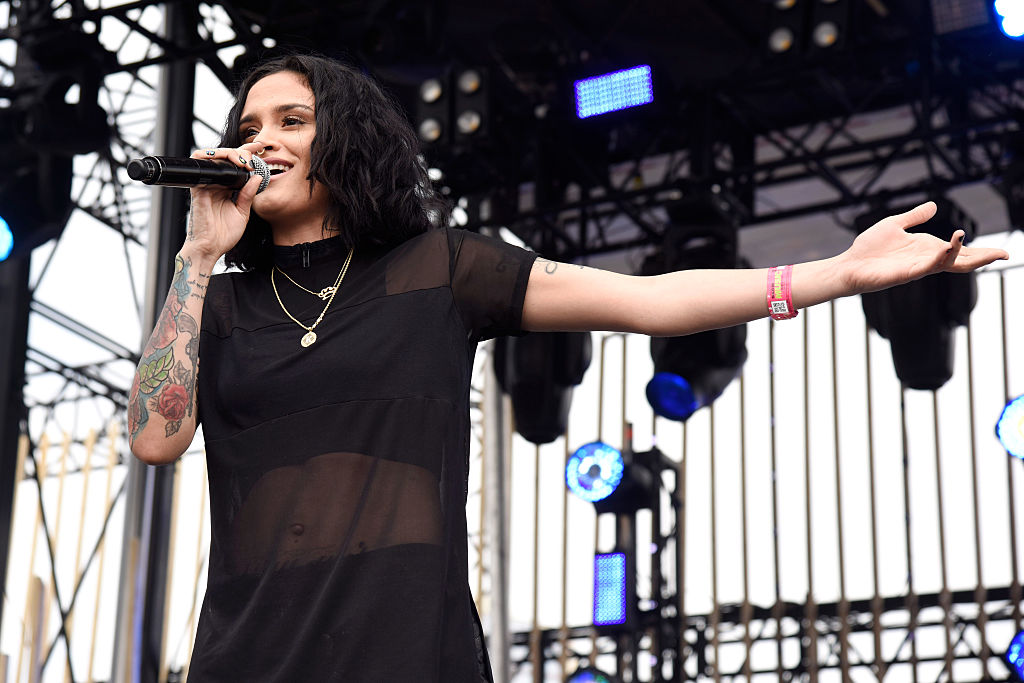 Basit Shittu
The non-gender identifying AYTO contestant has been a fan-favorite since the premiere episode due to their free personality and relatable, hilarious comments. In the singer's initial tweet, she praised the new season and called for her fellow Basit stans. 
Kenya Scott
A follower responded to Kehlani's tweet and asked if she also watched Ex on the Beach. Not only does the singer watch the show, but she called herself a "part-time Kenya stan as well." The self-proclaimed "player" is on the current season of Ex on the Beach trying to make things work with her AYTO Season 7 perfect match, Tevin Grant.
Jasmine Olsen
Another follower wanted to know if Kehlani was "Team Mississippi." The singer responded with a dancing Jennifer Lopez gif saying she thinks Jasmine is "a bad b*tch" and wanted to see her slap someone but also didn't want her kicked off the show.
Kehlani is referring to the most recent episode where Jasmine and Nour got into a fight seemingly over Kai, and Paige encouraged Jasmine to "hit that h*e."
Kai Wes
After the house called Kai out on his immature tirades in the previous episode, Kehlani agreed and thinks "he has some growing up to do." However, she says she still "sees his heart," he just needs to "fix" his obsession with love.
Kai responded to Kehlani's tweet saying he learned his lesson and "growth is on the horizon for him."
Paige Cole
Remy has been chasing Paige around the house for a few weeks now, but she doesn't want to give him a chance for fear that he will be like her exes. Via Twitter, Kehlani advised "Bad B*tch Paige" to let Remy love her. Paige took to the new nickname, changed it to her Twitter name, and requested no one address her as anything but. The singer also loved Paige's avatar, an ostrich, a nod to the animal Nour compared her to.
Kylie Smith
Initially, Kylie and Basit had a thing, until she became very close to Kari. Unfortunately, the two were declared not a match, and Kylie hasn't had much screen time since then. When a follower asked Kehlani's opinion of Kylie, she claimed she had a crush on her.
Danny Prikazsky
The brilliant and laid back gentle giant is also a fan-favorite of the season. Although he doesn't say much, everything he does say is filled with purpose, and he's forged a bond with almost everyone in the house. However, he is not "chased after" like several of the other contestants are.
Nonetheless, Kehlani believes that Danny will "have this incredible moment where we get to see him in all of his glory," and she would like to hug him.
Remy Duran
After someone responded to her tweet about Basit, a follower included how they also stan for Remy. Kehlani agreed and replied in all caps that she also loves him.
Watch Are You the One? Mondays at 11 P.M. EST on MTV!