Keke Palmer Turned Down 'Bachelorette' Star Mike Johnson And Turned The Moment Into A Meme
'Bachelorette' star Mike Johnson asked Keke Palmer out while she was interviewing him. She later turned the moment into a meme and said 'no.'
Former Bachelorette star Mike Johnson recently did an interview with Strahan, Sara and Keke on Good Morning America where he spoke about getting passed over for The Bachelor, moving on from Demi Lovato, and, to Keke Palmer's surprise, asking the Hustlers actor out on a date.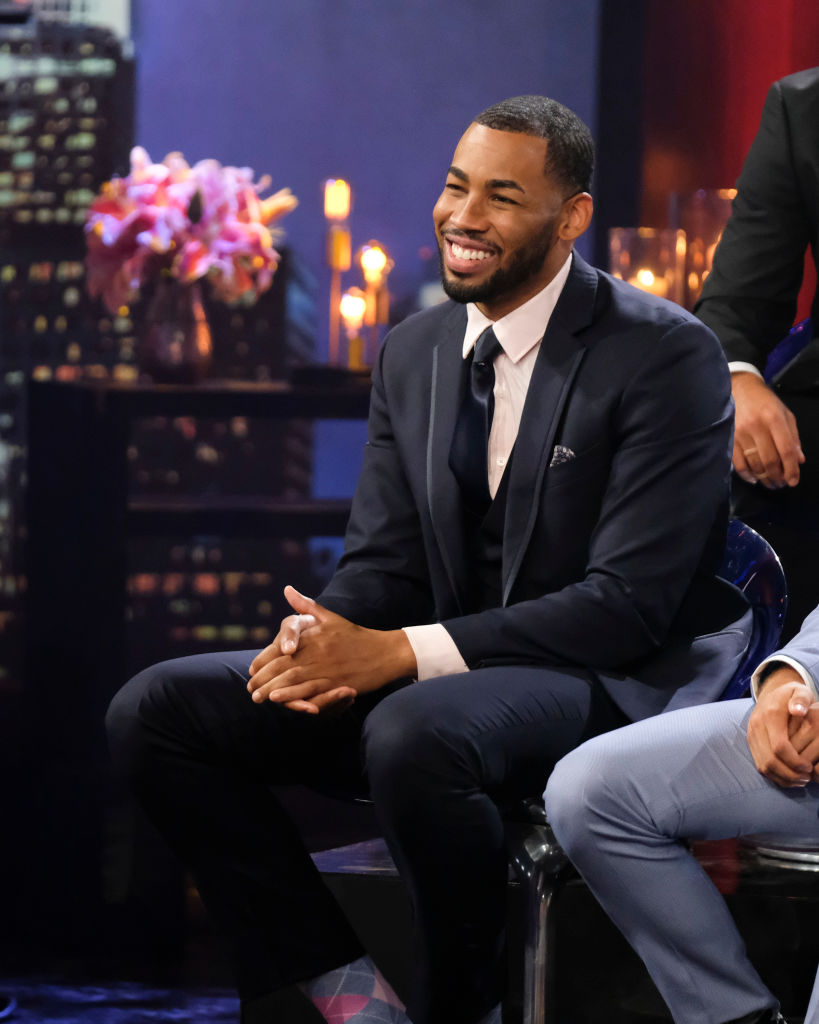 Mike Johnson asks Keke Palmer out on a date while she's interviewing him
When asked about his relationship with singer, songwriter, actress Demi Lovato, Johnson said: "I made a mistake. I don't like dating in public but…if I were to ask you if we could go on a date…" looking at Palmer.
The audience erupted in cheers and gasps. The three interviewers, Palmer included, looked shocked.
"Let me tell you something. Demi's my girl, I love this one here too now," said Michael Strahan, referencing Palmer. "If you mess up I'm coming for you. My girls! But I will say, ya'll look real good together sittin' there. I ain't gonna lie to ya."
"What's the next question?" the Hustlers actor hurriedly asked her cohost.
"Ladies, I'm at work. I'm at work, guys. Go ahead. I'm at work," she added.
"OK, after commercial break you'll get her number," said Strahan before moving on.
Later, Palmer turned the moment into a meme.
Her fans appreciated the post.
"'I'm at work' took me out," responded one Twitter user.
"Extremely sorry to this man," wrote another.
"meme kween," commented another.
Is Keke Palmer going to go on a date with Mike Johnson?
On Wednesday's show, Palmer was asked whether she and Johnson would be going out.
"No," she said.
When asked why, she responded:
"Well, first of all, I get real spooked about entertainers or reality [stars]… I don't know, it really scares me to date people in the industry. That's number 1. Number 2: He asked me in front of everybody. I felt totally like, ambushed. I felt ambushed. I felt like it was a big ol' gag. I've been doped."
Johnson also took to Twitter to explain why he asked Palmer out on the show.
"For those with untrue assumptions.. I'm grateful to be in your thoughts… 
1. I deflected a question posed to me on my dating life – made a playful comment
2. I love black women too
3. Im happy, those are the vibes," he tweeted.
Johnson's fans showed their support by responding to the post.
"Tell em lil bro. They still will have their assumptions anyway. So say it once and never explain again," tweeted one Twitter user.
"I'm just mind blown she didn't scream yes," wrote another.
"If only people knew how great of a guy you were smh," responded another.
Read more: Former Bachelorette Kaitlyn Bristowe Responds To Criticism That She's 'Pressuring' Jason Tartick To Propose To Her