Kelly Clarkson and John Legend Are Bringing Us 'Baby It's Cold Outside' With 'Newfound Sensitivity'
In recent years, especially in the "Me Too" era, many once-classic and popular songs are being looked at in different lights.
One of these songs is the seminal Christmas tune, "Baby It's Cold Outside." Set to reimagine this holiday song for a new era are none other than John Legend and Kelly Clarkson.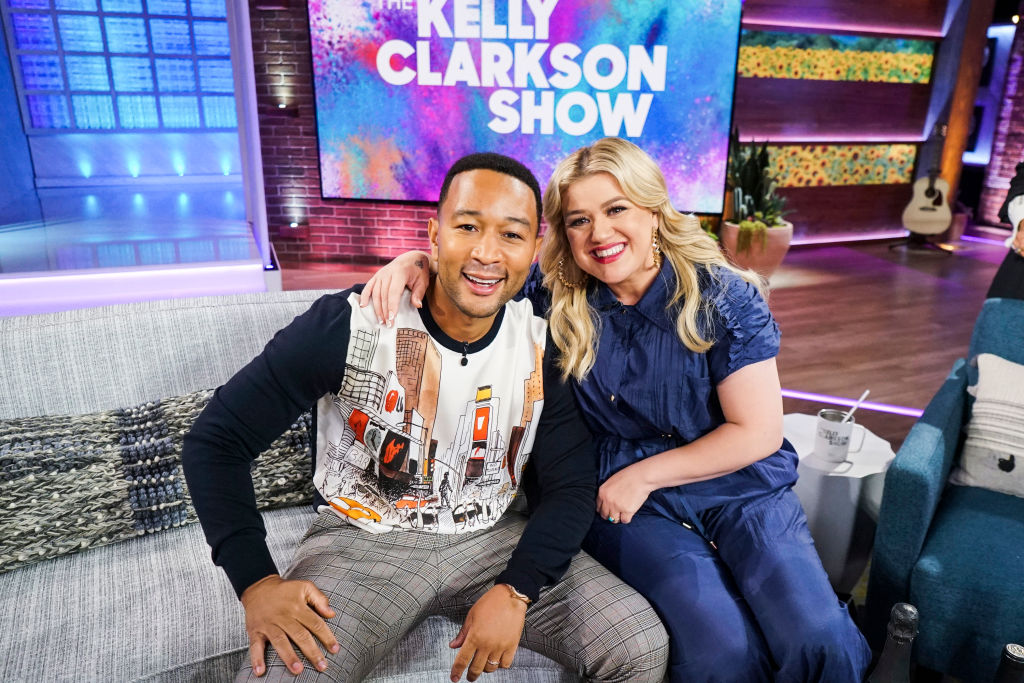 John Legend reveals that he and Kelly Clarkson are remaking 'Baby It's Cold Outside'
In a wide-ranging profile with Legend and his wife Chrissy Teigen for Vanity Fair, it was revealed that he would be remaking the song. When the profile writer's interested is piqued that of all songs, he'd be doing a "Baby It's Cold Outside" redo, Legend clarified that the lyrics were rewritten.
Performed by Legend with singer and new talk show host Kelly Clarkson, Insecure star Natasha Rothwell also helped Legend write the lyrics. The profile reads, "The song's every bit as fun and swinging as the original, and its newfound sensitivity feels genuine, not performative."
As listed in the profile, some of the new lyrics to the song are:
"What will my friends think…" sings Clarkson.

"I think they should rejoice," Legend responds.

"…if I have one more drink?"

"It's your body, and your choice."
The problematic lyrics of 'Baby It's Cold Outside'
"Baby It's Cold Outside" was initially written in 1944 by Frank Loesser. A fun fact about the song is that it is actually an Academy Award winner. It won Best Original Song at the 1949 Academy Awards after being featured in the film Neptune's Daughter.
While it initially seems like a harmless call-and-response song with rhymes, once you actually dive into the lyrics, there are problematic aspects that have caused controversy in recent years. Many radio stations have even pulled it from the airwaves.
Some of the cringeworthy parts include:
I wish I knew how (your eyes are like starlight now)
To break this spell (I'll take your hat, your hair looks swell)
I ought to say, no, no, no, sir (mind if I move in closer?)
At least I'm gonna say that I tried (what's the sense in hurtin' my pride?)
I really can't stay (oh, baby, don't hold out)
But baby, it's cold outside
I simply must go (but baby, it's cold outside)
The answer is no (but baby, it's cold outside)
Your welcome has been (how lucky that you dropped in)
So nice and warm (look out the window at this dawn)
A changing song for a changing society
It's hard to pinpoint a particular year in which more people began to think differently about the song's lyrics, but its worth noting it appeared in a list via Washington City Paper as early as 2009, several years before the "Me Too" movement and the height of the Bill Cosby scandal.
Frank Loesser's daughter, Susan Loesser, actually placed blame on Cosby for the newfound controversy surrounding the song.
"Bill Cosby ruined it for everybody. Way before #Me Too, I would hear from time to time people call it a date rape song. I would get annoyed because it's a song my father wrote for him and my mother to sing at parties. But ever since Cosby was accused of drugging women, I hear the date rape thing all the time," she told NBC News last year. "Absolutely I get it [the controversy]. But I think it would be good if people looked at the song in the context of the time. It was written in 1944."
Maybe Legend and Clarkson's rendition will become a future classic just as noteworthy as the original.