Kelly Dodd Claims She Has a Bombshell About Demoted RHOC Vicki Gunvalson's Relationship with Steve Lodge
Kelly Dodd and Vicki Gunvalson continue to sling mud at each other on 'RHOC,' and now Dodd claims she has a bombshell about Gunvalson's relationship with Steve Lodge.
Real Housewives of Orange County star Kelly Dodd claims to have some dirt on Vicki Gunvalson's relationship with future husband, Steve Lodge. Gunvalson announced her engagement to Lodge in April, showing off a massive diamond ring to all of her followers on Instagram. While we all assumed that Lodge fit the bill for the sparkly stunner, Dodd says that Gunvalson purchased the ring herself.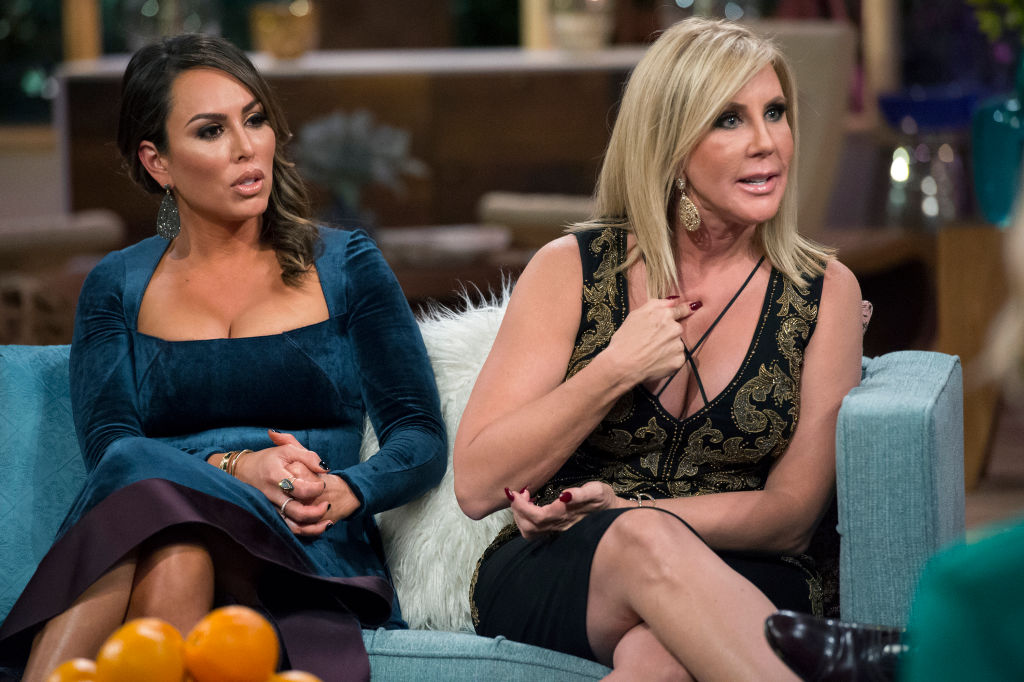 Dodd drops a bombshell about Gunvalson's boyfriend
During a recent episode of RHOC, fans watched as Gunvalson dug through Lodge's golf cart in search of an engagement ring. While Gunvalson tried to track down the suspected ring, Lodge told Tamra Judge that he was going to propose and had already worked out all the details.
After the episode, Kelly Dodd took to Twitter and revealed that Gunvalson is the one who bought the ring, not Lodge.
"You know where the ring is of course cuz you bought the ring," Dodd wrote.
Dodd later revealed that her ex-boyfriend, Brian Reagan, had also given her an engagement ring that came out of her own collection.
Gunvalson announced the proposal last spring and was super excited about her next marriage. The RHOC star, who got demoted this season, shared a photo of herself showing off the new ring and couldn't help but gush about her future hubby.
The ring appeared to be on a rose-gold band and featured a tear-drop stone. Several of Gunvalson's co-stars congratulated her on the proposal. Judge and Shannon Beador even threw her an engagement party to celebrate and everything appeared to be going smoothly.
But when Gunvalson shared images from the event on social media, fans believed that her engagement ring looked completely different.
Did Gunvalson upgrade her ring?
The engagement party photos sparked speculation that Gunvalson had upgraded her engagement ring. Dodd's recent comments, of course, have reignited the rumors, though the OG of the OC has maintained that the ring has never changed.
According to Too Fab, Gunvalson and Lodge recently opened up about the engagement and shut down the rumors that she bought herself a new ring.
"Of course it's the same ring!" Gunvalson shared.
Lodge added that the ring was a complete surprise to Gunvalson, who had no idea that he bought it. Gunvalson did, however, tell Lodge that she wanted a round diamond and, naturally, a high-quality stone. But beyond that, she did not see the engagement coming.
The couple then clarified that Gunvalson's ring is 5.28 carats and features a Crown of Light cut from Diamonds International.
This, of course, completely contradicts Kelly Dodd's recent comment about how Gunvalson is the one who bought the ring. There is no telling who is being truthful, but it is clear that Dodd and Gunvalson's feud is far from over.
Kelly Dodd reignites Twitter feud
In addition to the engagement ring bombshell, Dodd also threw some shade at Gunvalson and Beador on Twitter. The RHOC star shared a video of the two arguing with Emily Simpson and added rolling credits over the scene. She captioned the clip by writing, "When your grandmas on TV like…"
Part of the video also featured Gunvalson gesturing towards Dodd like she was doing fellatio. The insult is what probably sparked Dodd's reaction, though this is hardly the start of their feud.
When Dodd first appeared on the show, she and Gunvalson hit it off as good friends. But their friendship only lasted one season, and it wasn't long before they were at odds.
At the end of last season, their feud hit a new low after Gunvalson accused Dodd of using cocaine during the RHOC reunion. The fight spilled out on Twitter, with Dodd denying the allegations and vowing to quit if Gunvalson was not punished.
Although the two actually apologized on a recent episode of RHOC, their truce did not last. In fact, a recent trailer for the next installment shows Dodd screaming at Gunvalson for being a terrible person.
There is no telling if their relationship will get better as the season progresses, but Dodd's recent Twitter activity makes it seem unlikely.
Vicki Gunvalson has not commented on Kelly Dodd's engagement ring claims.
New episodes of the Real Housewives of Orange County air Tuesday nights on Bravo.