Kendall Jenner and Harry Styles Reunite on 'The Late Late Show' 3 Years After Their Split; Why Did They Break Up?
What could have been an awkward reunion definitely turn into one when Kendall Jenner and Harry Styles came face-to-face on The Late Late Show with James Corden.
While the former flames asked each other some pretty personal questions, viewers could see that there was a total vibe, which goes to show that exes can be cordial with one another.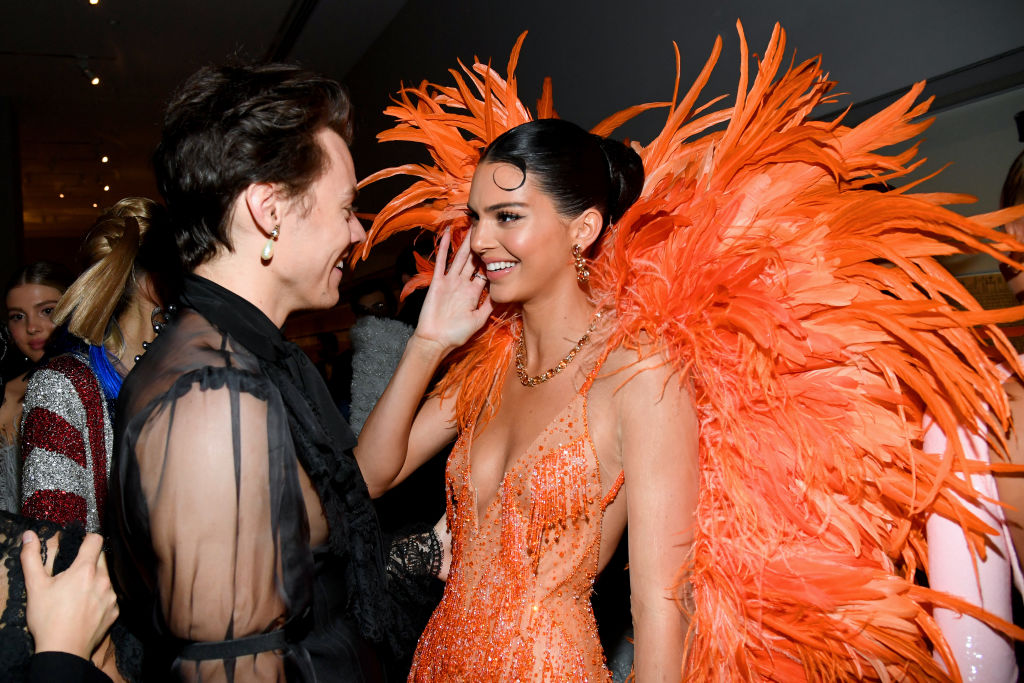 Though we're pretty sure Jenner and Styles aren't trying to rekindle the flame, it's good to see that they've remained on good terms following their short-lived romance.
Jenner and Styles faced off in a 'Spill Your Guts' segment
Things, for sure, got very interesting when Jenner played a wholesome game of Spill Your Guts or Fill Your Guts with guest host and former lover Harry Styles.
During Tuesday night's episode of The Late Late Show with James Corden, the pair faced off in a disgusting yet fun-filled game where they asked each other personal questions and if they refuse to answer, they had to eat a stomach-turning dish.
The skit started off with the singer asking his ex how she was doing, with the model admitting she couldn't believe she'd agreed to do this a second time.
Getting right into the game, Styles first asks Jenner to rate her siblings in order from the best to worst parent. "I feel like I could answer it," she said."I'll start by saying they actually are all amazing. I'd say Rob is number 1 then Khloe, Kim, Kylie and Kourtney."
After spilling her guts, the supermodel got her revenge by asking the former One Direction singer, "which songs on your last album were about me?"
Instead of taking the plunge, Styles grabbed a napkin, stuffed it in his collar, and dug into a plate of cod sperm.
Before taking a bite, the singer faked his ex out by saying, "I'd say track…uh…what are we doing? What are we doing?" He then took a bite while Jenner looked completely horrified.
What caused Jenner and Styles to break up three years ago?
Jenner and Styles might have called it quits a few years ago but many of us still aren't over their shocking breakup.
Back in 2016, it really seemed like there was hope for Hendall (the pair's ship name if you didn't know) seeing as though these two were spending a ton of quality time together.
The pair first sparked romance rumors two years prior following an intimate outing at Mammoth Mountain in California, but it was later revealed that "things never got serious."
In December 2015, they were spotted together again vacationing in Anguilla, as they travelled around the island; even sharing a kiss every now and again.
A few days later, Jenner and Styles were photographed soaking up some sun side by side aboard a yacht in St. Barts and many of us were fully convinced that they were totally endgame.
Khloé Kardashian even addressed her sister's relationship with the singer during an interview and just like everyone else, she was convinced they were dating.
"They were hanging out together. Do I think they're dating? Yes. I don't know if they're like boyfriend-girlfriend. Nowadays, I don't know, people are weird with stuff. So I don't know their 'title,'" she told Entertainment Tonight in 2016. But I mean, they were in St. Barts together hanging out, so to me that's dating. I would call that dating."
After a romantic New Year's vacation together, it was reported that Jenner and Styles decided to go their separate ways.
According to HollywoodLife, the supermodel told her friends that that Styles was "just not that into" her and didn't want to take their relationship any further.
They're on great terms today
Though we were bummed to hear about their split, Jenner and Styles have made it clear that are no hard feelings between them.
Back in May 2019, the former flames reunited for the first time since their split at the Met Gala. From the photos alone, it was obvious they were happy to see each other and spent some time throughout the night catching up.
Now that they've come together again on The Late Late Show, we can see that the stars are better off as friends, which is something they're perfectly fine with.