Kensington Palace is Finally Taking Action On the Kate Middleton and Meghan Markle Backlash
Ever since Meghan Markle married into the royal family, the tabloids have had a field day with Meghan's relationship with Prince Harry's sister-in-law Kate Middleton. The two women have been at the center of a reported feud for months, and the constant news articles have made the public develop certain opinions on each of the women. But Kensington Palace is finally doing its best to prevent any fallout from the rumors.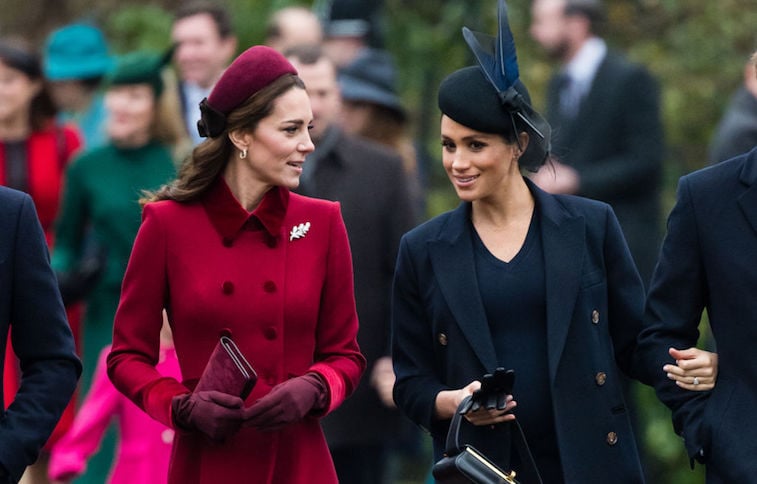 Meghan and Kate have reportedly been fighting ever since Meghan and Harry's wedding
As soon as Meghan and Harry got engaged, people were just waiting to see how the relationship between Meghan and Kate would pan out. Kate has been a member of the royal family for nearly eight years now, so she's well-adjusted to the constant spotlight and the royal family's different way of doing things. Meghan was raised to be very independent and make her own decisions, so joining a family like the royals was undoubtedly a big adjustment for her. And when news broke that Kate Middleton was supposedly crying at Princess Charlotte's dress fitting for Meghan's wedding, the media had a field day. Ever since, there have been reports of a supposed feud between the two women.
The feud appeared to be squashed after the two women were seen together Christmas morning
For the next several months, there were constant reports that a major royal feud was happening behind closed doors. It seemed like every day new "sources" close to the royal family were leaking information to the press about all the horrible things happening between Meghan and Kate. When Meghan and Harry decided they'd transition to Frogmore Cottage instead of living at the Palace, it only added fuel to the fire. Meanwhile, Kensington Palace did its best to ignore the rumors, but eventually they too took part in trying to squash them.
Finally, on Christmas morning, Prince William, Kate Middleton, Meghan Markle, and Prince Harry all attended mass together and looked happy as could be. Meghan and Kate were all smiles and the body language didn't appear to signal that anything was wrong between the women. For once, it seemed the rumors of a feud would finally end.
The harassment of the two women on social media has been extreme ever since the feud began — and it's forced Kensington Palace to take action
Although things seemed to have calmed down in terms of feud rumors, the harassment of the two women on social media hasn't stopped. There are constantly threats to the women and language about them that is highly inappropriate. And all of this has forced Kensington Palace to take some action. The public has essentially taken one woman's side in the supposed feud, and as a result, people have begun harassing the duchess they don't like. Kensington Palace was forced to roll out new social media rules that allow the royal family to delete defamatory or threatening comments and block users of those comments. It's clear that many of the comments are directed toward Meghan, and the royal family is doing its best to protect her as well as Kate and other royal family members.
Check out The Cheat Sheet on Facebook!