Kenya Moore and Nene Leakes at War! 'RHOA' Stars Have Another Huge Fight Over Who Is the 'Thirstiest' Housewives Star
Kenya Moore and Nene Leakes are not pulling any punches in their war on the Real Housewives of Atlanta. The ladies of RHOA are currently filming a new season of Bravo's hit show, and sources claim that Leakes and Moore just got into another massive fight. By the sounds of it, it's an all-out war on the set of season 12.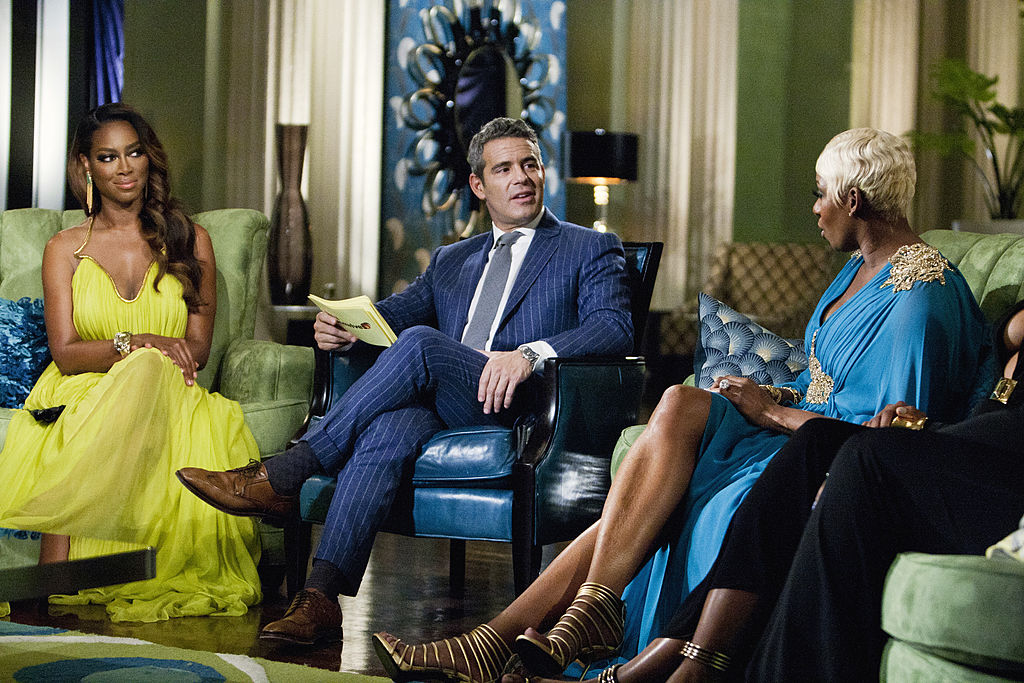 Nene Leakes and Kenya Moore brawl it out
Filming is currently underway for season 12 of RHOA, and an on-set source says that Leakes and Moore have been at each other's throats.
According to Radar Online, their latest shouting match featured Leakes criticizing Moore about her recent split from Marc Daly, saying that she could not have gotten a divorce because she was never married.
"NeNe ripped into Kenya, saying: 'How are you divorcing a man that you didn't marry,'" the insider dished.
As RHOA fans are well aware, Kenya Moore tied the knot with Daly in a secret ceremony, sparking rumors that their union was not legal. To make things even worse, the pair parted ways in September following a blowout fight that was captured on camera.
Although Leakes is clearly not afraid to confront Moore, other cast members came to her defense.
The insider claims that Cynthia Bailey backed up Moore, which only made Leakes angrier. There is no telling how things will end between Leakes and Moore, but it sounds like the drama is just getting started.
Inside Moore's feud with Leakes
This is not the first time Leakes has had beef with Moore. The source revealed that Leakes has been keeping an eye on Moore for years, especially after she refused to tell anyone the name of her husband.
During a trip to Toronto this summer, Kenya Moore and Leakes got into a huge fight that quickly spun out of control. Although they briefly reconciled over dinner, Leakes was waiting for the right time to strike again.
The source noted that Nene Leakes has always believed that Moore's marriage was a sham and she wanted to caller her out when the cameras were rolling.
An opportunity presented itself in September when Moore confirmed her split. The RHOA star released a statement announcing her divorce from Daly, telling fans that "recent and ongoing circumstances" proved too much to overcome.
"It is with profound sadness that I regret to inform my fans that I am divorcing my husband Marc Daly," Moore shared. "My sole concern and focus is and will always be my daughter, Brooklyn, my miracle baby. She was made in love and true commitment. I ask for our privacy to be respected moving forward."
Following the announcement, rumors surfaced that Moore's husband had been cheating on her and was living a double life in New York.
We do not know exactly what Leakes said to Moore, but it sounds like she still believes that their marriage was not a real thing. Hopefully, we'll learn more in the upcoming season.
Kenya Moore takes to the defense
In light of all the drama, Moore recently lashed out at Nene Leakes in a new interview. The RHOA star was asked what she thought of Leakes's recent behavior. In response, Moore called Leakes a bully and promised fans that they will see the real side of her this season.
Moore then added that she still does not understand why Leakes keeps coming at her. Her best guess is that Leakes is intimidated by her and that she has issues within herself that she has yet to deal with.
Moore was a part of RHOA from season 5 to season 10, when she was let go because she refused to let cameras film her personal life. She came back as a guest at the very end of season 11 and immediately butted heads with Leakes.
Moore gets her peach back
After securing a new contract, Bravo brought Kenya Moore back for season 12 of RHOA, and her breakup from Daly is expected to be a major storyline – along with her feud with Leakes.
As far as Daly is concerned, Moore tied the knot with him in the summer of 2017. A year later the couple welcomed their first child, Brooklyn Doris.
Moore has yet to reveal too many details about the divorce, though insiders claim that Daly had multiple affairs over the course of their two-year marriage. He also allegedly had another family in New York City, where he was living a completely different life.
Season 12 of the Real Housewives of Atlanta – with Kenya Moore back to bring the drama – premieres November 3 on Bravo.