Kevin Feige Talks About the 'Captain Marvel' Cameo You Definitely Missed
Though Marvel fans are thoroughly entrenched in all things Avengers: Endgame, don't forget — there was recently another MCU flick that broke its own box-office records. Captain Marvel may have gone back in time to 1995 to tell the story of Brie Larson's Carol Danvers, but it set the scene for the upcoming epic team-up movie in more ways than one.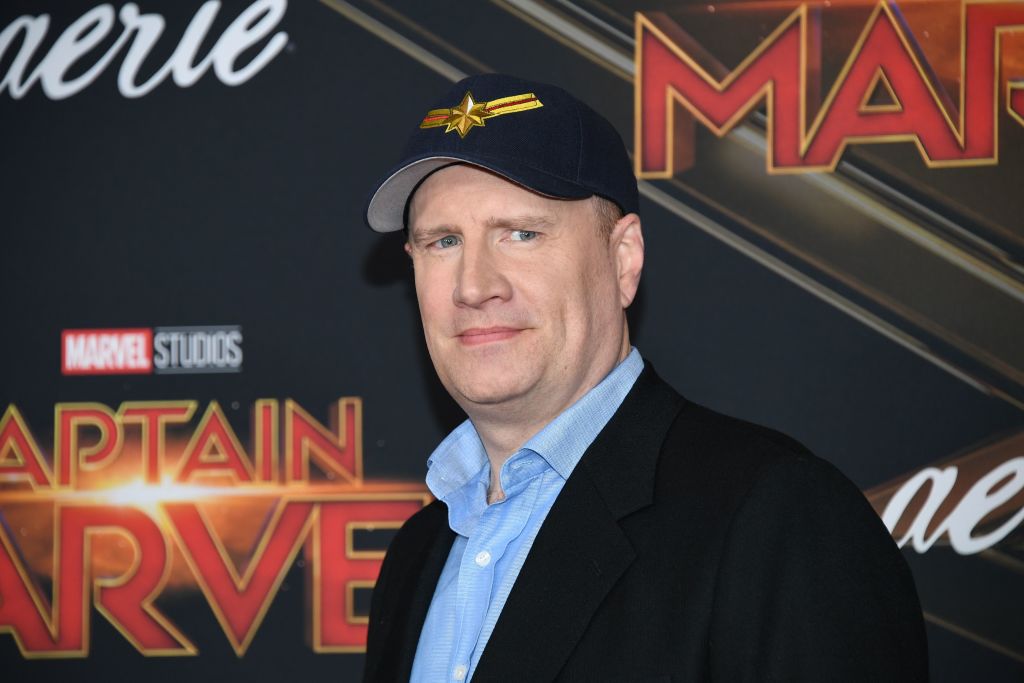 On the press tour for Endgame, we've learned very little about the movie itself, but we have caught a glimpse of some things we missed in the review mirror. Here's some information you didn't previously have about a Captain Marvel cameo that flew under the radar.

Captain Marvel featured plenty of exciting cameos

Though we all knew going into the film that Samuel L. Jackson's Nick Fury and Clark Gregg's Phil Coulson would appear in Captain Marvel (albeit with quite a bit of digital de-aging), there were some people we weren't ready to see. The roles of Annette Bening and Jude Law were kept secret for a very long time, and even though Bening confirmed she was playing the Supreme Intelligence just before the premiere, we didn't know the extent of her role as Maggie Lawson until seeing the film.

Additionally, there were the mid-credit scene cameos that got fans even more excited for this month's Endgame. The scene features Chris Evans (Steve Rogers / Captain America), Scarlett Johansson (Natasha Romanoff / Black Widow), Mark Ruffalo (Bruce Banner / Hulk), and Don Cheadle (James "Rhodey" Rhodes / War Machine) post-Avengers: Infinity War, trying to get Fury's pager to work. Then, Larson's character shows up, asking for Fury.

Kevin Feige revealed this one you definitely missed

In an interview with Entertainment Weekly, the "Original Six" Avengers (Jeremy Renner, Evans, Robert Downey Jr., Johansson, Ruffalo, and Chris Evans) took center stage along with Marvel Studios president Kevin Feige. Ruffalo recounted the story of how he accidentally left his phone on doing an Instagram Live Stream and ended up broadcasting the first few minutes of Thor: Ragnarok at the premiere.

However, instead of being reprimanded, Ruffalo said that one Marvel employee actually thanked him for the amount of press the accident got the film. Feige continued the story, saying, "Yes, [that was] Barry Curtis, one of our supreme security at Marvel Studios, who now is immortalized as the Blockbuster parking lot security guard in Captain Marvel."

Who is Barry Curtis?

The scene in question, in case you've forgotten or haven't seen the film, comes towards the beginning of Captain Marvel. Carol Danvers, then known as Vers, escapes the Skrulls and crash lands in a Los Angeles-area Blockbuster video, in the year 1995. She walks out and encounters a security guard sitting in his car, played by Curtis. He has a couple of lines in the cameo role.

Curtis has an IMDb page, as he's been working with Marvel security for many years now. In fact, he was a production assistant on Spider-Man 3, so he's been a part of Marvel since before the inception of the MCU. In addition to during security for nearly all of the MCU projects, Curtis has been on set for the Netflix Marvel series Jessica Jones, as well as Agents of SHIELD. Considering his long history with Marvel, now that he's proven his acting chops, maybe we'll see Curtis in another MCU cameo in the future.