Kevin Jonas Made This Romantic Gesture to Wife Danielle … In Ink
The Jonas Brothers are enjoying mammoth success with their "Happiness Begins" album and tour, with their songs remaining at the top of the charts and their concerts consistently selling out. While touring takes the singing trio away from their wives, Kevin Jonas just got himself a permanent reminder of his wife Danielle.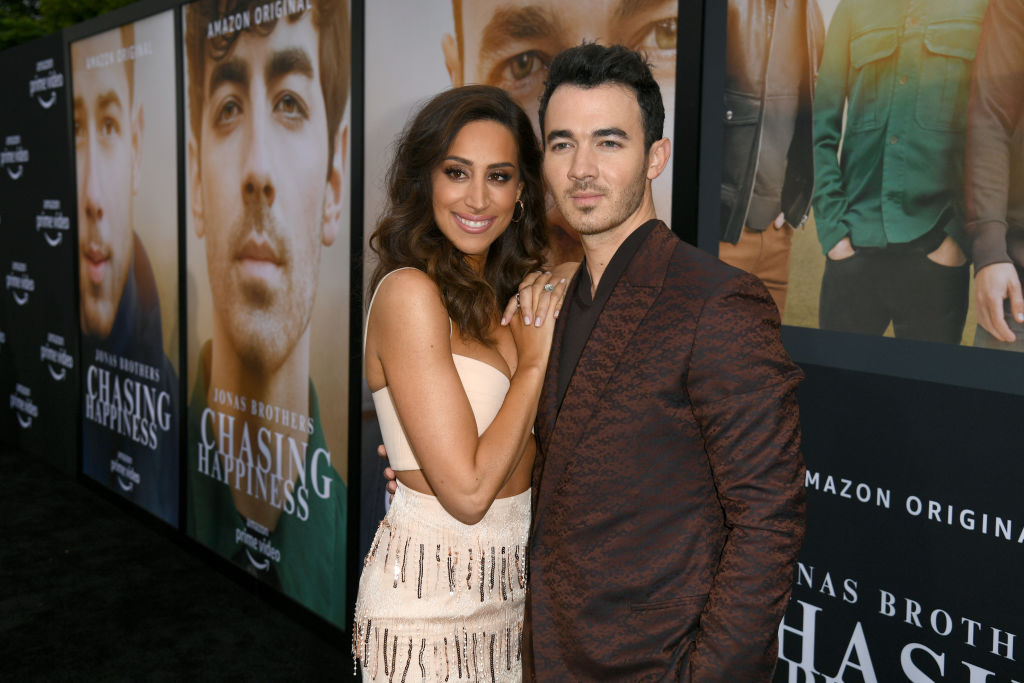 Young love
The two met in 2007, where Danielle admits she wasn't aware of Kevin's celebrity status. "I didn't know who the Jonas Brothers were," she said, according to People.
The couple dated for two years until Kevin proposed to Danielle in July 2009, following a concert in Vancouver. "It was tough performing last night, knowing that I was going to ask the biggest question in my life to the most amazing girl in the world," Kevin told People.
Danielle didn't hesitate at the life-changing question. "She said yes, yes, yes like 500 times super fast in a row," Kevin revealed. The pair tied the knot on December 19, 2009 and now have two daughters, Alena, 5, and Valentina, 2.
In July, Kevin took to Instagram to commemorate the 10-year anniversary of their engagement, posting a picture of himself down on one knee proposing to then-girlfriend Danielle. "10 years ago I asked @daniellejonas to spend the rest of life with me," he captioned the photo. "I am so lucky to have found my best friend early and to spend this life with you. I love you so much! Thank you for saying yes!"
A family collaboration
The Jonas Brothers' hit "Sucker" kicked off with a music video that featured the wives of the group – Danielle, Priyanka Chopra (Nick's wife), and Sophie Turner (Joe's wife). The video debuted in February and launched the bro band's return to the limelight.
According to People, the "Sucker" video reached over 200 million views to date and earned four nominations at the MTV Video Music Awards, winning for best pop song. Though they didn't win Video of the Year, the Jonases had already planned on who would have accepted the award if their name had been called. "The ladies have to go up and accept it on our behalf, because they absolutely stole the show," Nick revealed.
The youngest Jonas credited their spouses for the success of the video. "We knew that context needed to be given about where we are now. And I think the biggest piece of that puzzle is those three incredible women who stand by our side," Nick said, according to Cigar Aficionado. "And they stole the show in our video."
Putting it in ink
Kevin is known for publicly posting his devotion to wife Danielle, and recently got a little creative in having a permanent reminder of his wife while he's out on the road. He took to Instagram on October 16 to show off an inner forearm tattoo of Danielle, which was clearly inspired by her appearance in the popular "Sucker" video. He also posted a pic from of his bride from the video. "Brand new addition to the fam. So proud of this time in our life and getting to remember this with @daniellejonas forever!" Kevin wrote alongside the pic of the new 'love letter'.
The Los Angeles-based tattoo shop, Winterstone, where Kevin got his new artwork done, also posted to Instagram of the tattoo, writing, "For his wife #singleneedle #delicatelysharp #1 #sucker #jonasbrothers #wife @kevinjonas wear it with pride!"
With Kevin clearly being a romantic, fans will be waiting to see what he'll do next to show his love for Danielle!