Kevin Smith Marks The Day He 'Almost Died'
The fact that Kevin Smith cheated death this time last year is not lost on the director. Smith was on stage, performing standup and had a massive heart attack.
The audience wasn't aware as Smith managed to push through his first set. But between shows, Smith felt ill and (thankfully) went to the hospital. "After the first show this evening, I had a massive heart attack," Smith posted to Instagram. "The Doctor who saved my life told me I had 100% blockage of my LAD artery (aka 'the Widow-Maker')."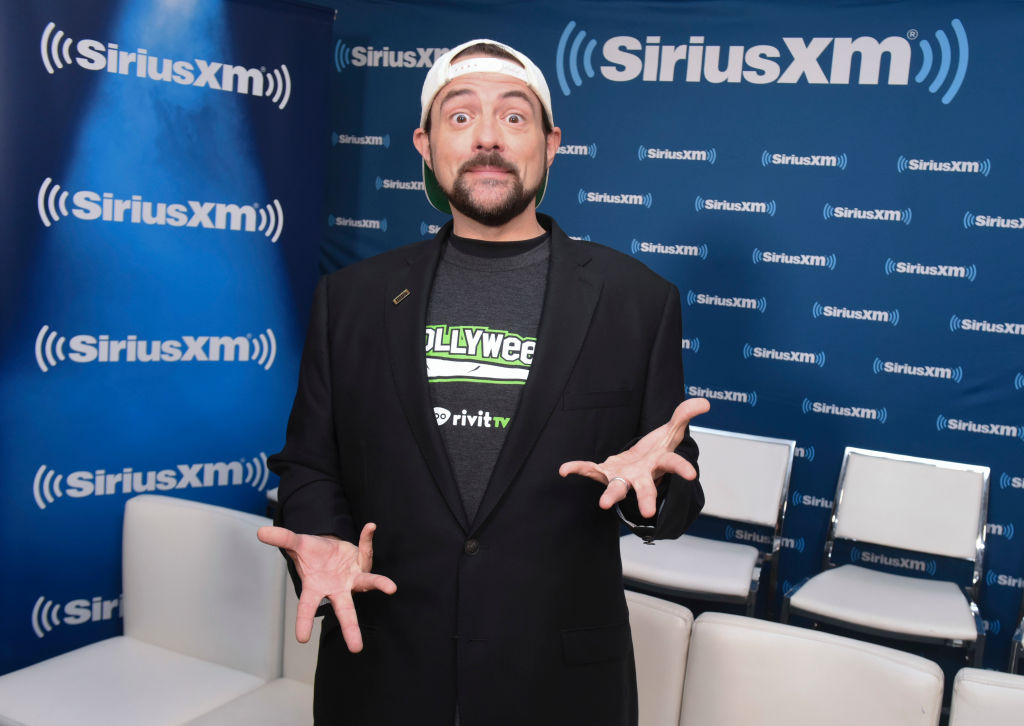 Smith revealed that if he hadn't gone to the hospital when he did, he wouldn't have survived. Now one year later and 58 pounds lighter, Smith celebrates each and every day he was given. But marks February 25 as the day he almost died.
Smith immediately embarked upon a weight loss journey
Smith famously battled with his weight for years. But now it was extremely serious that he lose a significant amount of weight right away. He immediately dropped 20 pounds with, Just Sides, featured in Penn Jillette's book Presto! How I Made Over 100 Pounds Disappear and Other Magical Tales.
Two months after his heart attack, Smith tweeted, "I'm officially down 20 pounds as of this morning! 20 pounds in 13 days & my blood pressure is amazing. How did this happen? My Doc said lose 50 pounds. 20 down, 30 more to go!"
Smith also joined Weight Watchers to drop more than 50 pounds. "In a million years I never thought I would ever write these words but here goes," he wrote on Instagram. "Read about my weight-loss journey in @menshealthmag (link in my bio)! These are the excellent pics that accompany said profile, with the idea being that my 58 pound weight loss (thanks to going Vegan and joining @ww) makes me lighter than air. It doesn't, but it sure feels like it at times. Article includes an excellent video in which you see my kitchen as well as me and Shecky working out!"
He also works out
Smith often snaps a selfie on one of his hikes wearing a different, cool t-shirt. He posted one last selfie to Instagram in 2018. "HAPPY NEW YEAR! May this be the year you accomplish all the things you dream of doing (unless you dream of hurting people)! 2018 was the year that almost killed me, but 2019 will be the year of the REBOOT!"
He also does yoga with his pal Jay Mewes from Clerks. "Namaste! See @jayandsilentbob Do Yoga! This morning, @jaymewes & I gave sun salutations, sat in chair poses and pretended we were warriors with @blackmarketyoga, our real life Yogi Bayer (the @therealstephenblatt character from @yogahosers)," Smith wrote on Instagram.
Smith celebrated life with his friends
Smith posted to Instagram on February 25, exactly one year from when he had his heart attack. "One year ago today, I almost died. So today, I'm living it up on with @jaymewes and Jason Lee on Day 1 of my new flick @jayandsilentbob Reboot!"
He went onto thank his wife, daughter, Mewes and Lee, "for standing beside me all these years while I do the hardest thing I can personally ever do, either in film or in real life." Smith said the three friends were rehearsing last night with the Oscars playing behind them.
"The Oscars were on in the background during our practice and I couldn't help but feel relief when the 'In Memoriam' montage ended and I wasn't in it. We picked 2/25 as the Reboot start date *intentionally*, to celebrate the fact that I did not become Silent Bob forever 365 days ago. But after a blissful couple hours of making pretend with my friends on the set of my 14th film, I'm starting to think I *did* die in that operating room after all. Because what could be more Heavenly than this?"
Check out The Cheat Sheet on Facebook!