Kevin Smith Promises 'Clerks 3′ After Threatening Retirement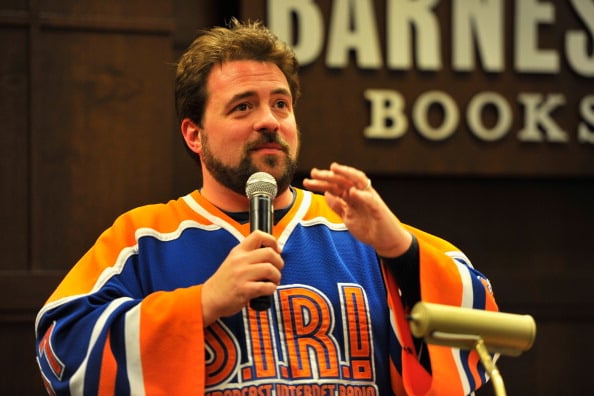 Kevin Smith is planning to move forward with Clerks 3 even though the Weinsteins have passed on funding the project's $6 million budget, the cult favorite director said in an interview with Screen Daily while plugging his new movie Tusk.
Smith is most famous for the 1994 indie cult classic Clerks about a wayward group of young people who work at and hang out around a convenience store in New Jersey. The Weinsteins financed that movie, something Smith discusses in the Screen Daily interview. Smith's eventual frustrations with how independent films are financed and promoted led to his long hiatus from the movie industry, which ended when a podcast inspired him to make Tusk.
"In 2011, when I walked away and said I was done making movies, I was absolutely frustrated with the financial process. It was mostly the marketing in terms of how ungodly expensive it had become to market a movie versus what it cost," Smith said. "I think what it comes down to is that I had priced myself out of being creative."
Smith is now calling Tusk, a horror film involving a man who wears a walrus suit, "honestly the best thing I have ever done — certainly the most interesting."
Some had been hoping that Clerks 3 would be out in time for the first film's 20th anniversary this fall, but a lack of funding seems to make the prospect of it being ready that soon unlikely. Smith seems undeterred about the movie's prospects, though. When asked if the Weinsteins would be involved in Clerks 3, Smith responded: "No, they passed. I went in with a $6m budget and they were, like, 'Oh no Kevin, this is too high.' Bob offered us distribution but they weren't going to finance it."
After the news of the Weinstein's disinterest came out, some speculated that the third Clerks film wouldn't get made at all. Smith shot down those rumors on Twitter, saying, "'Will Clerks 3 still be made?' Heavens yes, just not with the Weinsteins' money. And all involved are okay with this." He went on to say that there were no hard feelings about Bob and Harvey passing on the film.
The next Clerks movie isn't the only thing on Smith's plate at the moment. Tusk has inspired a spin-off titled Yoga-Hosers that Smith plans to begin shooting later this year. "Like Tusk, [Yoga-Hosers] sprang out of a podcast," Smith told Screen Daily. "There are two characters in a convenience store in Tusk that you see for five minutes, very much Ronsencrantz and Guildenstern. I've built a whole movie around them and I have brought one of the other characters from Tusk back."
He also plans to finish his horror trilogy, which began with Red State, includes Tusk, and will finish with a project that's been called Anti-Claus and Come to the Krampus. Smith describes that film as a "Creepshow-like horror anthology."
Smith has also been in the news recently for his alleged inside information on the huge franchise projects Batman v. Superman: The Dawn of Justice and Star Wars Episode VII. Rumors had been going around that Warner Bros commissioned Smith to write a dummy script for Zach Snyder's Justice League film to throw off news sites desperate for information on the film. Smith addressed that rumor in a post on his blog, saying that, "C'mon kids …  no major studio would let a guy like me near their franchises — even if it was for a dummy script meant solely to fool the news sites."
The director also made headlines after making a visit to the top secret set of the new J.J. Abrams-directed Star Wars film. Though he signed a non-disclosure agreement and couldn't reveal any details about what he saw on the set, the famous Star Wars fan said "what I saw I absolutely loved."
Though he's threatened retirement in recent years, it seems Smith is going through a recent creative period and says he has no plans on slowing down. "I am definitely not going to retire," Smith said to Screen Daily. "I am only going to make films that only I could ever make or would ever make."
More From Wall St. Cheat Sheet:
Follow Jacqueline on Twitter @Jacqui_WSCS
Want more great content like this? Sign up here to receive the best of Cheat Sheet delivered daily. No spam; just tailored content straight to your inbox.