Khloé Kardashian Had the Best Response to Tristan Thompson Saying "I Love You" to Her
If you've been keeping up with Khloé Kardashian's personal life lately, then you know all about her ex, Tristan Thompson, doing the absolute most to win her back.
From showering her with lavish gifts to thirstily commenting on a majority of her Instagram photos, "Third Trimester" Thompson just won't to give up on the reality star.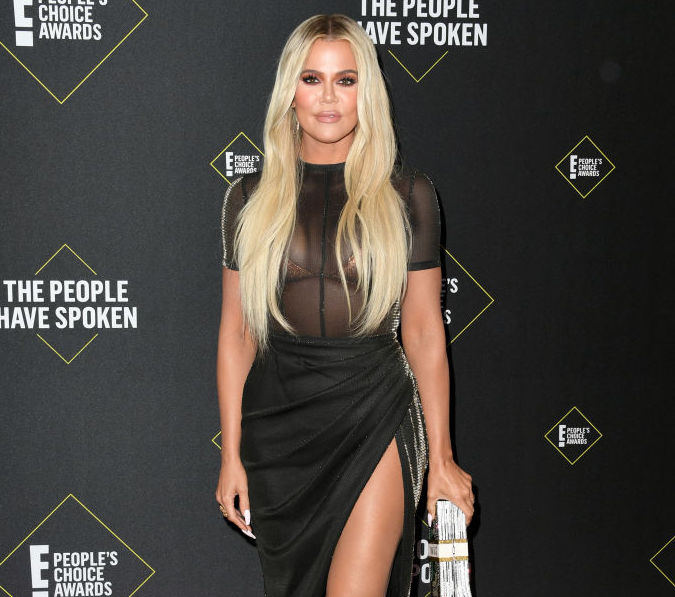 While he still has strong feeling for her, Kardashian refuses to fall for Thompson again and doesn't have a problem making it clear to him that their love is a thing in the past.
Kardashian is a pro at avoiding Thompson's advances
Since splitting from Thompson for good back in February, Kardashian has been adamant on maintaining a friendly co-parenting relationship with him.
Though she was on the fence about letting the NBA player back into her life, the reality star knew that working together to raise their 19-month-old daughter, True, was for the best.
While Kardashian wants nothing more than just a civil relationship with her ex, Thompson continues to do everything he can to win her back and the latest episode of Keeping Up with the Kardashians goes to show that he really doesn't know when to quit.
During the episode, things got pretty awkward between the former couple after Kardashian experienced an uncalled for moment with her ex while on the phone.
In the clip, The Good American founder can be seen saying goodnight to True, who's spending time with Thompson. As she's getting ready to hangup the phone, the NBA player casually says "alright, love you."
While this definitely took viewers by surprise, Kardashian wasn't fazed by her ex's unnecessary remark and quickly responded with, "bye…thank you."
"I don't know what to say," she explains to her friends after the call. "I just think now, I've already seen how this ride goes and I don't enjoy it. So it's like why would I want to do it for a third time?"
She's done with Thompson for good, despite what others might think
Though Kardashian has made it clear time and time again that she's completely over Thompson, those close to her aren't sure that's 100% true.
During the episode, the reality star recalled a conversation she had with her BFF, Malika Haqq and rapper O.T. Genasis saying, "Malika and O.T. were like, 'I don't think it's over with you and Tristan.'"
Although Thompson is doing everything he can to win her back, KoKo shut down the thought of a romantic reconciliation saying, "There's really nothing romantic between Tristan and I."
While Thompson really wants to make things right between them, Kardashian doesn't want to go down that road with him a third time.
Now that they are on good terms and are maintaining a great co-parenting relationship, Kardashian doesn't want romantic feelings to ruin what they currently have.
"Tristan is really trying to show he's sorry on a daily basis. … We're slowly moving into the right direction of being friends as well as excellent co-parents," she later said.
Although some people still think that it's only a matter of time before Kardashian and Thompson rekindle their romance, it seems like there's zero chance of that happening anytime soon.