Why Khloe Kardashian Calls Kylie & Kendall Jenner Her "Practice Babies"
Khloe Kardashian is known for a lot of things. Her tenure on the never-ending reality TV show, Keeping Up With The Kardashians, her clothing company, Good American, and hosting Revenge Body, a reality TV show where she helps others get into shape. Of course, Kardashian is most known for her being a part of her famous family, the KarJenner clan. Despite the drama that often unfolds on KUWTK, the sisters seem to have an especially loving relationship and a strong sisterhood. So why did Kardashian just refer to Kylie and Kendall Jenner as her "'practice babies"?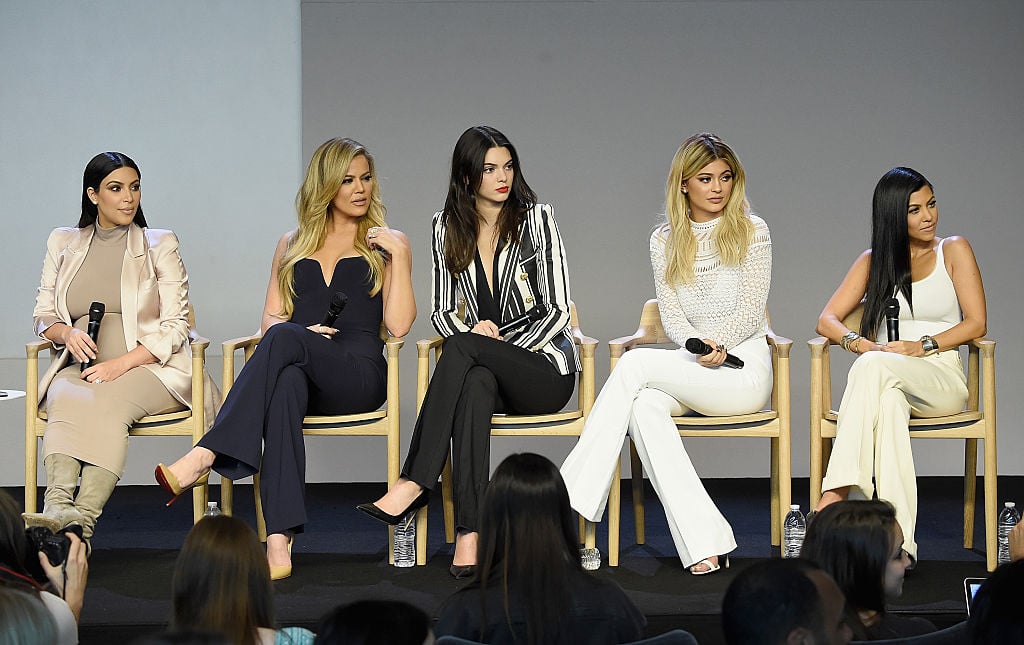 Does Kardashian have any kids
Last year, Kardashian welcomed her only child, True Thomspon, into the world. Fathered by her ex-boyfriend, Tristan Thompson, the one-year-old seems to be the light of Kardashian's life. "You guys, I can't handle this! I'm so annoying I know but I'm obsessed. She has the smile down!! Auntie Kenny…. baby True is coming for you!" Kardashian captioned on a recent photo of True, which she posted to her Instagram. Auntie Kenny, of course, refers to Kardashian's sister, Kendall Jenner, who is currently the highest-paid supermodel in the entire world.
A pretty big age gap
But of course, True isn't the only one who Kardashian considers to be her "baby". She also thinks of her younger sisters, Kendall Jenner, and Kylie Jenner as her babies. As there is a significant age gap between the siblings (13 years between Kardashian and Kylie Jenner and 11 between Kardashian and Kendall Jenner), Kardashian often took on a more mothering role to her younger sisters. Furthermore, Kardashian is known to be the most protective and nurturing of the KarJenner clan. Her natural mothering instincts often a topic of conversation.
A message in honor of Kylie Jenner's birthday
Kardashian recently showed her deep love an appreciation for her youngest sister, Kylie Jenner, by posting a sweet birthday message about the billionaire. "How is my baby girl 22?! Seriously how? But oh my goodness hasn't this been the most magical 22 years?! Here we are, celebrating your life and how blessed we all are to have you. May we never stop celebrating one another!! May we savor every moment because, in a blink, you are now 22," the Good American owner began.
Khloe Kardashian's practice baby
Kardashian then continued with her sappy and sentimental message, referencing how much both Jenner sisters meant to her. "You and Kenny were my practice babies and now you're 22; pull it together Khloé lol Happy birthday sweet Kylie! Your love, humor, generosity, confidence, empathy, charm, strength are just a few things I love and adore about you!! We are all so blessed to have you. Luckier to be inspired by what an incredible mommy, sister, daughter, and businesswoman you are," the 35-year-old gushed.
Unconditional love
"Being your sister is one of the greatest blessings life has given me. I sincerely thank God every single day for you and the rest of my family! May you continue to be surrounded by blessings, love, happiness, and laughter! Cheers to you baby girl! I know you had the most spectacular birthday!!! I will love you until the end of time! I will spend forever proving it," Kardashian concluded sweetly.
"Omg I love you," Kylie Jenner commented back almost immediately. It's sweet to see that these sisters share such a close bond. We're not always the biggest fans of the KarJenners, but we're always going to be in support of sweet messages of love like this one.