Khloe Kardashian is Leaning on 1 Family Member to Overcome Everything She's Been Through
Most people would agree that Khloe Kardashian has been through the ringer this year. She finally moved on from ex-husband Lamar Odom and thought she met the man of her dreams in Tristan Thompson. But over the past year, things have spiraled out of control with scandal after scandal. Thankfully, Kardashian has one family member she can lean on to help her through all of these unimaginable times.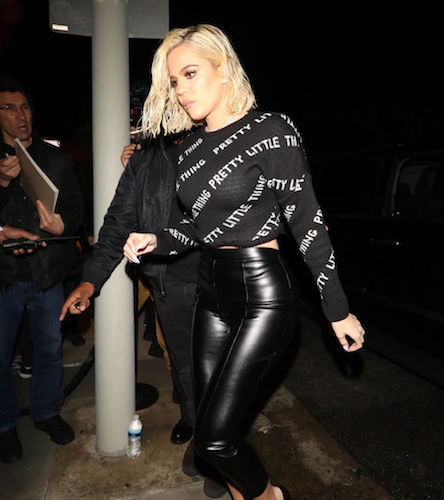 Kardashian was days away from delivering her baby when a leaked video changed everything
Kardashian hadn't been dating Thompson for very long when the two announced they'd be expecting a baby last spring. Kardashian had had some issues in the past and was worried she wouldn't get pregnant, so it was a dream when the couple found out they were having a baby. But just a few days before she gave birth, a video leaked from the previous October showing Thompson cheating with another woman. And within the week, Kardashian had a very bittersweet birth and welcomed her baby girl with her cheating boyfriend by her side. She stood by her decision, saying she didn't want to take the moment away from her daughter or the father.
After months of patching things up, another cheating scandal broke
When Kardashian and Thompson's daughter, True, arrived, it changed everything about their relationship. Kardashian likely would have kicked Thompson to the curb if True hadn't been born, but when you have a child, things can be complicated. The couple spent almost an entire year working on their relationship to repair the damage. Then, in February, an even worse rumor arose: Thompson had reportedly cheated with Kylie Jenner's best friend, Jordyn Woods. Woods and Thompson were seen together at a party he hosted in his home, and it wreaked havoc on the entire family. Kardashian is still dealing with the fallout.  
Kardashian's recent Instagram post with daughter True shows how much she is leaning on her daughter
Although Kardashian has been through hell and back when it comes to romance, there is one thing in her life that has remained constant: Her love for her daughter. On April 1, Kardashian posted an adorable photo of her playing outside with her little girl. The caption quoted lyrics from the song "You Are My Sunshine," which sent an endearing message to Kardashian's fans that True was helping her overcome everything she's been through in the past year. Regardless of what happens between Kardashian and Thompson, her daughter will always be the light of her life. Kardashian has said for years how badly she wants to be a mother. She even helped her sister Kourtney run a children's clothing boutique back in the early 2000s.
It's unclear if Kardashian and Thompson will be able to patch things up this time around. There have been rumors that the entire Jordyn Woods scandal was staged, but the family sticks by their story. Either way, Kardashian's love for her daughter definitely isn't fake; regardless of how things turn out, True will always be the most important thing in Kardashian's life.
Check out The Cheat Sheet on Facebook!