Here's How Khloe Kardashian Treats Her Migraines
On this season of Keeping Up With the Kardashians, Khloe Kardashian has highlighted her struggles with migraines, which seemed to only get worse after the cheating scandal broke. She's reported feeling nauseous, exhausted, and even had an MRI of her brain to make sure the issue wasn't more serious. Here are the remedies she uses to make it through another one of her painful migraines.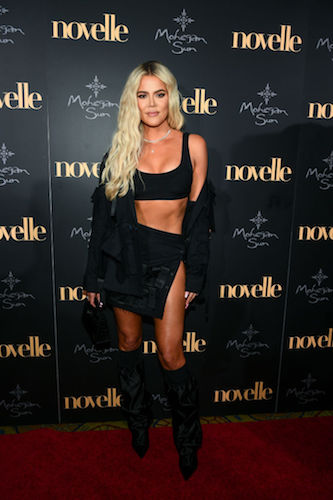 Migraines and headaches are not the same thing
The level of severity between a migraine and a headache differs drastically. Headaches typically don't last more than a few hours; some can last only a few minutes. And typically, taking an over the counter drug to subdue the headache pain gets rid of it entirely. But migraines are a different level of discomfort. Migraines can last for days, and they can cause nausea, temporary blindness, and sleep troubles. While medicine does help with migraine pain, the migraines need to clear up on their own, so the pain often comes back once the medication wears off. Migraines typically show symptoms before the worst of it starts, whereas headaches can come on unexpectedly.
Kardashian has been open about her struggle with migraines
On this season of KUWTK, Kardashian has opened up about dealing with difficult migraines. On the show's most recent episode, Kardashian was having one of her worst migraines ever. She felt nauseous, dizzy, and hated seeing any light. At one point, her family was thinking she might even be pregnant and prompted her to take a pregnancy test. The test was negative, so she made an appointment to have an MRI done to make sure the problem wasn't more serious. The MRI showed nothing abnormal, so her head pain was chalked up to migraines. And with migraines so severe, Kardashian has had to find ways to deal with it. Kardashian first opened up about her migraines as far back as 2012.
Kardashian tries to eliminate light
When Kardashian was dealing with her migraine on the show's most recent episode, she didn't want to be exposed to any light. She was having a conversation with Scott Disick when she covered her entire face to help avoid any contact with light. She said the less light, the easier it becomes to deal with the pain. Low lighting is typically recommended when dealing with migraines, as exposing the eyes to bright light can aggravate the pain.
She uses Excedrin to help subdue the pain
Back in 2016, Kardashian opened up to Glamour about what she keeps in her nightstand. Among things such as reading glasses and the Bible, Kardashian also keeps Excedrin. The medication is commonly used to help headaches, and she believes it helps with her migraine pain as well. That was a few years back, and since then, new medications have come out that reportedly help reduce the number of migraine days per month. Kardashian hasn't commented on whether she takes the new medicine, but she did reveal on the show's recent episode that she was changing her birth control with the hope it would have a positive impact on the migraines she's been dealing with.
Check out Showbiz Cheat Sheet on Facebook!