Khloé Kardashian Finally Reveals the 1 Food She 'Can't Say No' To
Khloé Kardashian has become well-known for the healthy decisions she makes. When Kardashian filed for divorce from Odom back in 2013, she decided to take the opportunity to better herself. She started working on her "revenge body" and has completely transformed the way she looks. Now, she hosts the popular E! show Revenge Body, which helps others look and feel their best after going through a difficult time. But even Kardashian still has cheat days.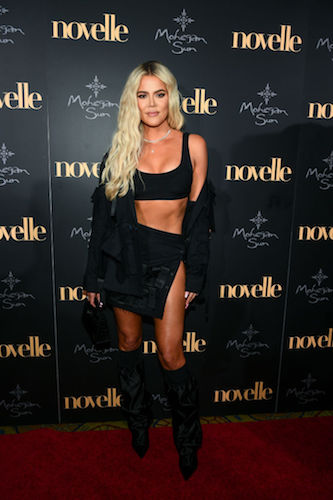 Kardashian works out almost every day
Kardashian's workout plan isn't for the faint of heart. She exercises six days per week, and each day focuses on a different part of the body. According to Shape, the reality star begins her week with a cardio workout. Day two consists of legs and butt, where Kardashian incorporates exercises such as deadlifts to stay in the best shape possible. Day three is all about the core; she adds in moves that help with balance and engage the entire body. On day four, she spends more time on cardio (she reportedly loves SoulCycle). She dedicates day five to arms, though she has said its her least favorite muscle group to focus on. Kardashian goes for a total-body workout on day six, where she adds in battle ropes for a full-body burn. She recovers from her intense week on day seven, then starts the cycle over again.
She sticks to a strict diet
Kardashian's workouts are made possible by the healthy diet that fuels her. Her diet plan is different from most, and though it clearly works for her, her nutritionist did caution that everyone's body is different, and not all diet plans work the same across the board. Kardashian eats seven times per day, including snacks. She reportedly starts her day with a protein shake (whey, almond butter, and fruit), and snacks on fruit mid-morning. Her lunches are always high in protein, and she enjoys fruits and vegetables throughout the day. For dinner, protein is queen: She usually eats fish paired with veggies or a salad. 
Kardashian just admitted pizza is the one food she never declines
Though Kardashian clearly cares a lot about what she puts into her body, everyone needs a cheat day. And the reality star can't say no to pizza. She recently posted a video to her Instagram story testing out a brand new "keto" pizza in her area, and she raved about how it's her favorite cheat meal. "My favorite cheat food is pizza" she said in the video. "I can't say no," she says, referring to someone sending her a free pizza. "How do I feel good about eating this? I guess I just eat it and love life."
Though pizza is typically thought of as unhealthy, there are ways to increase its nutrients. Toppings such as broccoli, tomatoes, and spinach add vitamins and minerals to every bite, and low-fat cheese or whole wheat dough are other great ways to make something delicious become a bit healthier. But indulging in a slice of pizza every now and then definitely isn't a bad thing; Kardashian knows that one of the key parts of eating healthy is letting yourself enjoy your favorite foods.