The 1 Thing Khloé Kardashian Does to Warm Up For An Intense Workout
It's no secret that Khloé Kardashian makes her workouts a major priority. Kardashian turned to fitness to help deal with the stress that came with her busy (and sometimes drama-filled) life as a reality star, television host, and member of one of America's most famous families. She often lets fans in on her workouts, and she recently showed fans how she warms up before some intense exercise.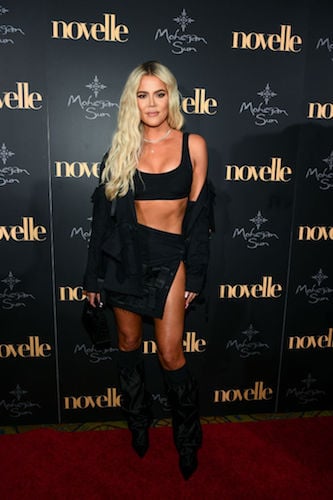 Kardashian takes diet and exercise very seriously
When Keeping Up With the Kardashians first started, Kardashian was seen as the odd one out among the three older sisters. Kim and Kourtney Kardashian both had dark hair and dark complexions, plus they were extremely petite. Khloé Kardashian, on the other hand, had lighter hair and a lighter complexion, and she was bigger boned than her sisters. People often criticized Kardashian for being bigger than her sisters and looking nothing like them.
Many critics also suggested that Kardashian must not be her father's daughter. There were countless rumors that Kardashian's real father was OJ Simpson, and she even once had a DNA test to prove that she was a Kardashian.
She hosts a show that helps people achieve their best bodies
Kardashian's life was turned upside down when her ex-husband, Lamar Odom, started getting involved with drugs. The addiction complicated their marriage and led Odom to make some bad decisions. Kardashian channeled her troubles into her workouts and came out of the drama feeling more confident than ever. The events that unfolded prompted her to become the host of her own reality show, Revenge Body, which helps people look and feel their best after dealing with a difficult situation. She also has her own denim brand, Good American.
Kardashian recently showed fans her workout warm up
Kardashian pays close attention to her diet and exercise regimen. She works out six days per week and eats plenty of fruits and vegetables throughout the day (everyone knows the Kardashians love their salads). On December 30, she posted a video to her Instagram story showing fans her workout warmup. Kardashian recorded herself in a mirror while using a stair climber; these machines work the legs and butt while also increasing the heart rate.
According to Well + Good, the stair climber is one of the best ways to warm up because it works the entire lower body. Kardashian's sister Kim Kardashian West has also posted videos of herself working out on a stair climber — maybe that's the secret to those Kardashian derrieres.
Kardashian has received some criticism for her appearance
Though Kardashian works hard in the gym, she has received some criticism for her appearance recently. Fans have called her out on looking more plastic than ever, especially in a recent photo shoot with her daughter, True. She's also been accused of heavily editing her photos, and people are convinced she had a nose job and didn't tell anyone. Though some criticize her appearance (Kardashian has not commented on the photo edits or potential plastic surgery), she's one of the hardest working women in the gym.