Kiernan Shipka & January Jones Had A Mini 'Mad Men' Reunion
Kiernan Shipka and January Jones shared a photo of them together, melting the hearts of Mad Men fans everywhere. The former co-stars have always been supportive of each other, so it's sweet to see them getting together — though shockingly, not in Los Angeles or New York. Here's what we know about their reunion.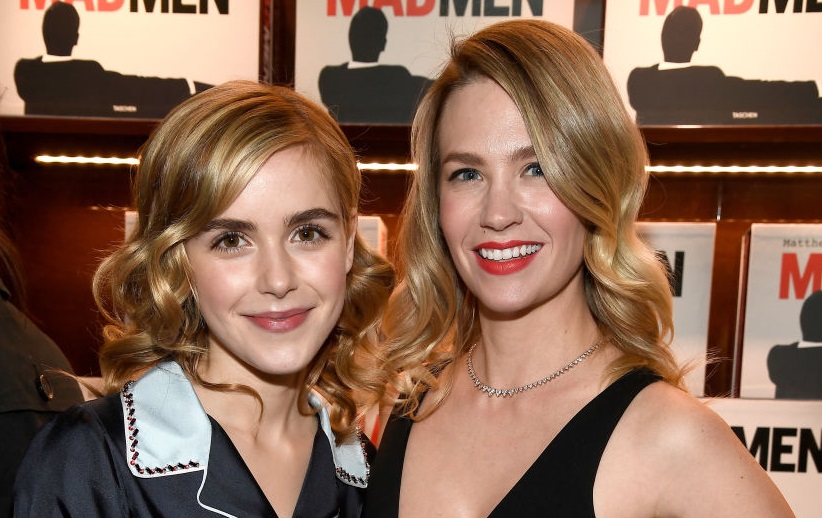 How do Kiernan Shipka and January Jones know each other?

Shipka and Jones both starred on the hit AMC period drama Mad Men for seven seasons. Jones portrayed Betty Draper, wife of the lead character, advertising executive Don Draper. The two divorced after Betty learns of her husband's infidelity.

Shipka portrayed Sally Draper, the oldest of the three Draper children. Sally isn't a major character at the beginning of the series, but as she ages, she factors into the plot more and more. Like her character, Shipka grew up on the show, as she was eight at the time it began airing and 14 when it was over.

They support each other on social media frequently

Though the series ended years ago, social media has allowed the two actresses to stay in touch. They frequently comment on each other's posts and support the other's projects. On Instagram, both women are fond of sharing throwback images from their Mad Men days, much to everyone's delight.

Shipka and Jones had a mini-Mad Men reunion in Canada

On Feb. 23, 2019, Shipka posted on Instagram a photo of her and Jones posing together with the caption "Drapers 4ever." Jones shared the photo on her own page, writing, "It seems everyone's in Canada these days. Draper babes." Both posts quickly garnered likes and comments from Mad Men fans excited over this mini-reunion.

What is January Jones filming?

As indicated in her caption, Jones is currently in Canada. She's there filming a new series for Netflix, titled Spinning Out. Jones will portray Carol Baker, mother of Kat Baker, an ice skater who switches from singles competitions to pair skating after an injury. The series stars Kaya Scodelario (Skins) as Kat, Willow Shields (The Hunger Games) as Serena Baker, and former Olympic skater John Weir.

What is Kiernan Shipka filming?

Jones' former on-screen daughter has also been spending a lot of time in Canada filming. She is the star of the Netflix series The Chilling Adventures of Sabrina, which shoots in Vancouver. But at present, she's on the set of Let it Snow, a Netflix rom-com that will also star Shameik Moore (The Get Down) and Odeya Rush (Dumplin').

Netflix also shared the photo

If you're seeing a common theme here, you're not alone: All of Jones and Shipka's current projects are set to air on Netflix. In fact, Jones is also set to recur (if not star) in an upcoming Netflix comedy series The Politician. So it's not surprising that the streaming service took this opportunity to share the shot of the mini-Mad Men reunion, with a caption that details the productions Jones and Shipka are shooting right now.

Though there don't appear to be any immediate plans to put the two on the same set, however, if both continue to work with Netflix, at the rate they're going, they're likely to be on screen together again soon enough.