'Killing Eve' Season 3: Recent Evidence Confirms This Fan Theory About Eve's Fate
Fortunately, there's not a TV show drought in effect that's making it hard to get through the summer. It's true that there is more than enough content to digest right now, but audiences are happy to know that some of our favorite shows are filming their new seasons as we speak, and one of those is BBC America's Killing Eve.
Phoebe Waller-Bridge's crime thriller kicked up the obsessive dynamic between Sandra Oh's Eve Polastri and Jodie Comer's Villanelle for season two by having the ladies tag team to catch a psychopathic tech mogul. But things went beyond awry, leaving viewers hanging by one hand to the cliff at the end of season two. What has become of Eve? If you don't want to know, don't read. [Spoilers ahead]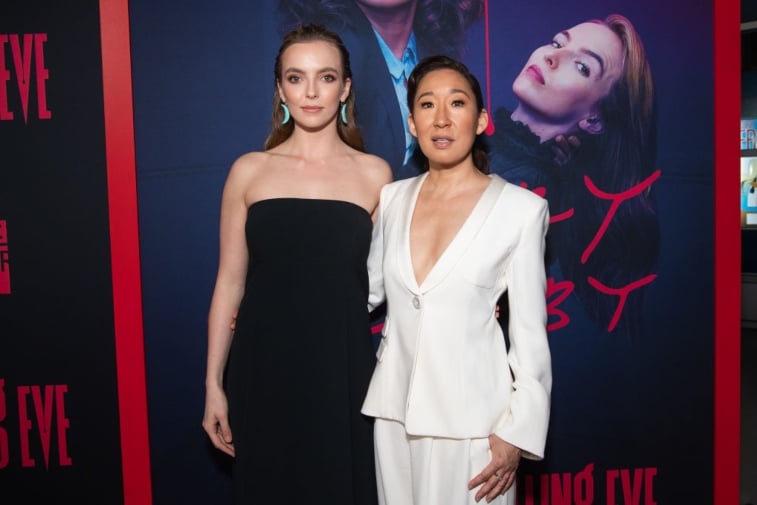 Season two saw Eve and Villanelle's messy love-hate relationship build up to a climax
We can't discuss how things unfolded in season two without touching on the end of the first season. Specifically, that part where MI6 agent Eve found Villanelle's Parisian hideout and unintentionally/maybe intentionally stabbed her in the abdomen was pivotal. She left the witty assassin lying on the floor bleeding.
Somehow, these two once again connected as strange, co-dependent bedfellows and partners in anti-crime for season two. But by the season finale, things got tricky, bloody, and deceitful—again. Both women had been lied to by their bosses, Villanelle murdered the psycho Peel, and she was almost strangled to death by Raymond of the 12. But Eve swooped in and saved her by killing him with an axe.
The plan? Eve, who is charmed by Villanelle but shocked by her own actions, was game to run away with the hitwoman. They were "the same." But Eve changed her mind and decided she wanted to split with her infatuated friend-fugitive. Season two concluded with Villanelle popping a bullet into Eve's back as she walked away. Things switched from season one's ending.
Fans were skeptical about the ending of 'Killing Eve' season two
Lying face down in Roman ruins with a bullet in her back, Eve seemed to be bleeding out. But was she? Did Villanelle wind up really killing Eve? Deadline floated the idea that the object of Villanelle's affection could've been playing dead. Eve was intrigued by Villanelle, but aware and scared of what she's capable of doing.
With that said, some fans think the MI6 operative prepared ahead and was wearing her bulletproof vest. Others are in the boat that she was indeed using the "hero's technique" of playing dead, just like her co-worker, Hugo. The reigning opinion is that the titular character is still kicking.
Recent reports support claims that Eve is okay
According to UK's Heart Radio, production has already begun for the newest installment. With filming for season three already underway, eagle-eyed fans have been on the lookout for clues about Eve. Sandra Oh has been spotted in peak form on set throughout London, leaving many to believe the character is still in the land of the living.
While this would confirm the theory that Eve survived the gunshot, it doesn't mean that she's not posted up in a hospital or secret bunker on the mend. The photos could be evidence of flashbacks, dreams, or a fully healed Eve. Black ops agencies are known to "burn" their operatives and pretending they don't know them. Remember, bleeding Hugo and evidence of the undercover MI6 mission was gone.
No release date has been given for season three, but it's assumed that new episodes will begin airing in April, following the show's pattern of premiering in the spring. With a new showrunner attached to the project, expect more wildly new directions for these two women.