Kim Kardashian and Chicago West Now Have Matching G-Wagons
Like mother, like daughter.
Not only does Chicago West look like her beautiful mother Kim Kardashian, but she also has a lime green G-Wagon to match her mommy!
Looks like Chicago West brought in her 1st birthday with a brand new car…can't relate.
Chicago West was showered with gifts
The youngest West child turned one-years-old on January 15 and the Kardashian family was with her to celebrate.
A few family members gathered at Kim and Kanye's Calabasas estate to have a low-key dinner and spend time with Chicago.
The night then turned interesting when Auntie Kourtney Kardashian gave Chicago a mini neon Mercedes G-Wagon. One that looks just like Kim Kardashian's!
As Kim Kardashian got the whole gift exchange on her Instagram Story, it looked like Chicago really liked her new car.
In the 8-second videos, it showed Chicago West sitting in her G-Wagon at first not knowing what to do. Then her older siblings, North, 5, and Saint,3, joined her inside.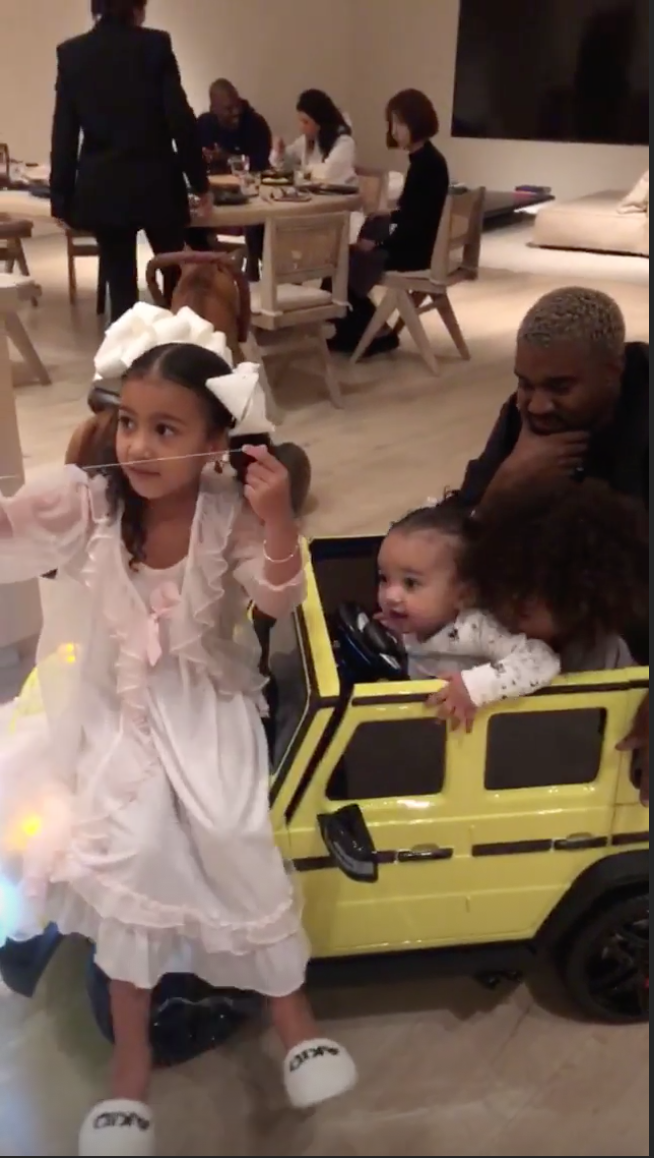 Big brother Saint sat behind Chicago as he showed her how to turn the steering wheel.
North was living her best life and just continued to pose for the camera (modeling is in her bones).
We know that Chicago is only one and probably won't be doing laps around the house, but she sure did look cute sitting in that mini G-Wagon!
Kim Kardashian has the same exact car
Back in August, Kanye West unexpectedly surprised his wife with a neon green Mercedes G-Wagon just because.
The mother of three has had a fascination with neon colors and has been spotted wearing neon wigs as well as clothes.
Just a week after returning from Miami for rapper 2 Chainz and Kesha Ward's wedding, Kanye West bought his wife the same make and model car they drove around while in Miami.
On her Instagram story, Kim Kardashian showcased her surprise that was parked in the middle of her driveway.
"Oh my gosh, I just got out of the gym and was surprised by this new baby. I loved it so much in Miami and kept on talking about it," Kardashian raved.
Kim Kardashian showed off her new car with husband Kanye West beaming as he watched his wife. She went on by saying, "Oooh look who surprised me with this baby, you guys. I got the truck of my dreams 'cause I was so excited in Miami. I'm so excited."
Kim Kardashian and Chicago West aren't the only ones in the family who have neon G-wagons.
The youngest Kardashian-Jenner sister, Kylie Jenner, has the same car, except hers is neon orange.
The same day Kim Kardashian was surprised with her G-wagon, she went over to Jenner's house and saw they have the same car.
"When you just pull up to your sister's house to say 'Good morning,' and you guys have matching neon trucks," Kim said. "Alright Ky, where are we going? Where are we going? Where are we going today?
Now that little Chicago West has the same car as her mommy, the two of them can ride around town ignoring everyone's envy of their matching G-wagons!