Kim Kardashian and Kanye West Moments That Made Us Cringe
If one thing proves that Kim Kardashian and Kanye West are meant to be together, it's that they both love being the center of attention. However, as a result of constantly being in the limelight, we've seen more than enough moments between the two that got seriously awkward.
From an uncomfortable-to-watch New Year's kiss (page 5) to publicly separating their political views (page 7), these moments between Kardashian and West totally made us cringe.
1. The "Bound 2" music video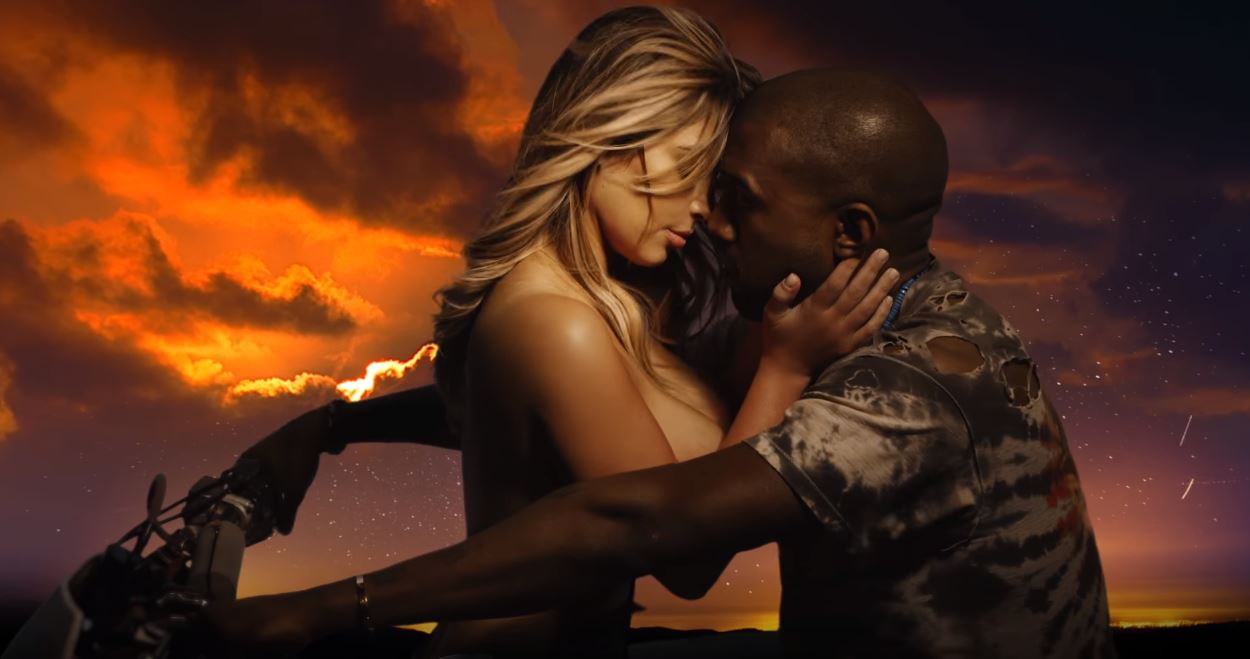 We love that Kardashian is supportive of West's creative visions. However, when she took part in the music video for his song, "Bound 2," all it did was make us uncomfortable.
During the video, as West rides a motorcycle through the desert, he's joined by a completely naked Kardashian. In each shot, they're either kissing or caressing each other, which is nearly impossible to watch without cringing at least once.
Next: West clearly has control over this part of their relationship.
2. West made Kardashian throw out her wardrobe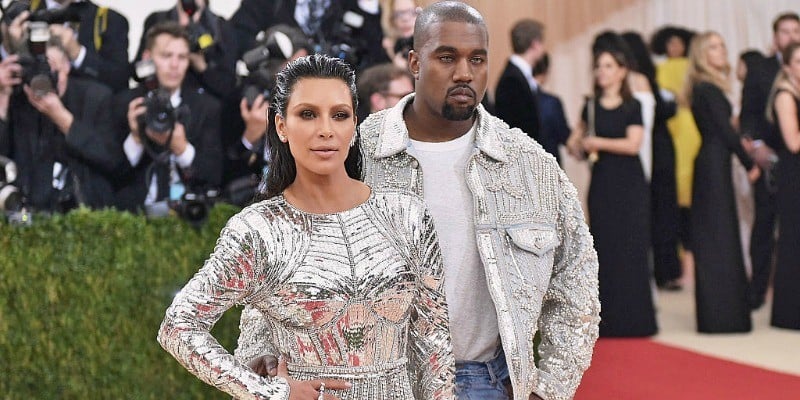 Kardashian has always been obsessed with fashion, but her style clearly wasn't good enough for West. Back in 2012, West paid Kardashian a visit on an episode of Keeping Up With the Kardashians. However, he brought along his stylist, Renelou Padora, as well.
Together, West and his stylist cleaned out anything in Kardashian's closet that they didn't approve of. Even though we couldn't believe our eyes at the sight of Kardashian's completely closet overhaul, it turns out she had something up her sleeve.
In a 2017 Snapchat, Kardashian revealed that she'd secretly kept all of her discarded clothing so her daughter, North, could have the chance to wear something from her old closet in the future.
Next: They both weren't feeling this prank.
3. Unamused by Amy Schumer's prank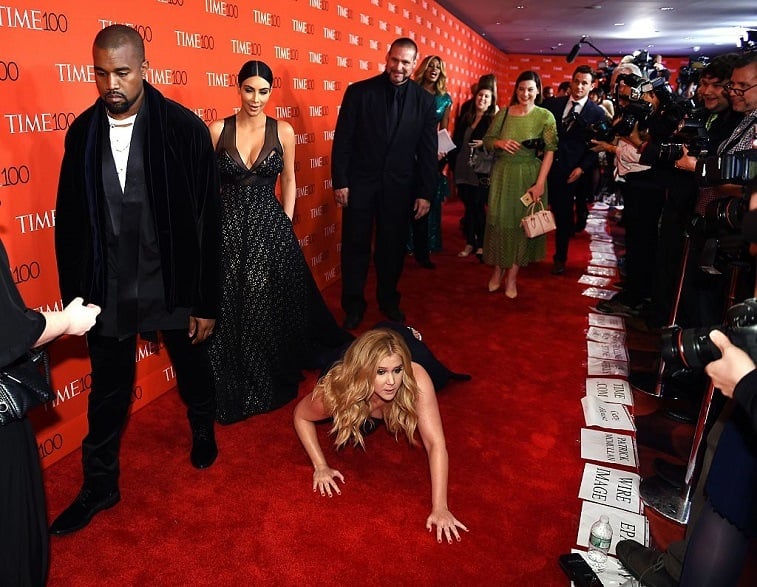 In April 2015, Amy Schumer thought it would be a great idea to pull a prank on Kardashian and West, but they didn't seem to think it was funny. While on the red carpet at the Time 100 gala, the comedian faked a face-plant in front of the power couple — and they didn't even crack a smile.
Schumer explained on The Graham Norton Show, "I think falling is the funniest thing, so I just took a dive in front of them." She added, "I'm doing God's work." We're not sure Kardashian and West exactly agreed.
Next: They should probably keep these photos to themselves.
4. Their personal photo shoots
Kardashian was proud to have given West photo credit for the image above that she shared on Instagram. While she isn't one to shy away from posting nearly nude selfies on social media, letting it be known that her husband took the photo just feels a little too personal to be sharing with the world.
Next: Their New Year's kiss totally made us cringe.
5. Their awkward New Year's kiss
Kardashian and West typically don't mind showing their love on social media, but on New Year's 2018, West seemed to turn a bit camera shy. While counting down to the new year in an Instagram story, Kardashian signaled for her beau to give her a kiss.
West awkwardly smiled before quickly pecking Kardashian's lips. Kardashian exclaimed in a joking, but totally serious way, "Don't leave me hanging!"

Next: Did Kardashian scold West on social media?
6. West breaking their "rule" on social media
West made quite the dramatic return to Twitter in April 2018, following his nearly year-long hiatus from all social media. In the midst of parading his support for Donald Trump, West shared a photo of the inside of their home. He captioned the post, "do this look like the sunken place," along with a laughing emoji, in reference to the 2017 film, Get Out.
Kardashian retweeted her husband's post, writing, "Ummm babe. We had a rule to not show our home on social media! Soooo can we now allow KUWTK filming in the home?"
Although it may have initially seemed that Kardashian took to Twitter to scold West, she quickly cleared the air. She shared, "Oh RELAX I'm joking! Seriously you can't have a personality on social media these days or your called bizarre or disturbing."
Next: They definitely don't agree on this.
7. Their differing political views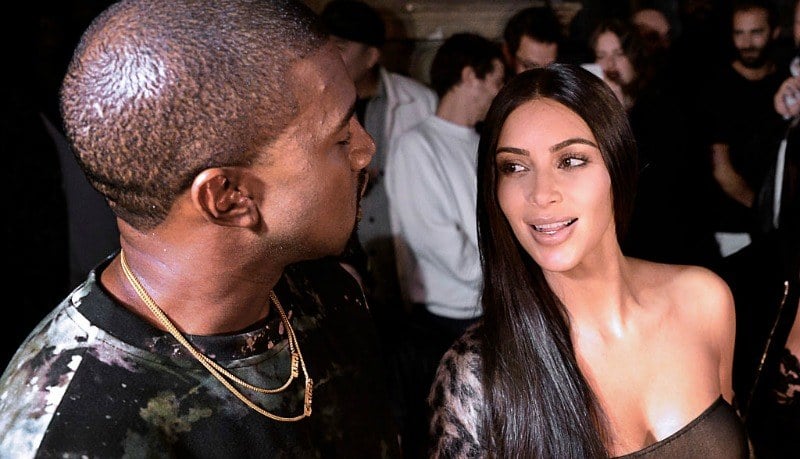 Kardashian also made sure to point out that she doesn't share the same political views as her husband. As West continued to celebrate Trump on Twitter, Kardashian noted, "Most people (including myself) have very different feelings & opinions about this. But this is HIS opinion."
While they're certainly allowed to have differing political views, a source told Us Weekly that Kardashian wants to make it clear that she doesn't agree with her husband. "Kim isn't mad about [the Trump] tweets," the source claims. "But she's worried that people will think she shares the same views."
Check out The Cheat Sheet on Facebook!