The 1 Breakfast Dish Kim Kardashian Eats to Stay in Shape
When it comes to staying in shape, the Kardashians know what to do. It's hard to argue that the Kardashian women are some of the most in-shape celebrities we know. Though they get their looks and shapes from several methods, a big part of staying fit comes from their food. So, what does Kim Kardashian, the one who essentially paved the way for her sisters' fame, eat for breakfast to stay in shape?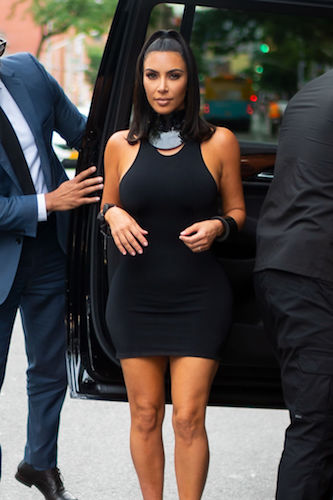 The Kardashians have personal trainers to help them stay fit
When you're made of millions, it makes sense that you might hire a personal trainer to help stay in shape. The Kardashians haven't been shy about working with professionals to keep their toned physiques. Gunnar Peterson, who works as a trainer on Khloe Kardashian's show Revenge Body, also happens to be Kim Kardashian's personal trainer. Kardashian has been training with Peterson since she was 19, and Peterson once described her as one of his hardest workers. Kardashian reportedly trains with him five days per week and arrives at 7:00 a.m. to keep her body fit, toned, and curvy.
Kim Kardashian eats high-protein, low-carb breakfasts to stay in shape
Protein helps the body in so many ways, from building muscle to keeping hair healthy. It's an essential part of every meal, and people should be incorporating healthy amounts of protein into their bodies each day to stay fit. According to Eat This, Not That!, Kardashian orders something along the lines of scrambled eggs with tomatoes, mushrooms, and onions. The news outlet reported that when Kardashian once did an interview with Allure over breakfast, she ordered that exact dish, which also came with an English muffin — Kardashian ate everything except the carb-heavy muffin.
The Kardashians' diets are filled with nutritious meals — and some cheat meals
The Kardashians are constantly under a lot of pressure to stay in shape. Between photo shoots, public appearances, and their extremely popular show, the women are always in the spotlight. They do their best to incorporate healthy foods into their diets, including protein such as turkey sausage and an abundance of healthy shakes. However, the women have been called out for promoting dieting products that aren't FDA-approved, though for the most part, they seem to eat easy-to-make, simple foods to stay healthy.
The women have had some work done to keep up their appearances
While the Kardashians definitely work their butts off to stay in shape and have healthy diets to supplement their workouts, they do sometimes turn to medical treatments and surgeries to improve their appearances. The women haven't been shy about having receiving lip injections, and they've even discussed them on the show. Kylie Jenner famously debuted lip injections a couple years back, which has helped her build her successful Kylie Jenner Lip Kits. Kim Kardashian also admitted to getting cellulite treatments done by doctors (if you can afford it, why not?). But regardless of those treatments, the women swear they haven't enhanced their breasts, butts, or toned tummies with any kind of plastic surgery.