Kim Kardashian Got Her Sisters The Most Insane Christmas Gifts
Kim Kardashian is swinging into the Christmas spirit. Though the KarJenners have decided not to do their annual Christmas card this year, Kardashian and her rapper hubby, Kanye West, have released their own gorgeous card with their four kiddos — North, Saint, Chicago, and Psalm.
In fact, since early December — the Skims founder has had her holiday decorations on display in her home. However, her Christmas decorations were pretty shocking to some fans.
However, the real surprise this Christmas season is the KKW Beauty founder's gifts for her mother and sisters.
Inside Kim Kardashian's Christmas traditions
Like many people who celebrate the holiday season — Kardashian adores Christmas. In fact, she goes all out every year to celebrate. Though we won't be getting a KarJenner Christmas card this year — the reality starlet made sure that her family still kept up with the tradition. Also, the annual KarJenner Christmas party will be held on Christmas Eve.
For years, Kris Jenner has hosted a massive Christmas party for her friends and family that has included everything from fake snow to sledding (in Southern California.) In 2018 — Kardashian took over the soiree spending an astounding $1 million to live up to the standard that her mother set. On an episode of Keeping Up with the Kardashians, she explained, "Our Christmas Eve party was this fun party that I just remember being friends and family, my grandparents, cousins… and it was just the best night ever."
The family also watches the 1994 classic, The Santa Clause together each year. In 2009, the KKW Beauty mogul shared on her blog, "Christmas movies are favorite!! Since we were younger, Kourt, Khloe and I have loved watching Christmas movies together every year."
Kim Kardashian's minimalist Christmas decorations
In order to keep the theme of her very minimalist and beige home — Kardashian's 2019 Christmas decorations are a sight to behold. All of Kardashian's Christmas decorations except for one single green tree are done in white.
Still, the decor that most alarmed fans was the display that the KUWTK star called, "so whimsical, like Whoville." If we're being honest, the whole thing looked like stacks of toilet paper in all different shapes, but at least they are plush enough for the Kardashian x West kiddos to play on.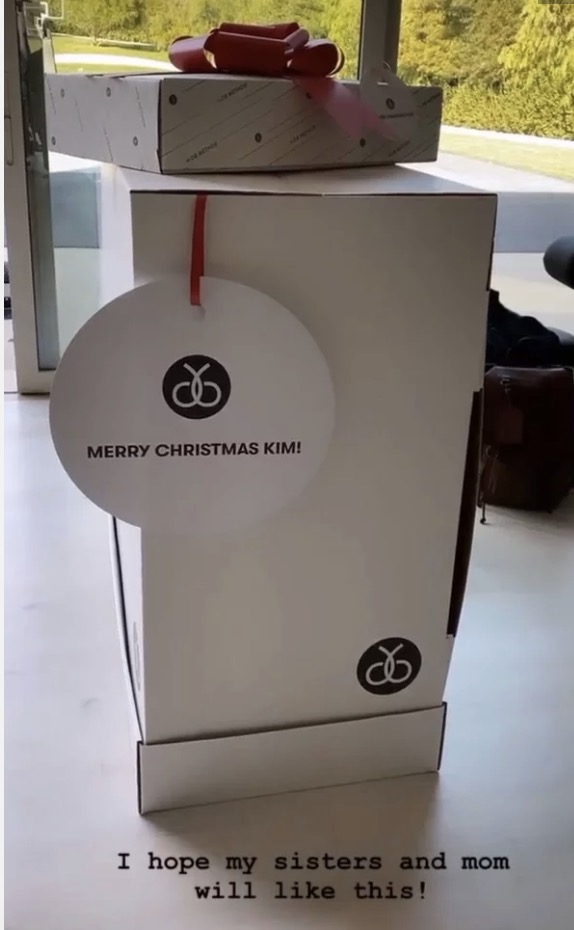 This is what Kim Kardashian got her mother and sisters for Christmas
Along with her home decor, Kardashian is getting into the Christmas spirit slightly early. She has already gifted her mother, Kris Jenner and her sisters — Kourtney Kardashian, Khloé Kardashian, Kylie Jenner and Kendall Jenner the most intense workout machine ever.
"I got my sisters and my mom a Christmas present but I got myself one too," the Skims mogul explained in a clip. "I'm working out right now and I'm gonna open this and show you guys what I got them." She captioned the video, "I hope my sisters and mom will like this!"
If for some reason you want to try out the booty machine for yourself, The DB Method machine goes for $229. It claims to enhance squats and full-body workouts. It promises to "deliver fast, convenient, butt-blasting result."