Kim Kardashian Defends Her Decision to Become a Lawyer on Instagram
Kim Kardashian recently revealed in a Vogue magazine cover story that she's currently studying to become a lawyer. She's been studying the law since last summer and hopes to take the bar exam in 2022. Keep reading to learn what Kardashian said about becoming a lawyer on Instagram and how she defended herself against critics.

Kardashian's Instagram post

On April 15, 2019, Kardashian posted a picture to Instagram of her studying along with her mentors, lawyers Jessica Jackson and Erin Haney.  A caption of more than 350 words detailing her study schedule and what sacrifices she's made accompanied the picture.

Kardashian began the Instagram post by discussing her study schedule and her preparations for the "baby bar."

"Last year I registered with the California State Bar to study law. For the next 4 years, a minimum of 18 hours a week is required, I will take written and multiple choice tests monthly," Kardashian wrote. "As my first year is almost coming to an end I am preparing for the baby bar, a mini version of the bar, which is required when studying law this way.

'Create your own lanes'

In her Instagram post, Kardashian referred to critics of her decision to study the law, calling out one person in particular.

"One person actually said I should "stay in my lane." I want people to understand that there is nothing that should limit your pursuit of your dreams, and the accomplishment of new goals," Kardashian wrote. "You can create your own lanes, just as I am. The state bar doesn't care who you are. Everyone can take this route if you live in a state where this is allowed," she added.

The "route" Kardashian referred to in the caption is the process of taking the bar exam without a degree. California, Kardashian's home state, is one of four states in the country that allows individuals to take the bar exam sans a degree. If a person decides to go this route, they are required to have an apprenticeship with a judge or law firm. This way of becoming a lawyer is called, "reading the law."

Kardashian goes on to say, "It's true I did not finish college. You need 60 college credits (I had 75) to take part in "reading the law," which is an [sic] in office law school being apprenticed by lawyers."

Time 'spent away from my kids'

Kardashian told her followers, "For anyone assuming this is the easy way out, it's not. My weekends are spent away from my kids while I read and study. I work all day, put my kids to bed and spend my nights studying."

She went on to talk about how she copes with feelings of being overwhelmed. "There are times I feel overwhelmed and when I feel like I can't do it but I get the pep talks I need from the people around me supporting me," she wrote.

Then Kardashian said that she took the drastic step to change her phone number to be able to focus on studying the law. "I changed my number last year and disconnected from everyone because I have made this strict commitment to follow a dream of mine – It's never too late to follow your dreams," she wrote.

Why Kardashian decided to become a lawyer

Kardashian helped Alice Marie Johnson, a woman who had been in prison on a nonviolent drug charge since 1996, get free after learning about her case when a friend shared a video about it on Twitter.
While working with Johnson "the White House called me to advise to help change the system of clemency," Kardashian told Vogue.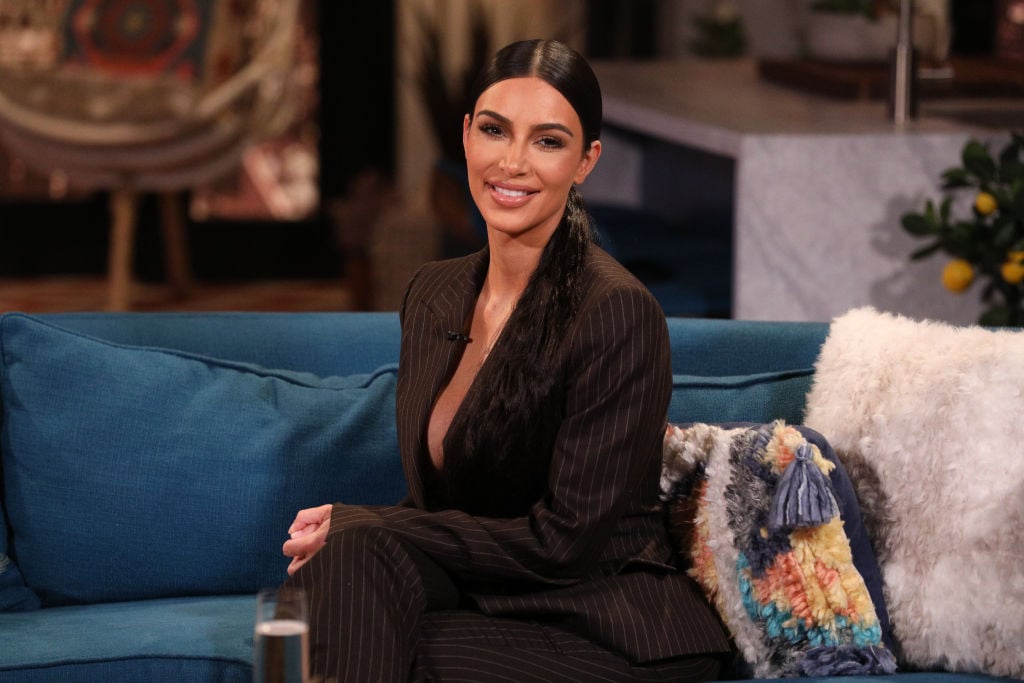 "And I'm sitting in the Roosevelt Room with, like, a judge who had sentenced criminals and a lot of really powerful people and I just sat there, like, Oh, sh*t. I need to know more," Kardashian said.
"I would say what I had to say, about the human side and why this is so unfair. But I had attorneys with me who could back that up with all the facts of the case. It's never one person who gets things done; it's always a collective of people, and I've always known my role, but I just felt like I wanted to be able to fight for people who have paid their dues to society. I just felt like the system could be so different, and I wanted to fight to fix it, and if I knew more, I could do more," she said.
Her experience at the White House and "seeing a really good result" with Johnson made Kardashian want to become a lawyer.