Kim Kardashian Fans Are Positively Roasting Kanye West for This Photo
Kim Kardashian and Kanye West, often referred to in the public eye as Kimye, are no strangers to harsh criticism. Over the years, the famous pair has faced intense scrutiny for their personal ethos and life choices. In recent years, West seems to be the one receiving the harshest criticisms for his political beliefs and making ridiculous and historically inaccurate claims like "slavery was a choice." Typically, Kardashian fans have rushed to West's defense, but lately, even they are fed up with West's antics.
Recently, Kardashian took to her Instagram page to post a couple of pictures with her husband. In the first image, Kardashian dons a skintight silver dress and looks directly in the camera lens. Conversely, West is dressed in head to toe denim and is staring off into the distance. In the second image, West is whispering into Kardashian's ear while she smiles. The photos, which are seemingly innocent, especially for Kimye, immediately sparked ire amongst Kardashian stans and they commenced with roasting the Jesus Is King artist.
Kanye West dragged for his fashion sense
Though this was a fair amount of criticism about West in the comment section, the bulk of people were dragging him for the way he was dressed in the pictures. It appears as though the jean jacket he wears is entirely too small for him and fans of the Skims CEO were quick to show their disdain. "Kanye found god and lost his drip," one fan wrote. "Kanye is the only person, that wears his jeans jacked closed," another Instagram user penned. "Denim on denim is not a move," one person said adamantly. "Manz really buttoned up a jean jacket," another fan chimed it. "Kayne look like he's about to change the oil in his work truck," another person noted.
Some fans hated the outfit so much that implored Kardashian to help her husband make better fashion decisions. "Why'd you let him leave the house like that," one person questioned the KKW Beauty founder. "Help ya mans dress sis," another person chimed in. But, what fans found most offensive was that West had the nerve to call out Kardashian for her style recently when his own was less than favorable.
Kardashian fans express outrage on Instagram
"I can't believe this man told you to switch your whole style up just for him to pop out in a buttoned-up denim jacket," one affronted person wrote. "Naahhhh. Mans had the AUDACITY to tell her she wasn't fly enough and came out in some Levi's??? I hate to see it," another fan added. "Kanye: 'your clothes are too tight and it makes me uncomfortable'," one fan trolled sarcastically.
The Met Gala drama
Of course, the fans were referring to recent comments that West made on Keeping Up with the Kardashians, where he publicly shared his displeasure for her 2019 Met Gala Award corset look. "I went through this transition where being a rapper, looking at all these girls and looking at my wife, like, 'Oh my girl needs to be just like the other girls showing their body off.' I didn't realize that that was affecting my soul and my spirit as someone who is married and the father of now … about to be four kids. A corset is a form of underwear, it's hot, for who though," the "Homecoming" rapper declared.
The Keeping Up with the Kardashians star defends herself
But, Kardashian didn't appreciate the criticism and immediately stood up for herself. "So the night before the Met you're going to come in here and say that you're not into a corset vibe? You're giving me really bad anxiety. You knew last night I had really bad anxiety and I don't need any more negative energy and for you say you're now not into me wearing a tight dress," Kardashian clapped back.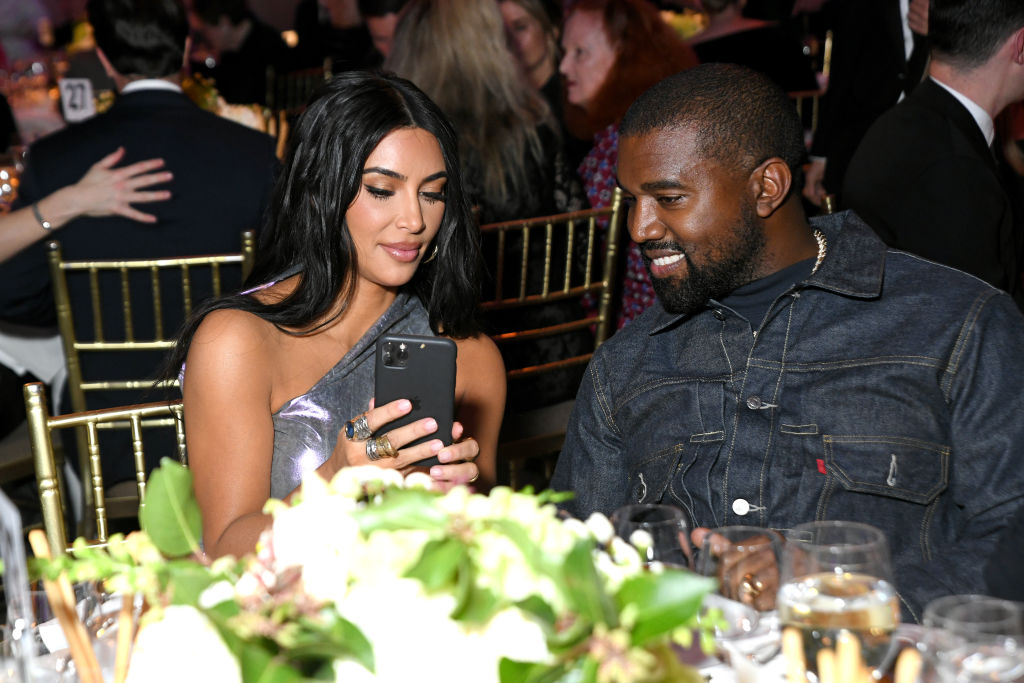 West didn't approve of his wife's wardrobe
Of course, West wasn't ready to give up on his stance. "You are my wife and it affects me when pictures are too sexy," West added. Kardashian again expressed that it was West himself that encouraged her to embrace her sex appeal in the first place. "You built me up to be this sexy person and confidence and all this, and just because you're on a journey and transformation doesn't mean I'm in the same spot with you," she fired back. "Okay, alright. Okay, alright cool," a visibly upset West replied. We totally agree with Kardashian here. West's time is best spent worrying about his own sense of style. Which, like his music and morals, seems to have suffered in the past several years.