The Real Reason Kim Kardashian's Friends and Family Never Wanted Her to Marry Kris Humphries
Kim Kardashian and Kris Humphries had one of the shortest relationships on record: Their marriage lasted only 72 days before the reality star filed for divorce from the NBA player. Though the marriage was years ago, and Kardashian has since remarried and has four kids, it's one of those memories that will go down in history as one of the most confusing (and dramatic) parts of Kardashian's life. But those around her never actually wanted her to go through with it.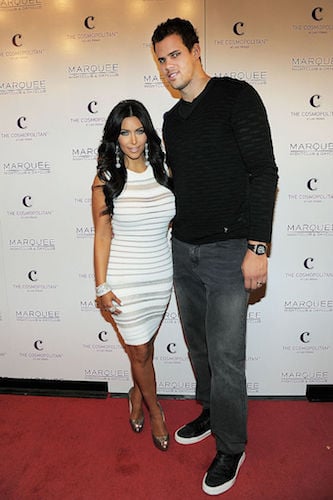 Kardashian and Humphries started dating in late 2010
The couple first sparked dating rumors nearly nine years ago; toward the end of 2010, Kardashian was spotted sitting courtside at one of Humphries' basketball games, though nobody could say for certain whether the two were dating at the time. But only a few days after the game, the new couple made their first public appearance. Kardashian denied being in a relationship even in the beginning of 2011, despite having been with Humphries for a few months. She claimed she wanted to be single after getting married young and then spending several years in another relationship (Kardashian dated Reggie Bush and Miles Austin prior to meeting Humphries).
They dated, married, and divorced all within the same year
After a while, Kardashian could no longer deny being in a relationship with Humphries. In February 2011, they celebrated his 26th birthday together, and by April, Humphries was already spending time on the Kardashian family vacations. He surprised Kardashian with a $2 million engagement ring in May 2011, and she said yes. The couple tied the knot quickly; by August, they were married. The wedding aired on television in October 2011, however, by that same month, there were rumors things weren't working out for them. And Kardashian made those rumors a reality when she filed for divorce from the basketball player in November 2011.
Those around Kardashian didn't think she was happy enough to marry him
On the outisde, it seemed like Kardashian and Humphries were a perfect match (until they weren't). But as it turned out, there were some red flags prior to their wedding — the biggest one being that those around her didn't want her to go through with it. The producers of the show even told her that she didn't look happy with the whole event, and Us Weekly reported that Ryan Seacrest, who is the executive producer of the show, later said that Kardashian had called him only a few days after the wedding to tell him she thought she had made a mistake. Khloe Kardashian recalled not knowing whether it was a joke when the two first got engaged, and since those around her didn't think Kim Kardashian looked as happy as she should have, it was clear they didn't want her to walk down the aisle.
Kris Jenner even told Kardashian she would 'handle it' 
Kris Jenner, Kardashian's mother and manager, told her the day before the wedding that she didn't have to go through with it. "This isn't for you," Jenner told Kardashian. "Why don't you go away and I'll handle it?" Kardashian recalled in an interview with The Hollywood Reporter. However, Kardashian was worried what people would think if she pulled out of the wedding just before it happened; she thought some might believe the whole thing was staged. But despite trying to make it work, the couple couldn't, and their relationship went down as one of the shortest marriages in celebrity history.