Kim Kardashian Gives Fans an Inside Look at the Chaos of Having 4 Kids
Kim Kardashian might be one of the most famous women in the world these days, but she still makes time to be a regular mom. Kardashian is the mother of four young children, all of whom are under the age of seven, and needless to say, there is plenty of chaos in the Kardashian-West home at any given time. Kardashian's recent Instagram video proves it's not easy to control four little ones.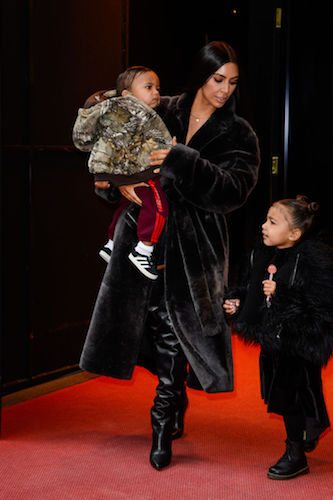 Kardashian and West welcomed their fourth child earlier this year
Kardashian and West deserve some kind of parenting award for willingly having four children in less than six years. Being a new mother is no easy task, and though Kardashian has nannies helping her, it's still a lot to take care of so many kids while balancing such a crazy schedule. Kardashian and West learned they were pregnant with their first child, North West, in 2012. She was born in June 2013, when the two were in the midst of planning their wedding. Kardashian welcomed her second child, Saint West, in December 2015.
Saint was the last natural birth Kardashian had. A problem with her placenta has led her to use surrogates on her two youngest children, Chicago and Psalm. Chicago was born in January 2018, and Psalm was born in May 2019.
Kardashian is a part-time mogul, full-time mother
Kardashian is not a typical mom. She's been in the spotlight ever since her family's reality show, Keeping Up With the Kardashians, premiered in 2007. Since then, she's done plenty of modeling but has taken a step back from that to focus on other business opportunities. In 2017, Kardashian launched KKW Beauty and KKW Fragrance, both of which have been very lucrative. Then, in September 2019, Kardashian launched SKIMS, her highly-anticipated shapewear line, which received so much hype that its launch caused problems with the SKIMS website.
Her recent Instagram video let fans in on the chaos of having four kids
Though Kardashian spends plenty of time running her businesses, she also does her best to spend quality time with the kids. She recently posted an Instagram video showing the chaos of having so many little ones. In the video, she asks Saint how much he loves her while North and Chicago are playing in the background. Saint tries to escape her hug, but she attacks him with kisses before North jumps into the frame to speak. "Hello poopy," Saint says. Then, Saint moves into the background, where he grabs a straw right out of Chicago's mouth just before the video ends. And that's only three of the children — Psalm might have been sleeping, which means things are probably only more hectic when he's awake.
Kardashian once revealed that West wants seven children
Though it seems Kardashian and West have their hands full with four kids, they might not be done. In an older episode of KUWTK, Kardashian reveals that her husband wants the two to have seven children. In the episode, she was chatting with a friend when she said that West wanted so many kids, and she noted that she wasn't sure she could handle that many. Though it's unclear if they will actually have seven, it seems they have their hands full with four and likely won't be welcoming another for a little while.