Kim Kardashian's Recent Instagram Photo Shows 6 Toes On Her Left Foot
The Kardashians have been accused of Photoshopping their images in the past. And in several cases, they've made it pretty obvious there is some heavy editing going on. Some have even speculated that the women Photoshop their photos incorrectly on purpose, since it seems nearly impossible that they'd miss some of the errors fans have found in pictures. And Kim Kardashian recently proved once more that the family is always relying on the editing tool.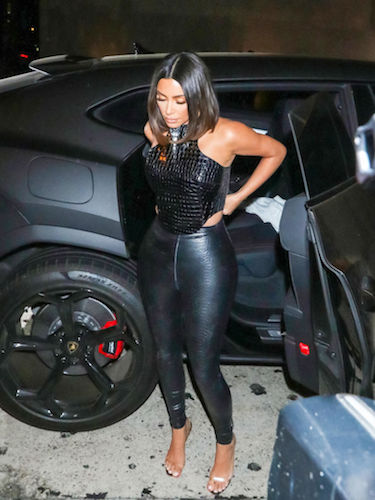 The Kardashians are under a lot of pressure to look a certain way
The Kardashians have become one of America's most famous families through the years. Robert Kardashian stood by O.J. Simpson's side during his infamous murder trial, which is how the family's name first came to light. Then, several years after Robert Kardashian died, his family signed on to a reality show on E!, which primarily highlighted Kim Kardashian's modeling career. Today, the whole Kardashian-Jenner family is extremely well known, so naturally, they feel the pressure to look a certain way to the public. But that pressure has caused them to heavily edit their photos — and fans aren't happy about it.
Kim Kardashian's fans recently said she doesn't even look like herself in photos
Kardashian has never hidden from fans that she uses filler to enhance her face. It's clear that her lips are done, but she's injected filler into other areas of her face as well. And fans now think she looks far different from how she once did. When Kardashian posted photos on a family trip, fans thought she looked great, albeit extremely different from how she usually looks. Kardashian also recently rocked a light brown, short hairstyle, which fans thought was a nice change of pace. But the edits in her photos might be making her look like more of a different person than fans want to see.
Kardashian's recent Instagram post clearly shows six toes on her left foot
Kardashian hasn't shied away from the use of Photoshop, despite getting caught by fans on numerous occasions. The most recent Photoshop fail came when Kardashian posted a photo with her sister, Kylie Jenner, promoting their new fragrance collaboration. The photo, which was posted on August 19, clearly showed Kardashian with six toes on her left foot. "Kim honey u got 6 toes," one user wrote. "… You have an extra toe. This whole damn things a mess," another user commented. People called out Jenner's arm for not looking natural, either.
The family has been called out for other Photoshop fails in the past
The Kardashians post plenty of pictures to social media, and they have fallen victim to many Photoshop fails through the years. Kourtney Kardashian once posted a photo of herself in a bath tub, and it looked as though her leg was completely detached from her body. Khloe Kardashian once posted a photo where she clearly had seven fingers. And Kylie Jenner was caught Photoshopping when she posted a picture with a friend on a couch in Turks and Caicos. While many people edit their photos these days, the Kardashians seem to have a knack for getting caught doing it.